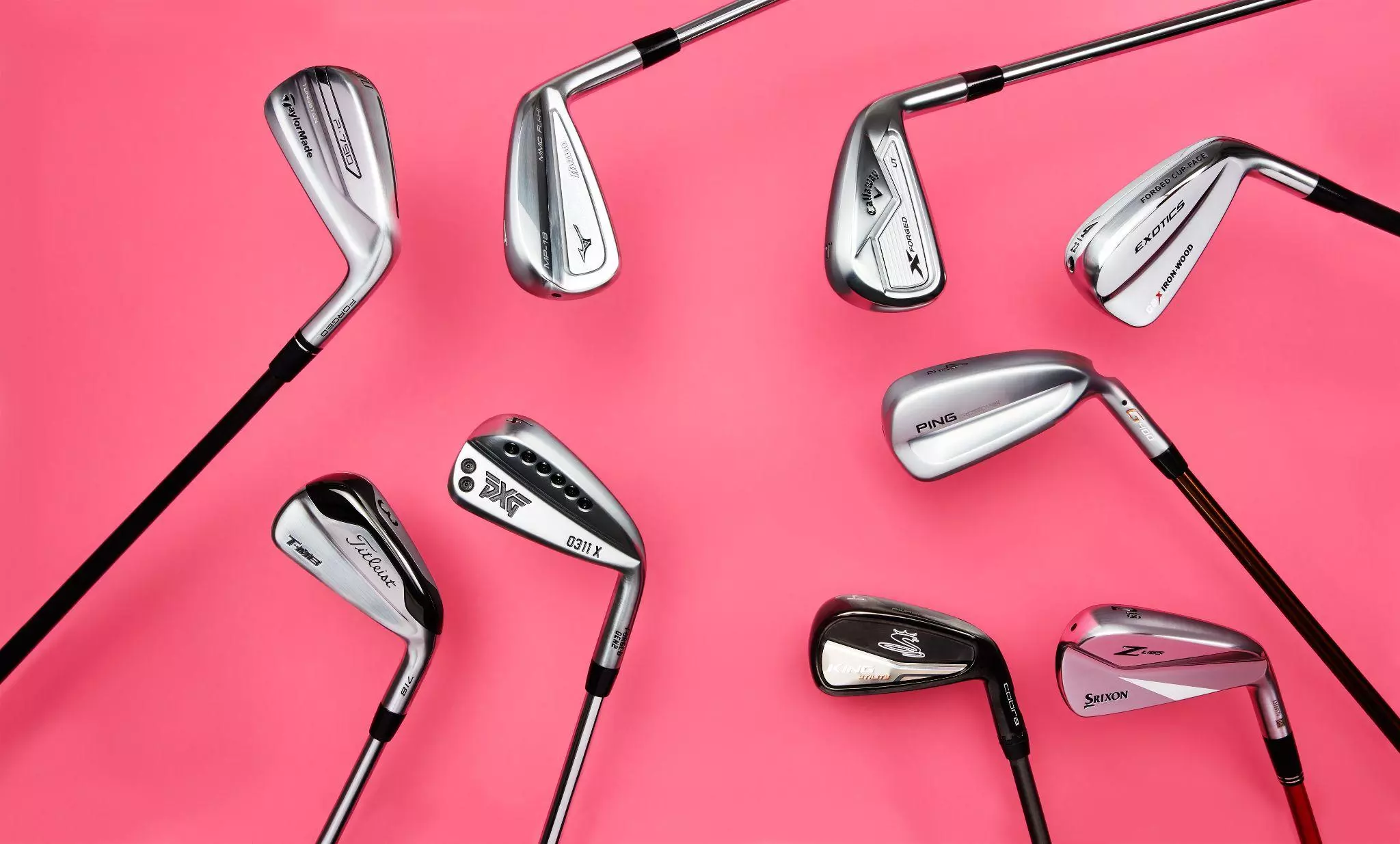 5 Best Driving Irons for Mid to Low Handicappers
Many players in today's golf game question whether the fairway wood and hybrid options in their bag pan out to be the club they hoped for.
And many might immediately assume they have no option to change to a traditional long iron. Heck, if they see Tiger hitting a stinger with a 2 iron at the masters, many don't think they should consider having a driving iron in the bag.
Well, friends, we are here to tell you that players with a swing speed over 100 mph (or hit the ball more than 250-270 yards) should consider hitting a driving iron in today's game. Golf manufacturers have evolved this part of golf equipment to support so many different player types.
Check out our top five best driving irons for those hoping to add a 2 iron golf club to your bag. And don't worry, we've also considered up to 4-iron utility golf clubs for those looking for a little more forgiveness.
If you don't think a driving iron is right for you, check out our article on our top-rated golf hybrids.
Best Driving Irons for Mid to Low Handicappers
Talk about the comeback of an incredible club. Many players in today's game have learned that some can hit the fairway wood in all conditions and lies. And many others can't for good reason.
Driving irons (especially this club) provide quite the punch but can come with some challenges for beginner golfers. Before we tested this club, many of our good friends shared a common term about this club: "explosive". So we had to see how our robot performed with the TaylorMade SIM UDI Hybrid.
We really like the forged hollow body construction, which helps to create a flexible face and provides a large sweet spot for maximum distance.
Taylormade has also implemented the SpeedFoamTM Air, which provides decreased density than its predecessor. Therefore, providing better weight distribution to further optimize launch conditions. This is part of why so many talk about this club being "explosive".
This club really plays well for those who are looking to keep a lower ball flight. Those of you who are beginner golfers and wondering if you can hit this type of club - we think you should give it a go at your local drive range; they should let you demo the club.
Driving irons aren't always the easiest clubs to hit, but we found that if you already feel comfortable with your iron set, this is a club we think is valuable on the right course.
Lastly, we need to talk about the performance of this club with different ball positions at address. Some long irons make it a little more challenging to shape shots, but the center of gravity of this club has been positioned just right, so you have increased flexibility to hit that slice or draw that you dreamt about in your preshot routine.
Talk about quite the design and playability you get with this utility driving iron. Providing a hollow body construction, the Callaway X Forged Utility Hybrid takes on new shapes based on its A.I.-designed flash face cup to help create high ball speeds and spin.
You also need to grab the head of this club to really understand the weighting. Callaway has designed this club with a wider sole to help optimize trajectory and launch. By way of this design, you should also get more forgiveness and control. And I think we can all admit that we wouldn't mind that, no matter what our handicap is.
This club typically comes with one of the top golf shafts for Utility irons of this caliber: the Project X HZRDUS Smoke Black HY , which is meant for players with low torque. We cover that below if you are wondering what torque is in golf.
We also really like the fact that Callaway has designed this club to fit all types of players, whether you're a beginner or senior golfer to someone who's looking for a club to fit your specific swing and shot shape. We think they offer quite the variety for all players.
You can go as low as a two iron to as high as a four with lofts ranging from 18 to 24 degrees and suited for left and right-handed players. You'll get half an inch longer on the shaft as you go up in iron number, so if you're looking for distance and control, check out the 3 and 4 driving irons.
The v-shaped sole of the Cleveland Launcher UHX Utility Club has made competitors wonder how they've built such a compact and forgiving club. Such design provides greater speed retention at impact, resulting in more explosive ball speeds. Meaning, your distance should get better no matter if you didn't make the best swing.
Similarly to the Callaway X Forged Utility Hybrid , the Cleveland Golf Launcher UHX Utility Club comes in three different models: 3 through 5, going from 18 to 23-degree lofts, respectively.
For those of you who are a lefty, you'll need to consider the 4 and 5 models, as this club only comes in right-handed for the model 3 (18-degree loft). But, you can go to model 4, a comparable 20-degree loft that should give you about 10 to 20 yards less distance but should provide more control and forgiveness.
Most club manufacturers have their preferred shaft to accompany the club face. The same can be said for the preferred grip. Cleveland decided to pair this club face with the UST Recoil 95 shaft, which can be heavy and stiff for mid-to-high handicappers. So, if you are wondering what shaft to go with if you are above a 12 handicap, we would consider 70 to 90 for a weight of a shaft.
Talk about a club that can fit well into any player's game. Cobra king utility irons have been one of the top utility iron golf brands for mid to high handicappers, and they continue to show you why based on the phenomenal club design of the Cobra Golf King One Utility Iron.
Ranging between 3 and 5 utility models, you can purchase various models that provide trajectory settings that can be customized to fit your game and the type of conditions you most often deal with.
Lofts for these models go from 18 to 24 degrees but can be offset to 27 if you use the 5 utility iron. But, no matter the degree of loft you choose, you should see a higher launch based on this forged face design.
What we also like about Cobra's offering with this club is that they kept the shaft length the exact same (37.25" in graphite and 37.50" in steel shaft). Why do we like that? Because the closer your utility iron length is to the lowest iron in your bag, the less likely you will need to get used to this club.
We've heard many players new to the utility iron game share that they often duffed or hit the ball fat when they first tried out the club. And that is often because the length of the shaft is closer in length to your three or five wood than it is to your lowest iron. So, we like that you should have less of a learning curve based on this being similar to your iron set, so let's get that ball flying and pounding fairways!
Distance and forgiveness are the names of the game with the Wilson Staff Model Utility Golf lub. Wilson has made itself a competitor in the driving iron market. Providing a tremendous amount of forgiveness, this club comes with seven grams of weight low in the clubhead, making it easier to hit the ball with the proper launch angle.
We've seen the likes of Gary Woodland having this club in his bag for years, and for good reason. This club comes in three models, 2 through 4, and lofts ranging from 18 to 24 degrees, respectively.
The lie angle of this club is a little lower than the competitors we've mentioned prior, which we think Wilson has given an advantage to those players who typically have a steeper swing. That offering, coupled with a minimal hosel offset, gives the club flexibility when you want to shape shots.
We really like the shaft that is provided with this utility hybrid. The KBS Hybrid is made for players with a mid-high launch angle looking for low-mid spin, which we think is perfect for a driving iron.
Keep in mind that this shaft is slightly heavier than most other shafts in some of our competitors' driving irons that we like. Ranging from 100 to 110 grams (regular to x-stiff) in weight, this shaft can be great for low handicappers with a swing speed greater than 100 mph.
Frequently Asked Questions (FAQs)
What is torque in a golf swing?
Scientifically speaking, torque equals the force times distance. Simplistically for golf purposes, torque focuses on the rational force (in a circular motion) as you take the club back and then down through to your downswing. Golfers have been taught to twist, rotate and increase their force as they swing since day one of their golf lessons.
What is a Utility Iron?
Usually, utility irons have a hollow body with a rather widened sole (beyond the standard iron). They also will come with a perimeter weighting because the clubface is more extended. The face provides a high-toe iron shape, so those with a faster swing speed may like to have this in your bag. But don't be fooled. Many offerings we've suggested come with graphite shafts and varying lofts, so players of all calibers now have options to put a utility iron (a.k.a. Driving iron) in their bag.
Is a 3 iron a driving iron?
Don't be fooled by similar looks and feels. A 3 iron in your bag with a standard set of irons isn't (most likely) a driving iron. Driving irons are usually standalone offerings by club manufacturers. Many players tend to go the driving iron or utility iron route because they have better success hitting their irons and want a better option than their current hybrid or wood. Comparatively speaking, a 3 iron versus a 3-driving iron should come with different specs, mainly in the loft (usually between 3 and 5 degree difference) and a slightly heavier and longer shaft. The driving or utility iron might be the right option if you're looking to up your distance. But that might mean that you can still keep your 3 iron in the bag along with your new driving iron.
What is the best 2 iron?
If you're certain about adding a 2 iron in your bag (typically 17-18 degrees of loft), we think you should go with the Cobra Golf King One Utility Iron . It has incredible forgiveness but also provides one of the best-balanced weightings we've seen in any driving iron on the market.
If you're looking to compare the Cobra Golf King One Utility Iron , we think you should consider the Taylormade P790 UDI , which comes in a 17-degree loft that will give you one of the best feelings when hitting a golf ball (assuming you hit in the center that is). A carbon steel construction makes the head thinner and optimal for supreme flexibility, fast ball speeds, and increased distance while upholding a premium forged feel.
Written At: Updated At: 2023-07-23T20:11:02+00:00