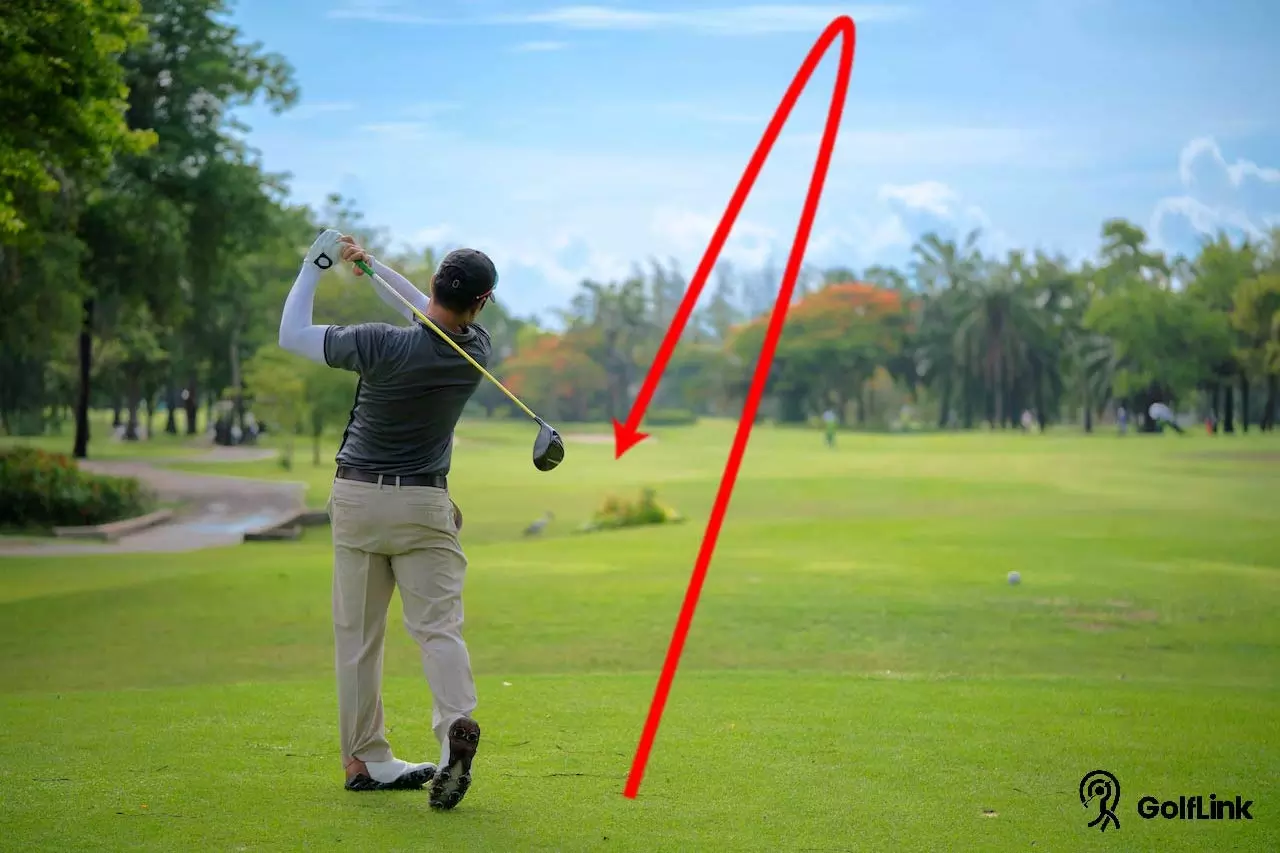 How to Hit a Draw: With Minimal Swing Thoughts
How to draw a golf ball can be one of the most challenging shot shapes in the game. There are so many factors that can play into how easy or hard this will be.
It starts with your grip, but just as importantly, your stance needs to be directionally correct. Your shoulders need to be slightly leaning backwards (like they are facing the lower part of the sun) and you need to feel the path of the club more than your forearms and hands turning over.
This can be even harder with the driver because of the length and loft. And as you can probably imagine, this becomes easier from hybrid down to about your pitching wedge.
A key component that goes sometimes unnoticed is having the right size golf grip for your hands. If they are too big, it will become harder for your hands to naturally turnover. If they are too small, you may easily flip the club over, which is most likely overdoing the draw.
This article covers everything you need to know about how to draw a golf ball, especially for those that are beginner golfers.
How to Hit a Draw: With Minimal Swing Thoughts
Time Commitment: 5 Days
Supplies and Tools
Any golf club, a mid iron if practicing
Step 1 - Check your grip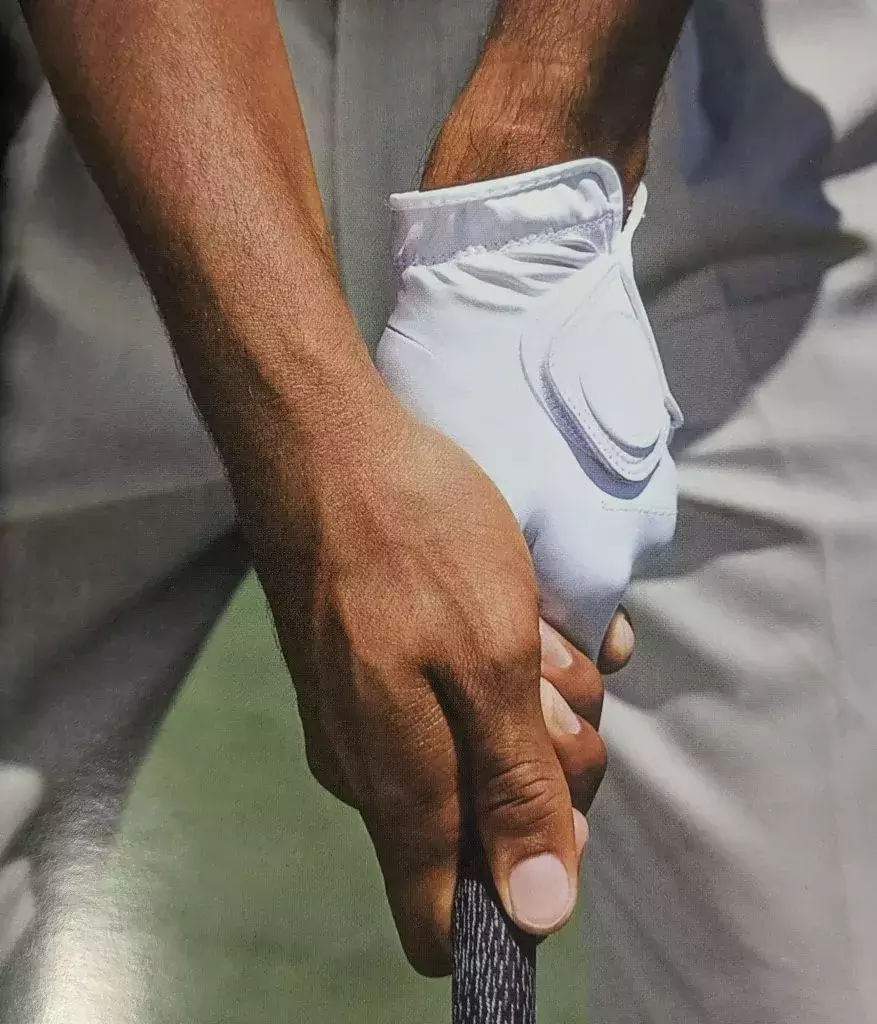 Before you can really optimize how you're going to get your draw started, we need to ensure the grip is right. How to hold a golf grip can be one of the most challenging parts of the game itself, especially for those who have been incorrectly holding a golf club for so long.
To hit a draw, you do not need to change your grip from your normal swing.
The simplest piece to confirm in your grip before you can move to the next step is to ensure your "v" is pointing towards your back shoulder. You should also make sure you can see two knuckles on your glove hand.
Last thing to confirm - grip pressure. Don't grip it like you'll never let it go, but don't hold it too loose so that it will fall out of your hands. The easiest trick to know if you're doing it right is by holding the club and having someone try to pull it from you. The goal is that you should lose your balance in your feet, but your club shouldn't move out of your hands.
Step 2 - Move your backfoot an inch or two backwards at address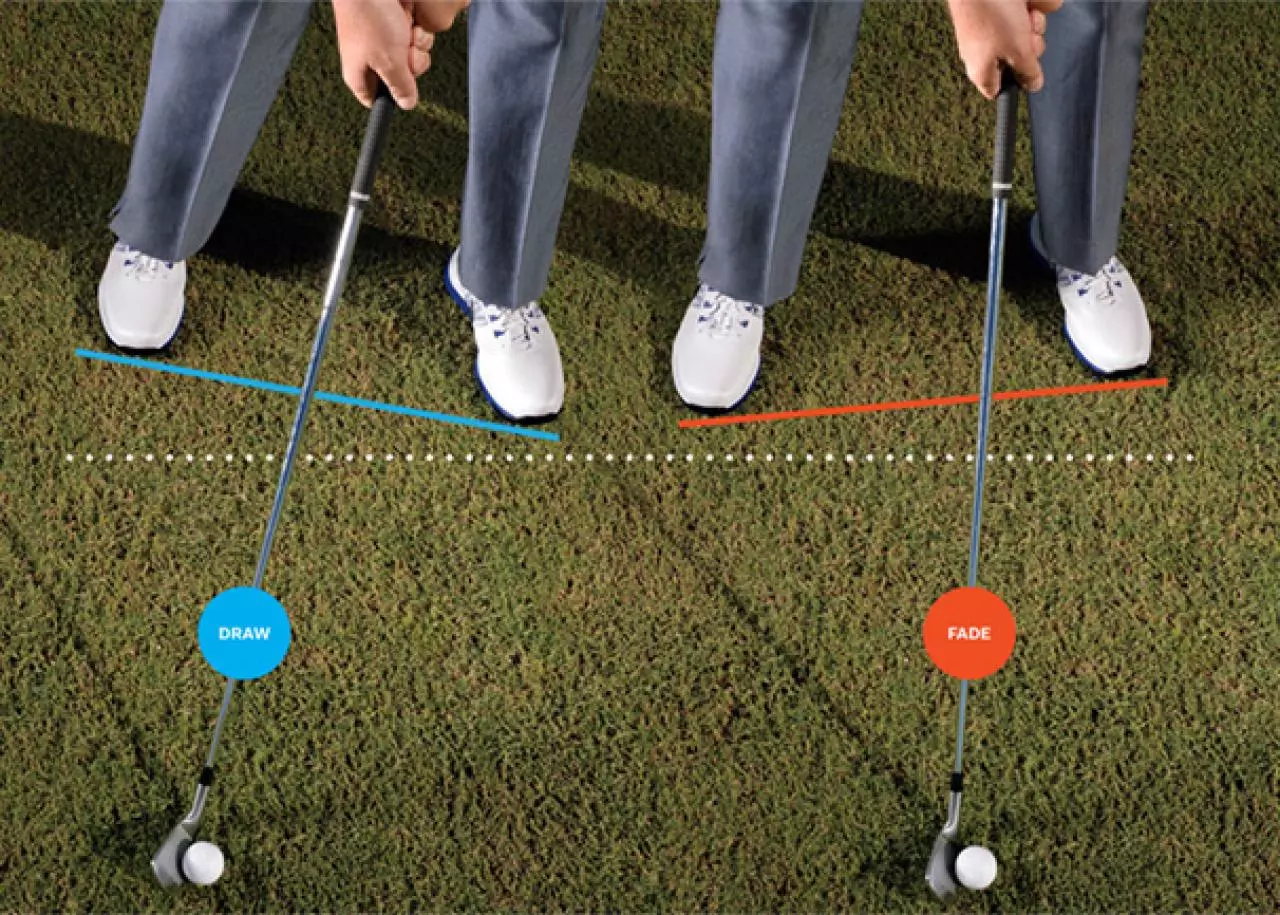 Your club path should start a bit more inside when taking the club back. To help support this, the angle of your body needs to change. Naturally, this should force you to feel like you're aiming further right than you might want, but that's part of the point!
Step 3 - Grab your alignment stick or a long club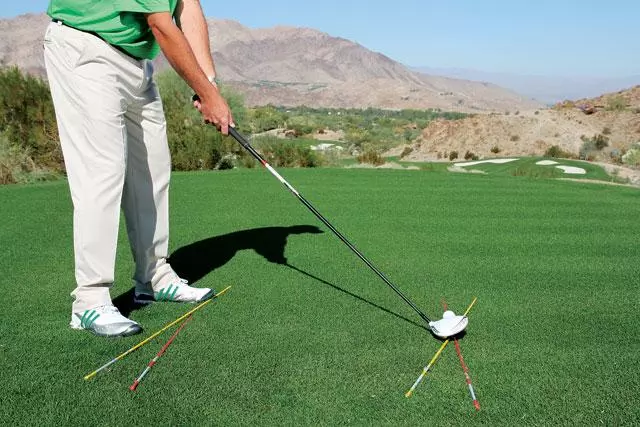 When you are at the range, on the course, or even just working on this at home, you need to make sure your setup is consistent. If the direction of your feet starts to change as you practice your backswing, you will have another factor that could throw off your swing path.
The alignment stick (or club) should be your guide in terms of where the path of the club should follow on the backswing. Therefore, your alignment stick should be pointing a bit further right than your target in the distance so that you can see your club following that line on your move backwards.
Take a look at the image below - you could add a few more clubs to understand where your feet and club face need to point and the club path (see the yellow alignment sticks below).
Step 4 - Three practice swings with minimal forearm rotation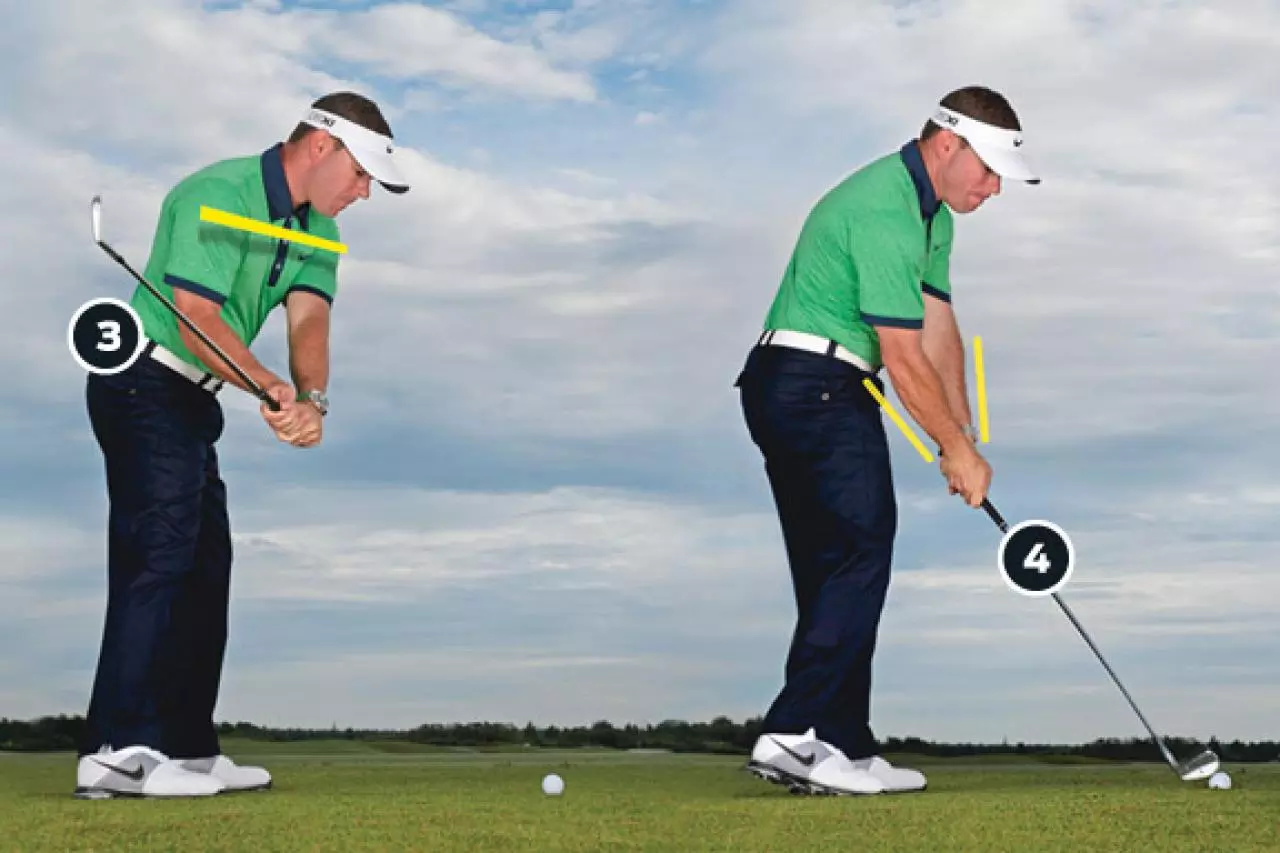 You would think that you need to help your hands "roll over" at impact to help the draw. And that means you need to focus on moving your forearms more. NO!
You need to make sure that your club path is on the right plane, which then should naturally move your hands in a draw-like form.
You should focus on feeling the club's motion coming back more inside with very slow practice swings. Ultimately, your body needs to feel like your arms are a little bit more ahead of you after impact than a normal swing.
If you notice that your hands feel like they are "flipping over" right after impact, you may notice the ball is starting at your target line and drawing too far away. You should instead feel that the ball is starting a little out of your target line and coming back toward where you want the ball to end.
Conclusion
If your swing starts with the right grip and alignment, you've gone through half the battle.
Making sure your club path then follows suit can be one of the trickier parts of nailing how to hit a draw. If you're feeling like the ball is not drawing back, consider standing slightly taller at address.
If you start to feel like your golf ball is starting out at target and drawing away from your ideal endpoint, make sure that your hips can stay square at impact to help your arms naturally rotate over. If your hips are too behind, you'll start to notice that the ball is most likely starting off target immediately.
Keep in mind that perfecting the draw can take months, if not years, depending on how long you've been playing along with how your other mechanics are. Be patient, take slow practice swings, and write to us if you need more help!
Written At: Updated At: 2023-06-19T16:57:06+00:00