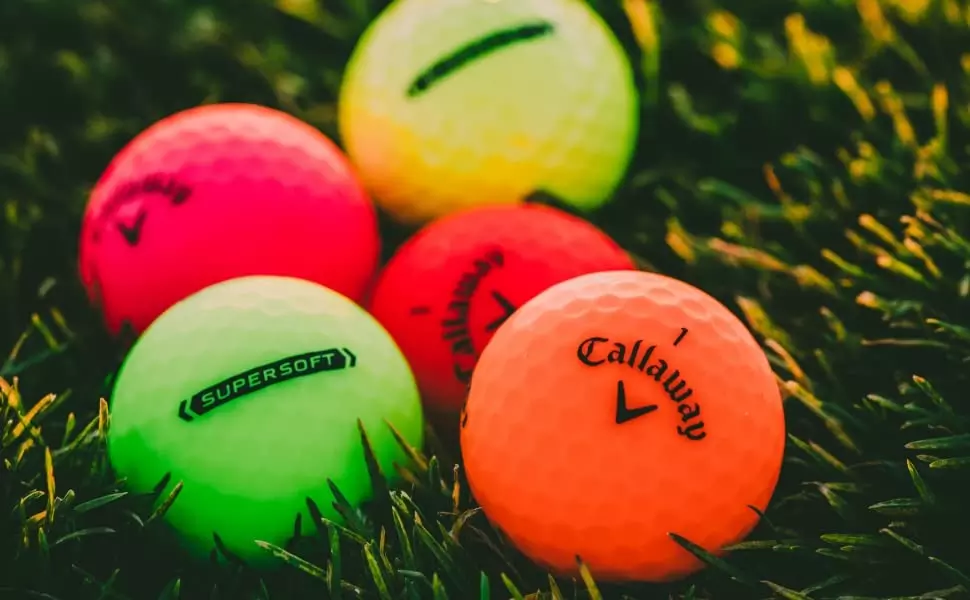 Best Color Golf Balls for Fall 2023
As autumn leaves paint the golf course with red, orange, and yellow colors, golfers embrace the seasonal shift with a change in their equipment focus. Fall golf demands high visibility golf balls to navigate the carpet of fallen foliage and fading daylight. These specialized balls are designed with vibrant, eye-catching colors like neon orange, bright yellow, or electric green.The right colors that make the best color golf balls for fall.
The rich pigments contrast brilliantly against the fall backdrop, making it easier for golfers to spot their shots amidst the foliage. Fall golf ball color preferences can be tough because there are so many color options. Whether you're teeing off on a misty morning or searching for your ball amidst a bed of fallen leaves, high-visibility golf balls are an indispensable companion for those crisp fall rounds. They enhance the golfing experience and add a touch of seasonal flair to the game.
As the days grow shorter and temperatures drop, golfers can confidently take their swings, knowing that their high visibility golf balls will help them track their shots and enjoy the beauty of the best golf ball colors for autum. These golf balls blend form and function seamlessly, making them an indispensable tool for fall golf enthusiasts.
Check out our top seven best color golf balls for the fall 2023
Titleist TruFeel Golf Balls are a golfer's dream of achieving a perfect balance between feel and performance and are the best color golf balls for the fall. These balls are designed to give golfers an exceptionally soft feel that's particularly noticeable around the greens, offering precise control for delicate chip shots and putting.
This makes them an excellent choice for players who prioritize accuracy and finesse that also includes phenomenal coloring to support golf ball visability in the fall. Additionally, Titleist has incorporated advanced aerodynamics into the TruFeel golf balls, ensuring consistent flight and distance, which can help golfers of all skill levels achieve their desired results on the course.
With an affordable price point and a reputation for quality, Titleist TruFeel Golf Balls are popular among golfers seeking playability and value; they are also perfect golf balls for the fall and offer high visibility.
If you want the top golf ball color for distance that will unleash your inner power hitter, TaylorMade Distance+ Golf Balls are the go-to option for high-visibility golf balls for fall and autumn. These balls are engineered to provide golfers with exceptional distance off the tee, making them a favorite among those who crave long drives and high ball speeds.
This ball is one of those golf ball color choice in autumn that stands out in the rough. The construction of the Distance+ golf balls ensures durability, so you won't have to worry about wearing them out quickly. While they prioritize distance, it's important to note that they may lack the soft feel around the greens that some players prefer.
However, for golfers seeking an affordable way to gain extra yardage and have golf ball visibility that will make your playing partners jealous while also making a significant impact off the tee. Plus this golf ball can also easily be found among the leaves, TaylorMade Distance+ Golf Balls are a fantastic choice that won't break the bank.
Choosing the right golf ball for fall conditions can be challenging, depending on some other colors around the course. We love the Srixon Q-Star Tour Divide Golf Balls because they represent the perfect blend of performance and visibility on the golf course. These balls feature a unique dual-color design, making them instantly recognizable and easy to track during your round.
This is by far one of the best high visibility golf balls on the market for many reasons. The striking contrast between the two colors enhances visibility, especially in challenging conditions or among fallen leaves.
Beneath their eye-catching exterior, these golf balls offer a balance of distance and control. Golfers can expect excellent performance off the tee, with sufficient spin and control on approach shots and around the greens.
The Q-Star Tour Divide appeals to a wide range of players, from intermediate to advanced, thanks to its playability and enhanced visibility.
If you're searching for raw power off the tee, the Nitro Ultimate Distance Golf Ball has you covered. These golf balls are designed with a singular goal in mind – to deliver exceptional distance and be one of the best seasonal golf ball colors for the fall. With a high-compression core and a durable cover, they're engineered to maximize ball speed and achieve incredible yardage. These golf balls are also ideal for fall conditions no matter if you have a heavily leaved tree line.
While they excel in the distance department, it's important to note that Nitro Ultimate Distance Golf Balls may sacrifice some level of control and feel, particularly around the greens. Nevertheless, for golfers who prioritize hitting longer drives and reaching distant fairways, these balls offer an affordable solution to adding yards to your game.
The Bridgestone Golf e12 Contact Golf Balls are engineered to provide golfers a remarkable combination of distance, accuracy, and control that are also the perfect color to see in spring and fall foiliage. These balls feature an innovative Contact Force dimple design, which helps create a more prominent sweet spot on the clubface.
This provides greater distance off the tee and precise control on approach shots. Additionally, the e12 Contact golf balls have a soft feel that golfers of all skill levels appreciate, particularly around the greens. Bridgestone's proprietary Active Acceleration Mantle layer further enhances ball speed and performance, making these balls an excellent choice for those who seek a well-rounded, game-improvement golf ball that doesn't compromise on feel.
The Vice Pro Soft Golf Balls are designed for golfers who are looking for the best color golf ball for the fall that also prioritizes a premium feel and outstanding control on the golf course. These balls offer an exceptional blend of softness and responsiveness, making them a favorite among players who demand a plush sensation during their shots.
Whether chipping onto the green or putting it from a distance, the Vice Pro Soft golf balls provide the kind of feel and control that can help lower your scores. While they don't sacrifice distance off the tee, their main strength lies in their ability to enhance the short game.
They are typically available in various color options, allowing golfers to choose the one that suits their preferences. Vice Pro Soft Golf Balls cater to golfers who appreciate the game's nuances and desire a premium golf ball to match their skills.
Blue Balls Premium LED Light Up Golf Balls offer a unique and fun twist to your nighttime or twilight golfing adventures. Equipped with battery-powered LEDs, these golf balls light up upon impact, creating an eye-catching and entertaining visual display as they travel through the darkened sky.
Their high visibility makes tracking your shots in low-light conditions a breeze, adding an element of excitement to your rounds after sunset.
While they may not be suitable for traditional daytime play or tournament use, Blue Balls Premium LED Light Up Golf Balls are perfect for recreational golf with friends or family when you want to extend your golfing experience into the evening hours.
Due to the battery-powered LEDs, it's important to note that their lifespan is relatively short, but the entertainment factor they bring to your game is well worth it.
Conclusion
As the vibrant foliage of autumn blankets golf courses and daylight hours grow shorter, the choice of golf balls becomes a crucial consideration for avid golfers. High visibility golf balls, with their striking and eye-catching colors, offer a practical solution to tracking shots amidst the seasonal splendor.
They enhance the golfing experience by ensuring players can easily spot their shots against falling leaves and fading light. While these specialized golf balls provide essential visibility, it's essential to note that they do not compromise performance. Golfers can still expect distance, control, and playability from these balls, making them an indispensable companion for those who relish the beauty of fall golf.
So, whether you're a seasoned golfer or just looking to enjoy a round in the crisp autumn air, high visibility golf balls are a practical and enjoyable addition to your golfing gear during this splendid season.
Frequently Asked Questions (FAQs)
What color is easiest to see in grass?
The color that is generally easiest to see in grass is yellow or a bright shade of green. These colors strongly contrast the natural green hues of grass, making objects or details in yellow or bright green highly visible.
This visibility is essential in various outdoor activities, including golf and soccer, where tracking a ball or marker against a grassy backdrop is crucial for precision and accuracy. These vibrant colors are commonly used in safety equipment and signage to ensure they stand out prominently, enhancing overall visibility and safety in outdoor environments.
What do the colors of golf balls mean?
The colors of golf balls do not have standardized meanings in the sport. Golf balls come in various colors, including white, yellow, orange, and even pink or other bright hues, primarily for personal preference and visibility on the course. Some golfers might choose colored balls to make them more visible against the green grass or to differentiate their ball from others in a group.
What color do you see the least in nature?
Blue is the color that is least commonly seen in nature. While various shades of blue exist in the natural world, they are relatively scarce compared to other colors like green, brown, or red. There, we don't recommend purchasing a blue golf ball to be used during fall or spring months.
What does a red golf ball mean?
In the world of golf, the color of a golf ball, including red, does not carry any specific meaning or rules. Golfers can play with golf balls of various colors based on their preferences or for visibility reasons.
Like other non-traditional colors such as yellow or orange, red golf balls are designed to be more visible against the green grass, which can be particularly helpful in certain lighting conditions or when distinguishing one's ball from others in a group.
However, the choice of a red golf ball doesn't imply any specific rules or penalties; it's simply a matter of individual choice, and golfers are free to use golf balls of their preferred color as long as they conform to the rules and specifications set by the governing bodies of the sport.
What color is the easiest for humans to see?
Green is often considered one of the easiest colors for humans to see. Our eyes have specialized receptors called cones that are sensitive to different wavelengths of light, and the green cones are exceptionally responsive.
What is the best color for people with low vision?
The best color for people with low vision can vary depending on the individual's specific condition and needs. However, in general, high-contrast combinations that involve black, white, and bold primary colors like red, yellow, or blue tend to be more visible for individuals with low vision.
Written At: Updated At: 2023-10-18T23:36:18+00:00