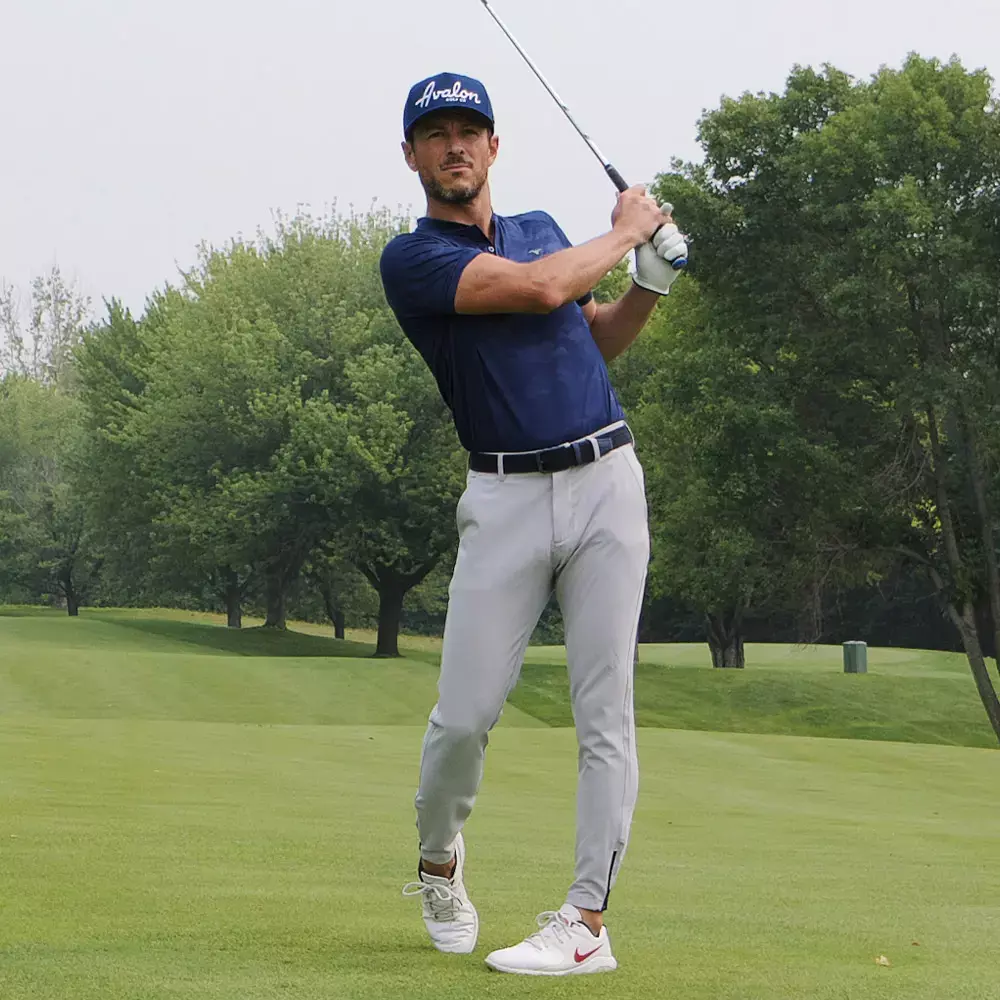 Best Golf Joggers with Belt Loops of 2023
Golf jogger pants have become a popular and stylish choice for seasoned golfers and casual players. These versatile garments combine the comfort of traditional jogger pants with the performance features required for golf. Designed with golfers in mind, they typically feature moisture-wicking and breathable fabrics to keep players cool and dry during long rounds.
The elastic waistbands and stretchable materials ensure ease of movement, allowing golfers to swing freely without feeling restricted. Additionally, many golf jogger pants include multiple pockets for conveniently storing tees, balls, and other essentials. With a modern and fashionable design, these pants have transitioned from the course to casual wear seamlessly, making them a versatile and practical addition to any golfer's wardrobe.
Golf jogger pants come in various styles and colors, catering to individual preferences and fashion sensibilities. Golfers can choose from traditional solid colors for a classic look or more vibrant and trendy designs to express their style. These pants are functional and aesthetically pleasing, offering a blend of performance and fashion that appeals to a wide range of golfers.
Whether you're teeing off at a prestigious golf club or simply enjoying a casual round with friends, golf jogger pants provide a comfortable and stylish choice that has revolutionized the golf fashion scene, making the sport not only about skill but also about looking and feeling good on the golf course.
Check out our top 5 best golf joggers with belt loops of 2023
The Soothfeel Men's Golf Joggers Pants are our favorite and best golf joggers with belt loops 2023 because of the ultra-stretch material made up of 82% polyester. These incredibly comfortable golf pants help wick away moisture during those warmer days on the golf course while also keeping you warm on those cool days.
We really like the five-pocket design, which provides the same functionality as a regular pair of golf pants not to mention the belt loops, which have the same number of loops you would also find on a typical pair of golf pants.
These golf joggers are more and more like regular golf pants but far more comfortable and come with a zipper fly, making it easy to be focused and confident no matter where you are on the golf course. Athletic trousers are a new market for golf fashion and overall golf course attire, making these pants even more fun.
They are a slim, tapered design that provides the perfect amount of flexibility and durability while you are leaning down to read your putts or getting ready to hit a long drive.
Flexibility is also a great and versatile characteristic because this golf jogger allows you to wear it on many other occasions, such as at the gym or paired with a casual outfit.
The Pudolla Women's Golf Jogger Pants is our favorite golf jogger with belt loops for women because of the similar feel and functionality that you get with a regular pair of golf pants, yet are way more comfortable based on the polyester and spandex material.
With five belt loop slots, these lightweight and quick-to-dry pants are perfect for women golfers looking for a breathable fabric that can also wick away moisture on those hot summer days. We also found that this golf pant is perfect for women playing in cooler conditions, such as the fall or winter, depending on where you live.
Packed with water-resistant and UPF 50+ protection, this women's golf jogger has been designed to handle all the weather elements. The bottom of the golf jogger has an elastic cuff, which helps keep your legs cool on those windy days. We think you should consider adding a new hat to the mix along with your joggers because an entirely new outfit is always a fun addition to your next round.
Similar to our men's favorite golf jogger, this golf jogger for women is so versatile that can be used for things like hiking, traveling, walking, or other general outdoor wear.
The Pudolla Men's Golf Jogger Pants is ranked in the top 5 golf joggers pants for men on Amazon in 2023. That alone has proven why so many people have picked this golf jogger as one of their top golf pants, no matter what season they are playing in.
We always expect to see ultra-stretch and skin-friendly fabric, but the Pudolla Jogger has become one of our favorites in our closet because of how breathable and smooth the material feels. 82% polyester seems to be the perfect amount of material paired with spandex to keep your body warm enough and feel super comfortable on those hot summer days when you might be sweating.
The two zipper pockets and the zipper fly feel like everything is secure while you are playing your round. The 2-inch belt loop also makes it perfect for golfers who are looking for more of a personalized fit that will also keep your pants in the same place the entire time so that you stay comfortable and confident while playing your round.
The Primo Golf Jogger Pants is our top premium golf jogger pants because we haven't seen anything like this on the golf pants market. After all, it compares so well to some of the top-of-the-line joggers you might be wearing at home.
Designed with 95% polyester and 5% spandex, these golf jogger pants come with the perfect amount of belt loops and two front and back pockets. Not to mention, this also acts like a golf pants based on its front zipper design as well.
We've noticed that some brands also include an inner gel waistband, which helps to keep your shirts tucked in. This has been a nice feature for us that we didn't realize we needed until we played a round in these golf pants. Pair this with one of our favorite golf gloves and we think you'll have a new level of confidence going into your next golf round.
Now, the price may be a little expensive for some, but you can't go wrong with good quality when considering golf jogger pants that will get used often. And that's precisely what these golf joggers are.
The RUFEYY Mens Golf Jogger Pants are our favorite versatile golf jogger pants. That is due to the design and overall build that has been put into this golf jogger pants, making it perfect for golf and other physical activities. We also highly recommend this golf jogger for those looking for belt loops and also planning to walk a lot on the golf course.
Similar to what you see in regular jogger pants, the elastic waist on both sides of this golf jogger pants can expand, allowing you to get as close to as perfect a fit as we all seek. And we all know that a few hotdogs or beers on the golf course can easily change the size of our golf pants at any moment.
We also can go ahead and wear these hiking, as well as use them for a leisurely walk, which was also perfect because we ran into wet conditions that allowed us to test these golf jogger pants in elements that we didn't expect. These pants held up so well and kept us dry as well as warm, which easily had us wanting to put this into our best golf jogger pants with belt loops article.
Conclusion
To sum it up, the introduction of belt loops in golf jogger pants is like adding a secret power-up to your golfing attire. While golf joggers are already praised for their comfort, performance features, and trendy designs, these belt loops give you the freedom to level up your golf fashion game.
It's not just about keeping your pants up; it's about customizing your style and ensuring a snug fit that's as unique as your swing. Whether you're going for a sophisticated and polished look or rocking a laid-back, chill vibe on the fairway, these belt loops let you buckle up in style.
They're the cherry on top of the golf fashion sundae, proving that golf attire is about smashing balls and making a statement. So, add that belt and tee off with a fashion-forward flair that'll make your golf buddies green with envy!
Frequently Asked Questions (FAQs)
What joggers do golfers wear?
The joggers that golfers wear often include four or more pockets, a front zipper, and a mix of polyester and spandex material that provides enough warmth and style to ensure they are prime for any day on the golf course. Our favorite golf pick for golfers looking to add a golf jogger with belt loops to their arsenal is the Soothfeel Men's Golf Joggers Pants because of the overall level of comfort, perfect amount of belt loops, and flexibility to be worn beyond the golf course.
Is it OK to wear joggers golfing?
It is completely fine to wear jogger golf pants on the golf course as long as they are designed to be used for golf. Joggers can be used for a variety of different physical or leisure activities. We recommend picking a jogger with multiple pockets and a front zip to make it look and feel like golf pants.
What is the difference between golf pants and joggers?
The main difference between golf pants and joggers is the material used. We often see a mix of polyester and spandex in joggers while more of a cotton and polyester mix in golf pants. Joggers also have a tapered fit to them at the bottom of the pants, which is often different than what you find in golf pants. The general trend is pointing towards golf joggers becoming a staple for many players solely because of the added comfort level.
Can you wear joggers on the PGA Tour?
Golfers can wear the appropriate golf joggers on the course. Many players wear golf joggers specially designed for golf, which we often see include a mixture of spandex and polyester material (common for other types of golf pants).
Why do some clubs not allow joggers?
Some clubs do not allow joggers because they are specially not made for the game. Overall, style preferences are often in place at certain golf clubs, and players should always check the golf course policy before showing up to play or use their facility.
Are joggers loose or tight?
Joggers for golf are meant to be loose around the thigh and tighter as they go down the leg, also called a tapered look. Many golfers love the new golf joggers that are hitting the market because of the perfect balance of comfort that comes with warmth and style.
Can you wear athletic pants in golf?
You can wear athletic pants in golf as long as they meet the specific course policy you're playing. We recommend checking with the golf course you're playing to see if they will have any concerns about the golf athletic pants that you're considering wearing.
Written At: Updated At: 2023-10-28T00:28:03+00:00