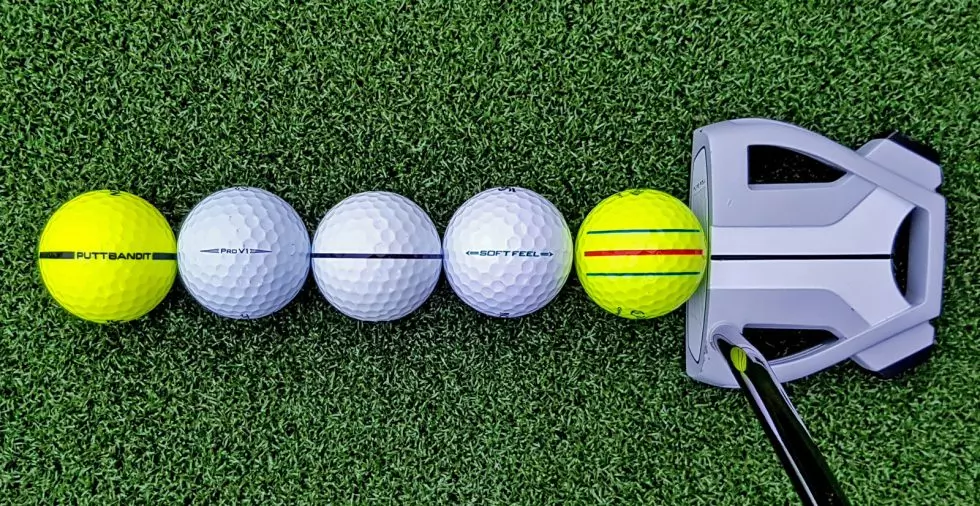 Best Marker for Golf Balls
Marking your golf ball isn't just for looks. Per the USGA rules, a golfer must be able to identify their ball, in which a unique symbol or design is an added benefit to avoid a potential penalty.
In addition to supporting ease of identification, marking your golf ball using a golf ball marking tool has now actually helped to improve many different facets of the players game because of the added symbols you can add on the ball.
As you can see in the picture above, one line drawn can help align a player towards where they want to start the golf ball on the green.
Alternatively, a golfer may also use that line when teeing up their golf ball to help set the direction in which he wants the ball to start.
With all of these added benefits now introduced to the game of golf over the last few decades, we really think you should be marking your golf ball not just with a symbol, but also with a line to improve consistency and ball striking.
Check out our top ball markers and supporting tools that should help to improve your game beyond just your swing.
Here are the best golf ball markers of 2023
Our top pick is from Golf-EZ. They've been able to provide a complete package that not only comes with four different markers, but they also have a bag to store everything in while also coming with a great alignment tool.
We all want the ball to be easily identifiable and stand out even when it ends up on another hole.
Also, we really like that the markers and bag come with a clip-on to make carrying around a breeze. The markers also come with a clip-on, which makes it so easy to pull out a new golf ball, mark it, and get right back to playing.
To ensure we have many options for a season, the ink must be strong and boy have they done it here. You won't need to question much about if this will last you 8 months. We just hope you'll try multiple colors!
The alignment tool also comes with your typical cross-like lines to help you ensure aliging your ball on the green will make you feel confident the ball is going in the hole. If you're looking for a golf ball line marker, the Golf-EZ Alignment kit is the obvoius choice. You can easily extend the line that your ball came with or put one on each side before your round.
While we love this package, the only downside we could find is that the ink takes a few seconds longer to dry than we'd prefer. But, to us, that's a very minor issue.
If you're looking for simple and easy to use device, this is by far one one of our favorite picks.
Precision and quick drying is the name of the game with sharpie. The alignment tool that comes with this is also one of our favorites. Shapies will definitely stay on a golf ball.
Competitors have created alignment tools that wrap around 80% or so of the golf ball. Alternatievely, we like this design because it wraps around a smaller portion of the golf ball and easily straps on, doesn't move when marking, and comes off very easily.
The black pigment is a really good look for most balls, especially if you're playing some of our favorite golf balls.
This sharpie is also bound to last. You should easily be able to have this last for multiple seasons.
While our favorite types of markers for golf balls is usually a fine-point marker, we really like the thicker permanent markers because of how easy it is to fill in the dimples on a ball.
The only downside is that this comes with one marker and can be easily lost. We prefer multiple colors when marking your golf ball, especially if you're using an alignment tool.
Talk about a near complete solution in our eyes from Tatuo. They've provided various colors and a solid alignment tool to keep your eyes focused on the right direction the golf ball should travel.
We love the idea of players giving their balls different markings, especially if you don't play the same golf brand over the course of 18 holes.
While this brand doesn't leverage the sharpie brand, we have to say we are incredibly impressed with the longevity of the ink.
Hitting a ball over and over again can sometimes wear the ball even faster. That incudes the color you've added to the outside. Yet, we've put this ball into all types of terains and it still kept a solid color.
A nice addition to these markers is that they are odorless and non-toxic, so you should feel safe if your kids are using these.
Ultimately, this has one of the better line outines that wraps around your golf ball. Other competitors only allow you to draw a line that goes a few centimers long and might not give your eye a clear direction of where the ball should travel towards.
This pick is all about options. While it doesn't include an alignment tool (which we think is a must to have), you've got all the colors you probably need with this pack.
In this pack of markers, you have fine and narrow ends that should consistently produce crisp and clear lines or other markings.
We like this pack because you can share these with your playing partners so everyone has a different color ball.
This also is a great gift for beginner golfers because they can start to test what color(s) they'd prefer to have on their golf ball when going out onto the course.
Of the many perks that this package provides, we wish that they came with a small carrying case. Additioanlly, many of their competitors provide a simple alignment tool, which we think would be wonderful to have with these.
This was our first ever purchase that came with an alignment tool. The mini sharpie plus the alignment tool makes for quick and easy marking.
You can easily give various balls differnet markings while easily storing this in your bag or clipping to the outside.
Shapie is known for being smude-gree and providing a super quick dry that won't cause you to have to breathe onto the golf ball to make it dry faster.
With the long lasting ink, you'll also notice that this will hold up in the elements if your golf ball finds some water or the woods. While your golf ball might fade and wear, it should take quite a bit of pumleing before this ink starts to fade.
The tip of this marker is just right to fill-in those dimples on the golf ball. It also provides perpindicular lines so that you can ensure your golf ball is level when going to putt.
A very practical set indeed. You may just need to shade in the line an extra time based on the thickness of the marker because it's a little bigger than the lines on the alignment tool.
Our favorite color to add to a golf ball. It really pops and makes it so easy to identify your golf ball.
Red is a great color to draw some cool markings on your ball. It's also an ink that is very long lasting and doesn't smudge or bleed.
It comes with a very solid and fine point for clean and true lines, no matter if you're stenciling or following a given outline (such as those that we see on alignment tools).
The only downside is for those that are colorblind might have a little bit of a hard time if the background of the ball is dark.
Frequently Asked Questions (FAQs)
What is the best marker color for golf balls?
While there is no exact color we reccomend having for golf balls, we must say that those which stands out should be considered. Our preference is red or blue.

We also highly reccomend golfers to consider buying a marker with a line up tool so that they can benefit from better practices to increase your chances of making a putt and improve ball striking.

When marking your ball with a line up tool, this is when multiple permanent markers are helpful in our opinion. New practices often have players lining up their ball on the tee so help with ball striking and aim.
Is a fine point permanent marker the best for golf balls?
In most cases, we have to say yes. This is especially true if you're using a line up tool because you need to be price with the line placement.

A fine point red permament marker is our pick.
What are the Advantages and Disadvantages of Using a Permanent Marker for Golf Balls?
Being able to easily identifiable your ball can help keep up the pace of play, but it can also be super helpful in drawing lines on your golf ball to improve your putting.

The one major disadvantage that comes to mind is that some colors may not be appealing to the eye, especailly if you're using a tool to draw lines on your ball. Those additions can sometimes be offputting to the eye when going to hit the ball, but we reccomend taking time to get used to it on the putting green before going out on the course.
How to Choose a Permanent Marker for Golf Balls
Rule #1: look for a marker that is a fine point.

Rule #2: try out different colors on your golf balls. Go hit a few putts on the practice green to see what you like.

Rule #3: don't stop trying other options. We all love routine and certain preferences become the norm. Try out different lines on your ball with the help of an alignment tool. We should always be looking to try new things to improve our game!
Does Sharpie Affect Golf Balls?
Not at all! The only chance of impacting something is the player because the color might be hard to look at while trying to hit the ball. If that's the case, try a different color!
Conclusion
Overall, we see a lot of great options on the market to mark your golf ball. It's almost gotten to a point that we think your experience matters more than just the sharpie itself.
We like offerings that are multi-dimensional, includin a carrying case, solid alignment tool, and various colors to mark your ball.
The fun part is that you can try various different designs on your ball that will help bring out the best in you.
If you really want to start shaving strokes off your game and improve your putting, we think every golfer should have an alignment tool in their bag. Picking a target and hitting it on line is every golfers dream. Those tools will only help incrase the chances of being more consitent, which is what we are all looking for!
Written At: Updated At: 2023-07-23T20:11:02+00:00