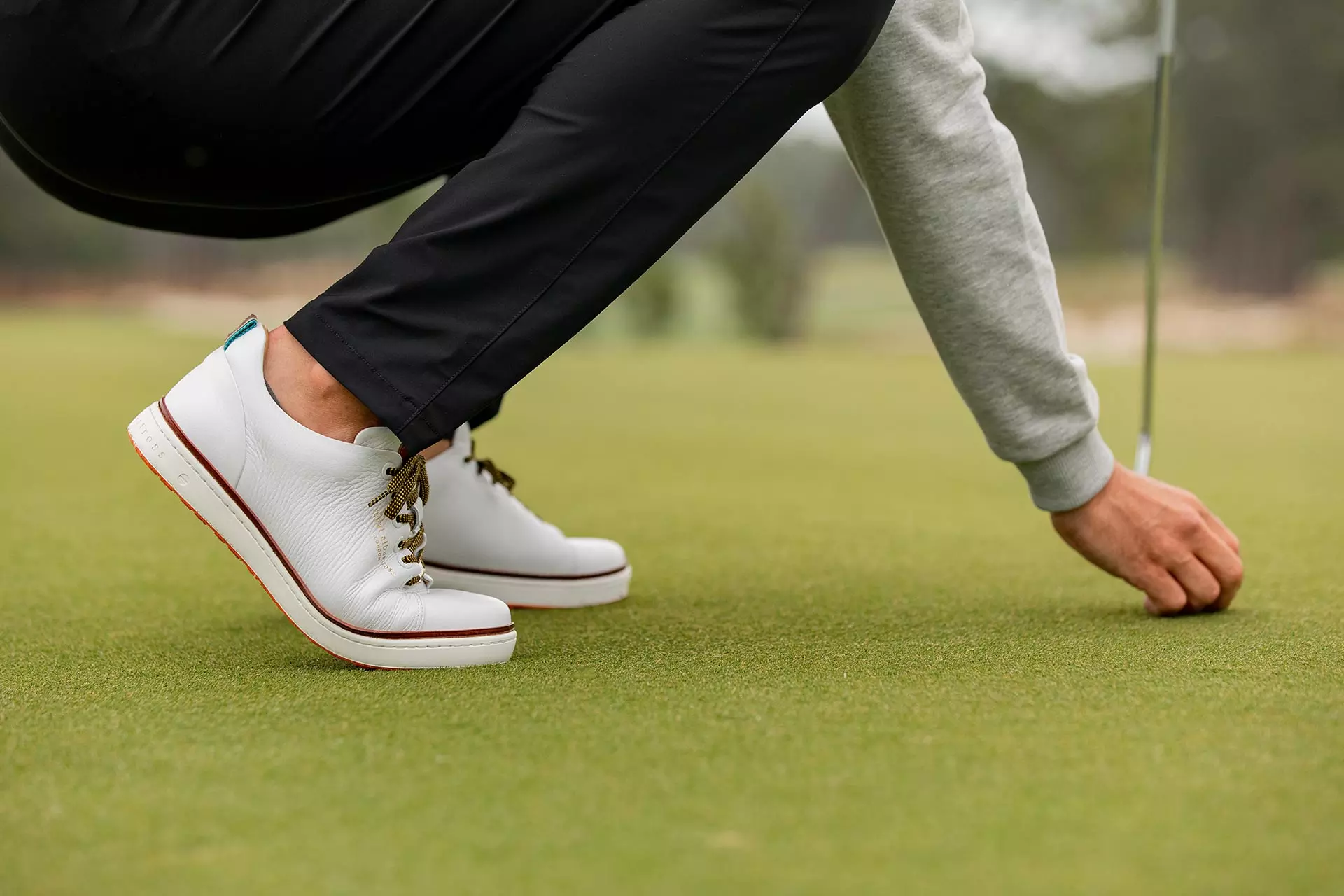 The Best Non Golf Shoes For Walking
Golf shoes have really grown in today's market. They have seen comfort compete with top running and walking shoes, and they have become a staple for all conditions we might endure.
Yet, many golfers don't realize that there are far more universal types of shoes that are non golf shoes for golf that can be just as advantageous as purchasing some of the best golf shoes to walk or play in.
Players are looking for golf shoes that can provide the right quality to support comfort, walkability, and overall playability, while often looking to not spend too much money. Let's not forget how much club equipment costs nowadays.
Choosing the best substitute for golf shoes can be difficult. You'll often hear that tennis, running, and walking shoes can also be optimal when getting started, especially for beginner golfers looking at a new pair of kicks. One of our favorites is trail running shoes.
Sole treads are incredibly important for any kind of shoe to help keep traction as your swing sways your overall balance. Also, walking a long distance when playing can really wear on your feet, so support for your arches and overall foot is critical.
Check out our favorite alternative non golf shoes for golf that we think can be substituted into your game and won't impact your performance.
Best Non-Golf Shoes for Walking
By far one of our favorite picks, we had to try these shoes on the actual trail and on the golf course…and man did they perform well.
We expected quality, especially with the thousands of incredible reviews by existing customers, but you need to give them a try for yourself.
They are incredibly lightweight and breathable. And don't be confused by lightweight and slippage, because these shoes held so well when standing and swinging in damp grass.
Asics also has built-in reversed lugs, which provide uphill and downhill traction to support you on so many different types of terrain. We also really like that this shoe comes in different colors, many of which are solid so they can go with so many different outfits.
We also really liked these shoes at the driving range. Astroturf practice mats can be a good test to see how spikeless shoes hold and these trail shoes have done far better than we expected.
Consider the Salomon trail running shoes to be the platinum version of trail shoes that are an incredible substitute for golf shoes.
When we talk about grip, we think these shoes won't make you think twice about slippage. Wet grass can be brutal for golfers, not just because it can cause a flier lie, but it can also make keeping your feet in place even more difficult.
We really like these shoes because they have been able to tread in incredible conditions. The shoe's shape provides immense comfort to ensure walking those six-plus miles in a day feels like a piece of cake.
New Balance has come out with a great all-around sneaker that can really suit many golfers looking for an aggressive tread with incredible comfort.
Considering the fact that most golfers walk more than six miles in a given round and burn more than 700 calories, your feet need to be ripe for when you need to bend down and read your next birdie putt.
Designed and built with a rubber outsole, you can expect to have an incredible cushion with this shoe. It also has a suede and mesh upper lip that helps your foot stay in place without too much pressure.
The one downside about the majority of the non golf shoes for golfers is that they are unlikely to be waterproof. This shoe didn't perform too well in wet conditions.
This pick might be a surprise to many. The first aspect we considered when testing these shoes is the overall traction in dry and damp conditions.
Nike (and the Jordan brand) have set a new standard for comfort, even when considering the Air Max, a shoe that has been around for decades. This shoe has held up incredibly well within many different types of conditions.
We also really like the clean look of this shoe. The Air Max has been one of Nike's staples due to the incredible feeling you get with your foot in this shoe. Ever try hitting a fade? It will most likely throw off your balance if you do it right, and this shoe makes you feel like you can do that and hit other types of shots as well!
Overall, we expect shoes to contour well to your feet. We also expect shoes on the golf course to keep you in place when making uncomfortable stances (bunkers anyone?), and this shoe does just that.
While the Air Max isn't seen on the PGA tour, we think you should try this shoe if you're looking for max comfort while playing and even more swag when you walk into the clubhouse for a post-round bite and beverage.
Talk about a fresh, clean-looking golf shoe with incredible support and comfort.
The Under Armour Bandit 2 running shoe has been a recent addition to the Under Armour suite of running shoes and has become a multi use golf shoe for those looking at doing more than running.
They come in various colors, and many reviewers feel that the look and pattern of the overall design are what first caught their eye.
We also really like this shoe because it's been known to be true to size for those who have purchased the shoe.
While not a trail shoe, the traction of this shoe was nearly as good as the Asic and Salomon trail shoes.
The one downside we noticed from this shoe while on the golf course was that it didn't withstand water well. You could also feel the wind move through the shoe because of the material's breathableness.
Ultimately, this shoe competes well with a spikeless golf shoe and can be a great substitute for a golf shoe.
It's so important in today's game that golfers focus on doing their best not to leave tracks on the greens. It's also just as important for golfers to ensure they have good traction in comfortable shoes.
New Balance has been one of the top competitors in the shoe market for so long because of the durability they've built into the design and material of the shoe.
This shoe is particularly great for those that want a shoe with low ankle support to help pivot through the swing.
These running shoes keep it comfy with a foam insert and Fresh Foam midsole cushioning that has been designed and built to deliver an ultra-cushioned, lightweight ride.
We took these out for a ride based on our favorite golf stand bags, using the TaylorMade 2022 Flextech Crossover and it was such a comfortable walk.
The Adidas Terrex Trail Running shoe has been by far one of the more affordable and popular shoes in today's game that suits golfers looking for a non golf shoe.
The material that Adidas has used is incredibly breathable and has been developed with recycled materials.
The mid and outsoles are what Adidas has focused on to keep your feet positioned with the right level of grip while also providing the right contour to fit your foot shape.
We took these shoes out for a test on the golf course and had to get close to a pond to use our ball retriever. They got a little wet, but they held strong and kept their feet dry.
The only downside we've seen from this shoe has been the lack of color options. Otherwise, we think this is a perfect pair of shoes for those not looking to spend a fortune on golf shoes that can also be used for other purposes.
Conclusion
Whether you're a beginner golfer or an avid player, the shoe market has evolved so much in the years that golf shoes alone have been positioned as single purpose. That's why we think those that are looking for flexibility need to check out shoes that can be multi-purpose.
We all want to be comfortable playing a round or even just hitting the driving range. We also think it's really important for golfers to consider the level of traction designed for other types of shoes, such as trail running shoes.
Grip and traction are needed for so many other types of sports, and that's why we love playing in other types of non golf shoes because they perform just as well.
Frequently Asked Questions (FAQs)
What shoes should I wear to golf if I don't have golf shoes?
If you want a great and long-lasting shoe, you need to check out the Asic Men's Frequent Trail Running Shoes. They provide incredible support, look great, and also allow you to use them for other purposes beyond the golf course.
Can you wear non golf shoes on golf courses?
Unless you're playing a very private and upscale golf course, most courses won't mind. Over the years, we've noticed that many golfers have done away with golf shoes and moved to something that can be used for multiple purposes.
Can you play golf in regular shoes?
Playing golf in regular sneakers should be okay if the conditions are pretty dry. If you experience more wet environments, we suggest a golf or trail running shoe.
Written At: Updated At: 2023-07-23T20:11:02+00:00