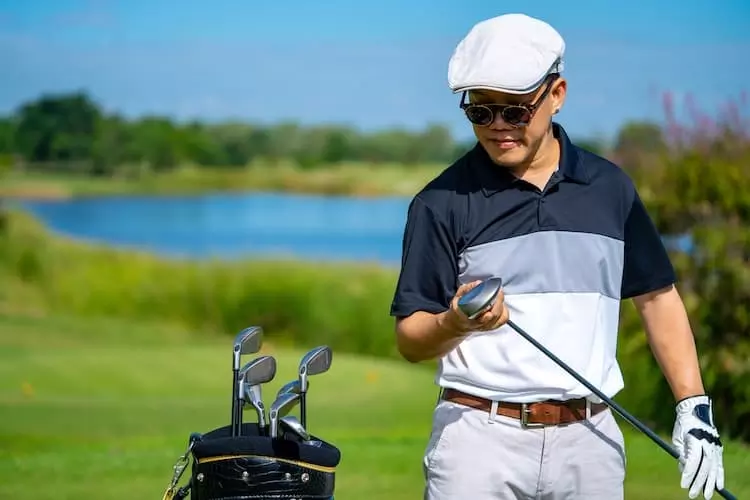 The Best Golf Shirts for Hot Weather 2023
There are not many better days on the golf course than when the sun shines, and you see your golf ball going so much farther than normal. But you can only bring your A-game if you are comfortable and prepared.
Golf shirts are a plenty and that's why we continue to test shirt after shirt to see how durable, lightweight, moisture-wicking, and comfortable. We are impressed with how many small brands have started gaining quite a lot of traction in the golf shirt and polo market, so we had to put many to the test.
As always, we only try to have five to eight shirts in our closest to avoid having too many options. We also highly recommend golf shirts with different materials and feel so that you can have options when it comes to playing in different weather conditions.
That's why we like golf shirts for hot weather and summer days because you can wear some fun colors and still know that you'll be cool and stylish on any given day. Many shirts these days also come with three buttons for golf polos, which we really recommend. You might even see the new crew neck style golf shirts that are making a stir. Connecting this to our best golf gear for hot weather, we see golf shifts being an absolute must to get right when playing in warm conditions.
From moisture-wicking fabrics to strategic ventilation, the world of golf shirts for hot weather offers a range of options to suit every golfer's preferences and elevate their performance to new heights amid the sizzling heat. Whether you're an enthusiastic amateur or a seasoned pro, these lightweight and innovative golf shirts are the quintessential gear to enhance your summer golfing adventures.
Check out our six best golf shirts for hot weather of 2023 for men and women
The M MAELREG Men's Golf Polo is lightweight, moisture-wicking, and comes in a smooth, soft, and comfortable fabric. We have seen big and small brands be constant competitors over the last few years because smaller business than a FootJoy-like size has catered to a new generation of golfers.
This is our favorite because of its 4-way stretch, which provides maximum comfort, mobility, and button closure. This also comes in various sizes (S, M, L, XL, XXL, 3XL); the shirt offers a fitted look with awesome flexibility.
Moisture-wicking golf shirts are by far one of the best selling of golf shirts on the market because they keep you cool in warm conditions. We've all been there when we need to carry our clubs and the last thing we want is to have a sweat mark in the shape of our golf bag straps.
This is the best golf shirt for hot weather because every player wants a great blend of style and comfort. We also all want to stay cool, so moisture-wicking is a prime component. Give this versatile and stylish choice a try for sports and everyday occasions. It's also a great gift option!
The TBMPOY Women's Golf Polo is our best golf shirt for hot weather picks for the ladies. A perfect blend of polyester to elastane, this golf shirt has a button closure perfect enough for those warm days on the golf course.
We now have a pretty firm expectation that we will need moisture-wicking, breathability, softness, and a cool design. Even more impressive is that this shirt provides all that at a great price point. Hot weather golf shirts are a dime a dozen because you need to know what to look for in terms of material. Polyester, spandex, and sometimes elastane is seen, which are perfect for those type of golf conditions.
The shirt features UPF 50+ sun protection to safeguard your skin and neck from harmful rays. Its design includes a classic collar for a well-fitting appearance that helps get some sun rays.
The Under Armour Men's Performance 2.0 Golf Polo packs a punch and is close to being our top pick for golf shirts to wear in hot weather.
We like the color and styles that Under Armour has put together. In the past, we sometimes steered away because of the solid colors we would often see from them that didn't appeal to often a solid short color. The best dri-fit golf shirts come with similar materials that Under Armour has added to their multitude of golf shirts and that's one of the main reasons why we like them so much.
Now with their new colors, we also get the expected soft texture, moisture-free, incredibly smooth, and great sun protection making this a great overall performance golf shirt and ideal for playing in hot weather conditions.
The TELALEO 4/5 Pack - Mens Polo Shirts is one of our favorite shirt packs for those sweltering days because you see a bit more polyester than spandex within this shirt. Ultimately, these shirts are perfect for those hot days because of the light material and UV protection.
We also like that this shirt didn't feel much different after being machine-washed more than a dozen times. We often sweat during these days, and the last thing we want to do is have a shirt fade, wear, and stain after we're done playing in that hot weather.
We also like this pick because the shirts can be worn to other functions, such as a work office environment, casual events, and many other places. Give this a try, and we think you'll want to consider a second pack of different colors.
The Under Armour Men's Performance Polo Shirt is a high-quality and versatile piece of activewear. Crafted with a polyester and elastane blend, this polo shirt offers a comfortable and flexible fit. Its smooth, soft, anti-pick, anti-pill fabric is designed with a textured snag-free finish for durability.
The 4-way stretch construction ensures excellent freedom of movement in all directions. The material has moisture-wicking properties that efficiently pull sweat away from the body, promoting a dry and cool sensation during physical activities. This is one of the best polo shirts for hot weather because of how beathable, moisture-wicking, and stylish the shirt is at a great price point.
This polo shirt also features a durable rib-knit collar, and its performance fit and heat-seal logos add a stylish touch. Whether you're hitting the golf course, engaging in sports, or seeking a comfortable yet polished casual look, the Under Armour Performance Polo Shirt delivers both performance and style.
The SAMERM Men's Short Sleeve Performance Shirt is a versatile activewear garment designed for comfort and functionality. Crafted with a blend of polyester and spandex, this shirt offers a soft and breathable fabric that effectively wicks moisture away from the skin, keeping you cool and dry during workouts and physical activities.
Its quick-drying properties further enhance comfort. The shirt's 4-way stretch construction enables unrestricted movement in all directions, and its smooth texture minimizes friction and irritation. The pull-on closure adds convenience and the shirt suits various sports, exercise routines, and casual wear.
Whether at the gym, on a run, or simply out and about, the SAMERM Performance Shirt combines performance and style.
Conclusion
Golf shirts designed for hot weather provide both style and functionality to enhance the player's experience on the course. These lightweight and breathable garments offer advanced moisture-wicking technology, UV protection, and optimal ventilation, ensuring comfort and performance even in the most sweltering conditions.
Whether you're a seasoned golfer or a casual enthusiast, investing in high-quality hot-weather golf shirts is a choice that not only elevates your fashion game but also maximizes your enjoyment and focus during every swing and putt. Stay cool, look sharp, and excel on the fairways with these indispensable companions for sun-soaked rounds.
Frequently Asked Questions (FAQs)
What is the best material for golf shirts in hot weather?
The best material for hot weather golf shirts should offer exceptional breathability, moisture-wicking capabilities, and UV protection. Commonly recommended options include polyester, which swiftly draws away sweat for dry comfort, polyester-spandex blends that enhance stretchiness, nylon for lightweight breathability and quick drying, microfiber fabrics with a soft feel and cooling properties, specialized cooling fabrics, and UPF-protected materials to guard against UV rays.
Mesh or ventilated panels can further amplify airflow and coolness. Ultimately, selecting the best material depends on personal preferences, and trying various options will help determine what suits you in terms of comfort, moisture control, and sun safeguarding.
Are golf shirts good for heat?
Golf shirts are designed with hot weather in mind, prioritizing breathability, moisture-wicking, and comfort through materials like polyester, nylon, and microfiber. These lightweight shirts promote air circulation, keeping you cool and dry during golf or outdoor activities.
The choice of fabric, such as polyester and microfiber, aids moisture management by pulling sweat away from your body for quick evaporation. Many golf shirts also provide UPF protection against the sun's rays, and some include mesh panels or ventilation for enhanced cooling. When choosing a golf shirt for hot conditions, factors like material, fit, and additional features contributing to breathability should be considered.
How should I dress for hot weather golf?
To dress effectively for hot weather golf, prioritize comfort and performance with these tips: Choose lightweight, breathable fabrics like polyester or microfiber that wick moisture and allow airflow. Opt for moisture-wicking polo shirts with ventilation or mesh panels.
Wear lightweight golf shorts or skirts for ease of movement and ventilation. Select breathable golf shoes and moisture-wicking socks. Shield yourself from the sun with a wide-brimmed hat, UV-protective sunglasses, and sunscreen. Stay hydrated by carrying a water bottle, and consider cooling accessories like towels. Wear light-colored clothing, avoid heavy accessories, and have extra clothes for post-round activities. By focusing on comfort and practicality, you'll enhance your hot weather golf experience and performance.
What color shirt is best for hot weather?
In hot weather, lighter colors such as white, light gray, and pastel shades are preferable for shirts as they reflect sunlight and help maintain a cooler body temperature. Light-colored shirts are less likely to show sweat stains and can contribute to a fresh appearance. However, fabric choice is vital for comfort; opt for lightweight, breathable materials with moisture-wicking properties to ensure you stay cool and dry, regardless of color.
Are Dri Fit shirts sweat proof?
"Dri-Fit," a trademarked technology by Nike commonly found in athletic apparel, including shirts, efficiently wicks moisture away from the body to the fabric's surface for quicker evaporation. Although Dri-Fit shirts effectively manage moisture and enhance dryness, they are not entirely sweat-proof and won't prevent all sweat from being visible.
While these shirts significantly reduce sweat-related discomfort and minimize sweat marks, factors such as activity intensity, sweat volume, fabric color, and thickness influence sweat visibility. Dri-Fit and similar moisture-wicking technologies are valuable for managing sweat and enhancing comfort during workouts, but they cannot entirely eliminate sweat presence.
Written At: Updated At: 2023-08-16T22:47:19+00:00