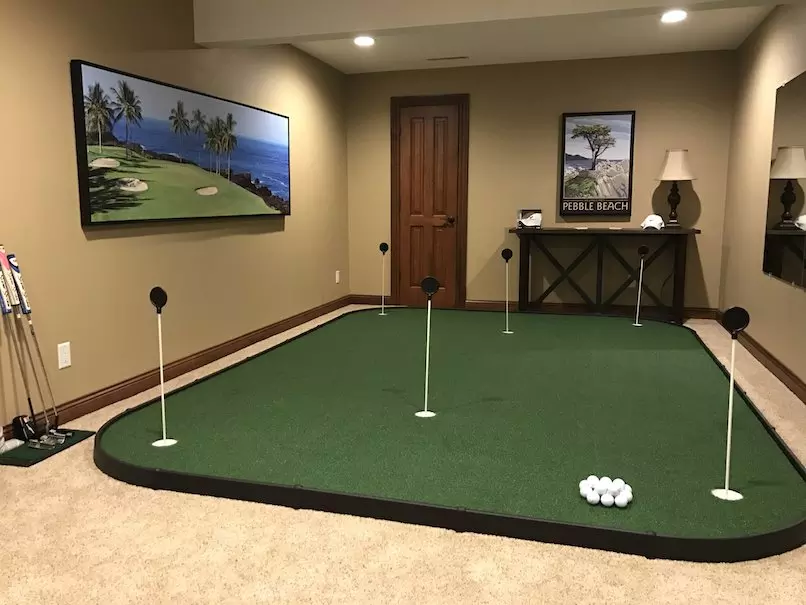 The Best Office Putting Sets in 2022
Now that we're all working from home, it's time to invest in your office setup! We're here to review the top office putting sets on the market.
Whether trying to stay low-key and sink a few putts between meetings or starting office happy hour with a bang, we've got the top options (and our best overall pick) for you to check out. Putting practice mats is the new thing (and we think they never really went out of style in the first place).
Keep in mind how helpful this can be to your putting. But your golf grip and overall putting mechanics are also just as important.
While the speed of these mats may vary significantly from the courses and greens you frequent, there are many pros to leveraging a training aid such as an indoor putting mat.
The golf putting set for the office can be quite the culture builder for the company. And, more selfishly, can help you up your game with only a few minutes of practice that can increase your chances of going lower round over round. Maybe someone will chalk it up to being a part of your golf gifts for the year!
For those in a hurry, here are our top three recommendations:
Best Overall
Our top pick is the Lookwoki Indoor Putting Green. Compared to many competitors with ball return and lawn-like simulation feel, this mat is friendly to all levels and fun for any age.
The portable 6-piece mat set includes magnetic planks which allow the ball to automatically return time after time, allowing the player to stay in place while continuously putting stroke after stroke.
The mat comes with two different-sized holes (3.5 and 2.5 inches). As we covered in our putting tips article, the smaller the hole can help you narrow your precision and increase your putting confidence.
Another key reason we love this item - it's so easy to assemble. Within less than a minute, you can be putting balls on a roll back to you for endless practice.
We Love The Perfect Practice Mat
It's hard not to mention the Perfect Practice Putting Mat when discussing indoor golf putting mats.
While you'll notice many similar offerings between this and the Loowoko Indoor Putting Mat, you also obtain features such as no skidding and slipping, alignment markers to help ensure your putter is square, as well as an option to choose from two different golf mat sizes (9'6" and 15' 6" golf practice putting mat options).
This mat also offers great options for both right-handed and left-handed golfers, which fits well into any office golf putting set.
You'll also have the same two-cup style Loowoko offers and the automatic putting cup ball return. What isn't included with the Perfect Practice Putting Mat is a putter stand, which can be a nice offering when the putter doesn't need to leave the mat's space. This is something that Loowoko offers.
Kalani Matthews ranks this as the top golf putting mat out there, and we think the difference between his and our top pick is minimal other than cost.
Simple and Practical
For a more affordable option, our pick is the Divot 9ft Putting Track Training System Putting Aids.
With a 9ft mat, this putting practice tool provides as straight as it gets offering to help you keep putts straight along with your club face square at setup.
This mat also includes an automatic ball return and one cup (standard golf size at 3.5").
If you're looking to determine if a putting mat at home could help you, this could be a great budget-friendly option.
Expand Your Office Swag
If you are the boss or, even alternatively, your boss is cool with a chipping mat option, you need to try out the RELILAC Pop Up Golf Chipping Net.
The package deal comes with two different turf mats, 12 foam balls (so nothing gets broken…we hope), and a practice net that allows you to practice all your chip heights.
Make it an office golf party and hold competitions in putting and chipping.
Similar to the putting mat, this allows you to practice your chipping all year. And even better than the putting mat, you can extend the net at your desired length, so you can practice chip shots 20 plus yards.
More importantly, you keep your fundamentals sharp. You hear comments early in the golf year that many have lost their short game due to not swinging a club during the offseason. With the help of putting and chipping tools, this can reduce the chances of your game-changing much during any part of the year.
A putting and chipping mat can run you close to $150 if you go with our top picks, but you can expect to start shaving strokes round after round with a few minutes playing around on these mats a handful of times each week.
Also, consider the mental break you can take while at the office. Who doesn't want to be playing some form of golf (even if it's just practice) during the middle of the work day? Even more so if you live in climates where your golf season is no more than eight months, and you've got four long months of hoping your golf game will be somewhat decent when the next season arrives.
New to Putting? Try this
The team at IXIA Sports has developed the True Pendulum Motion (TPM) - Golf Putting Training Aid.
The putting motion is often referred to as a pendulum. Yet, mastering this can be tough and affected by various factors.
Your grip, the length of your putter, and the size of your putter grip (we are looking at you SuperStroke Fatso users) all play a critical part in your stroke.
Yet, if we simplify the factors you want to think about to start, it must be your stance and your form. This tool will train you to have the right fluid motion, attack angle, and follow-through that will want you to keep this in your trunk so you can use it before any round.
If you're considering buying any of the putting mats mentioned, this training aid would be a great addition to your golf office swag, especially for those wanting to get into golf or even improve their mini-putt game.
Offseason Putting Drills
If you can spare 10 minutes (not recommended while in the office), watch Martin Hall and Blair O'Neal provide several fantastic drills you can do right at home (and hopefully with your new putting mat). These are fantastic to do before you hit a ball but will also be there for you when your stroke goes awry.
How To's
How To Keep A Golf Mat From Sliding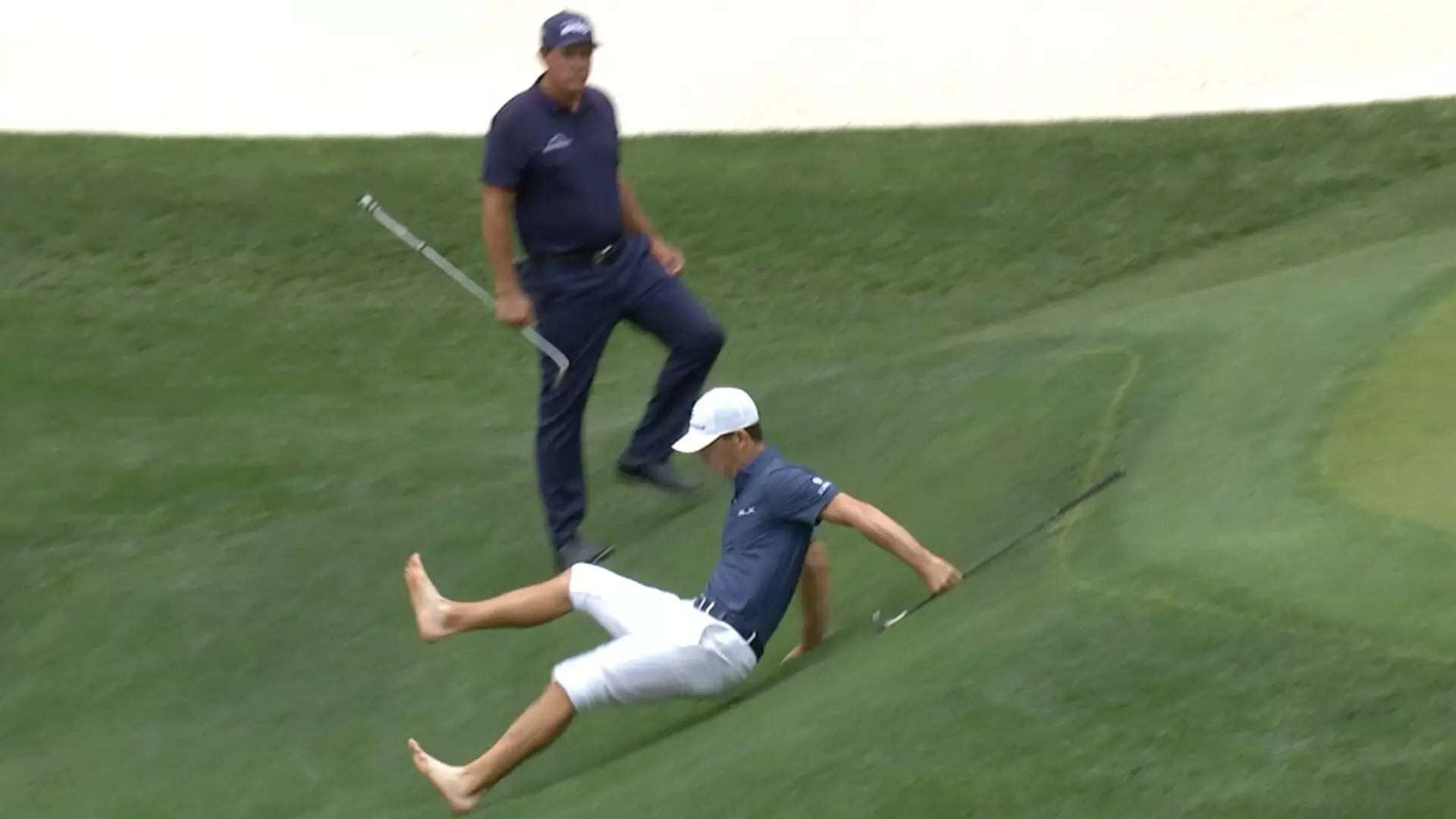 Time Commitment: 20 Minutes
Supplies and Tools
Double-Sided Tape

Painters Tape

A Ruler or Putty Knife (plastic is fine)
Step 1 - Mark Your Mats Corners
Take your painters tape and mark each corner of your mat on the floor. This is your outline.
Step 2 - Remove Your Mat
Now that you have your outline, move your mat away from the area.
Step 3 - Lay The Double-Sided Tape in an X Pattern
From each corner of your outline, take a piece of the double sided tape and make a large X (corner to corner). Use a putty knife to fix any bubbles. Stop once you have both diagonal pieces laid down.
Step 4 - Lay The Double-Sided Tape Around the Perimeter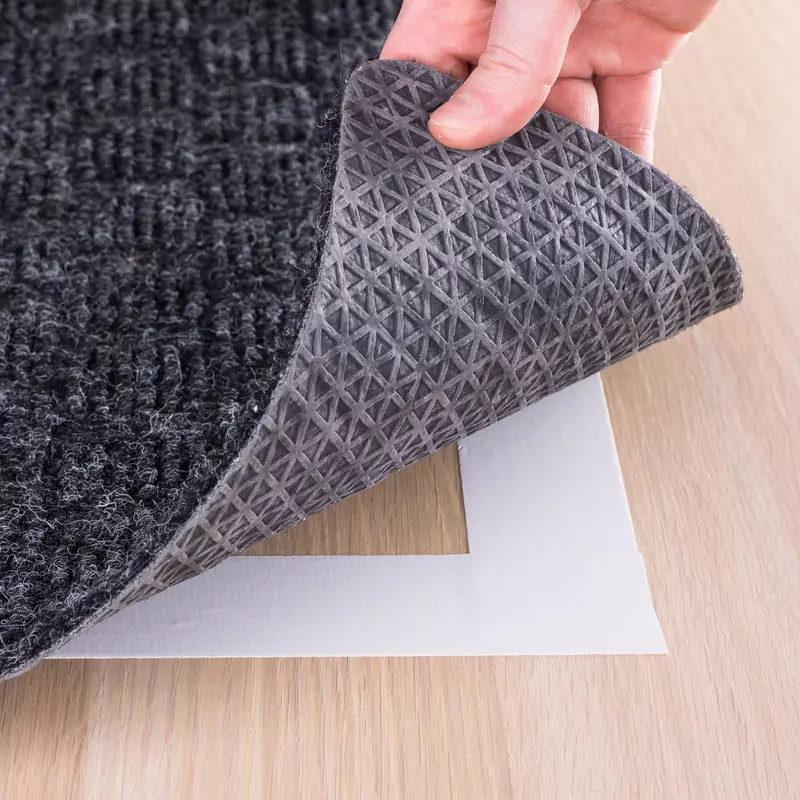 Do another round of double sided tape to form the rectangular perimeter
Step 5 - Lay the Mat Over The Double Sided Tape
Start at the end of mat with the heaviest side (typically the ball return). Line it up over the tape and roll out the carpet/mat over the tape
Step 6 - Walk over the mat
To complete the adhesion, walk on the mat helping to push the mat and tape together.
Written At: Updated At: 2023-07-23T20:11:02+00:00