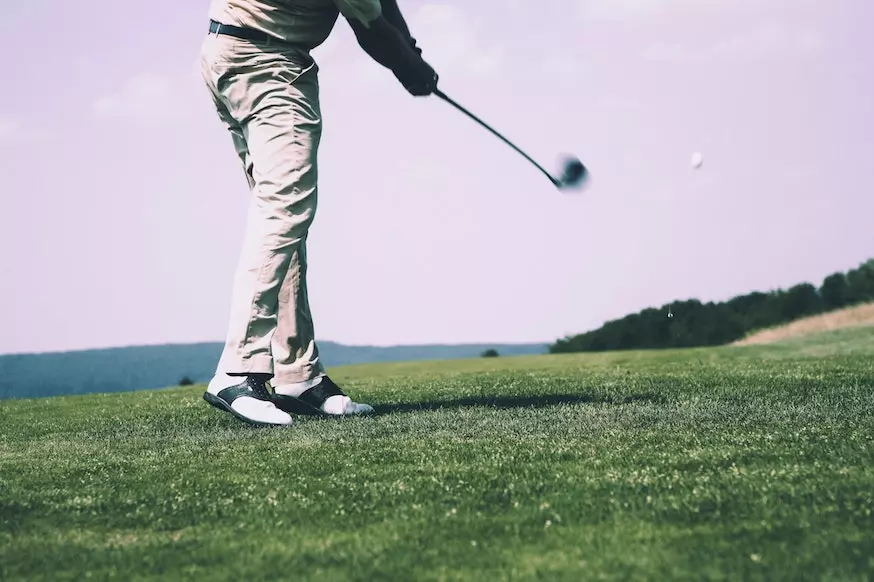 The Best Golf Shoes For Walking in 2023
Ready for some new kicks? Golf shoes are one of the most important items you must have during any practice session or round. The comfort, protection, and overall durability can be critical to your performance.
Bending down to sink a 20-footer? Those shoes better be versatile enough to help you handle all elements to get the ball in its home (Happy Gilmore, anyone?)!
Walk the course in comfort with our top-rated shoes.
But price and quality these days continue to get closer to the midpoint. And they must be something you'd spend time in before, during, and after the round. Especially if you're having a celebratory drink (even for making it through 18 holes). Spikeless or spiked shoes, we've got recommendations for you.
Let's dive in and find you a new pair of the most comfortable golf shoes for walking!
Here are our best golf shoes of 2023
Adidas has put together quite the athletic golf shoe. A taller upper lip increases the chance of staying dry, and a rounded toe provides a flexible offering no matter if the ball is under or above your feet.
Another phenomenal golf shoe offering that is well tested for the walking warriors. Versatile material keeps your feet breathing while planted via its proven traction-based design.
In our view this is the best golf shoe for walking in any condition - it's waterproof, comfortable and looks great! If you're looking for a shoe that avoids blisters on the first wear, the Adidas 360 Traxion is our pick!
The Adidas S2G is similar to the FootJoy Flex Golf Shoe in numerous ways. Not only is the golf shoe incredibly comfortable, but you also get a flexible midsole cushion, along with v-traxion lugs on the outsole that helps to support you in any landscape. Golf bunker, woods (we hope you aren't there often), or the plush fairway - this shoe looks and feels great.
To add to its impressive repertoire, this shoe is also windproof and waterproof (on the upper textile). This is our best walking golf shoe in dry conditions. Walkers will love these which is why they are our favorite golf show for walking!
Better, when our caddy friends ask us for a recommendation, we tell them the Adidas S2G is the best golf shoe for caddies.
Adidas also has a unique Boa Fit system to help feel like your feet feel locked in, so no matter your balance (or lack thereof) during the swing or getting back into the golf cart after a picture-perfect shot, these golf shoes hold a tight yet comfortable feel no matter the conditions.
The FootJoy Flint golf shoe includes the VersaTrax outsole engineered with traction elements to make for a perfect fit on the course.
Includes a narrowness at the toe that not every player will love, but the toe character across the forefoot completes the classic profile and a point that looks great when the toe comes up on the follow-through.
FootJoy has provided this versatile option that is spikeless, waterproof and has incredible support that does not easily set, providing a cushion that will make your walking (or riding) days feel like a walk in the park. You can also consider the spiked version in the Packard style. FootJoy has included various shoes with microfiber leather that many consider a must in today's game.
FootJoy has continued to be a leader in this golf shoe space. They have wide ranges of style and feel, narrowness to extra wide, spiked to spikeless, and outstanding comfort across all makes and models.
The FJ Flex Golf Shoe performance mesh material provides a lightweight feel that can make your feet think walking 36 was like going for a beautiful walk down the beach. This is the type of shoe that you can literally wear all day without feeling like you need to switch back to your most comfortable shoe after a long round.
We have heard from numerous readers that this shoe was comfortable to wear, even after a knee replacement. Foot Joy has always been a reputable brand you could trust.
The major downside we see with this shoe is that they are not waterproof, which is why it's not our top pick.
Packing an insole foam compound that has revolutionized New Balance's cushion makes this budget-friendly golf shoe a staple for any type of golfer. Walking 18 holes? This is the sneaker-like golf shoe you need.
Golfers in today's market have shared the importance of lightweight and durability. Golf clubs have been seeing a seismic shift with those attributes, and golf shoes may have been a significant instigator of this change.
While not fully waterproof, this shoe includes a forefoot water guard that provides extra protection when dealing with welt elements.
The Puma Ignite Pwradapt shoe's heel stands a few hundredths of an inch higher than your typical running shoe. And that's with intention. Better grip on the ground comes with more force from your heel due to the angle of your foot.
The saddle of the shoe grip makes your feet feel like you're buckled in for a rollercoaster ride, but instead of the ups and downs, you're positioned to be in unbelievable comfort for a mid-iron approach shot into the 18th green (with your feet thanking you).
These shoes are also great in those annoying rainy, wet conditions.
Puma has decided to stick with the trusted golf shoe model, including golf spikes. To help build your traction-based confidence, even more, the spikes will be required to replace every 30 rounds you play but keeps your slippage percentage much lower.
If you're looking for the best golf shoe for custom orthotics, arch support or bad knees we think you should give the Puma Ignite a try. They are incredibly soft and comfortable where your stride is helped by the lightness of the shoe. When you pair that with the low heal to toe drop, your natural gate should be uneffected when wearing these helping those experienced knees and ankles.
FootJoy's 70+ year history is nothing to bat an eye at. They have a classic style that has continued to be modeled for other products in their repertoire. That's why they continue to be ranked the #1 golf shoe brand year after year.
The padded, comfortable insole provides a lightweight cushion for optimal support. The Pulsar® cleats by SoftSpikes provide a required turf gripping performance for any condition.
Including seven spikes across the heel, ball, and toes cover the proper weight balance a golfer should have during setup to follow through. We often hear how various levels of players continue to come back every few years to buy the new version of this FootJoy shoe. Recurring purchases for this shoe show how well it continues to hold on the course.
A vintage saddle-shoe style that is sleek and stylish, with awesome traction that improves the more you wear them.
With a 1-year waterproof warranty and FootJoy's reliably good construction, the FJ Originals are a great value that'll keep you looking good and feeling confident on the links.
Easily one of the top-rated golf shoes you can find on the market. And easily within our top 3 golf shoes for the year 2023.
Talk about dynamic. This shoe comes in many different styles for all golf players. You can go with the most common spiked golf shoe. You also have a same design in spikeless that offers nearly all the same features.
Keep in mind that these shoes aren't waterproof but incredibly light and breathable. But don't be fooled. They still have a water absorbent lower sole that can help to keep your feet dry most of the time…unless you come up on a monsoon.
If you're looking for the highest voted golf shoe from golfwrx users, the Adidas Tech Response is usually always there.
We've talked about comfort and cushion. But, you have to stick your feet in these fairway moonwalks to understand the fit FoyJoy has created.
Stability, lightweight design, a narrow heel, and ultra-performance leather have this waterproof golf shoe ranking as a top pick for SwingEasy. It's easily one of the best golf shoes for walking 18 holes in and price matters in every one of our golf equipment and apparel decisions. Golf shoes might not always get the same love as buying a new club. But, this is going to make you remember why investing in your golf shoes is just as important as any golf driver, wedge, or putting grips you buy (or dream of buying).
The one downside (and why it doesn't meet our top pick criteria) is that the shoe can be too narrow for many golfers. But, FootJoy continues to provide a dynamic offering to support all likes of golfers from narrow to extra wide. Take a look at FootJoy's sizing guide if you are unsure what to do.
The price of this shoe may be out of some range, but consider the shelf life of golf shoes for most golfers, which can be two to three years. These will last that long if you maintain them properly.
Methodology Used For Evaluation
Insole
The insole is your first feeling when your foot starts to slide in. One of your first impressions (whether you notice it or not) can be the most telling about how you like the shoe.
While the outer look of the shoe can be eye-catching, your next assessment of the shoe can be the quality of the insole.
Microfiber lining can be one of the top materials you should look for in any golf shoe. It provides adjustable comfort based on your feet on any given day. And don't forget that your muscles can have inflammation as you put more strain on your body. So the material in your insole can be the leading factor in what shoe to buy.
Durability and Freshness
The material on the outer part of the shoe is a must to consider when buying your shoe. If you are prone to various weather elements throughout the season(s), you must ensure the right material to support. No matter, golfing in the rain, snow, or sun.
Dry feet during your round can save you the headache of trying to play with wet feet. You want to avoid the potential scenario of sliding when swinging. Otherwise, who knows where that ball is going!
Keep an eye out for materials like Goretex, commonly used to keep shoes waterproof. Granted, other brands and manufacturers may have their own material, so a quick search on the brand's website should tell you.
Dry feet will keep you fresh during the round (and we aren't just talking hygiene)!
Comfort
The golf shoe feel during your round can't be talked about enough. Comfortable feet and good grips can be paramount for any round, especially when dealing with season conditions.
Stable feet can help to increase confidence and feel. It's important to wear your shoes as often as you practice and play. Practice with shoes on can often feel different than your daily walking shoe due to various factors. Make sure to change those shoes before any practice (unless you're in the office).
Stable feet promote confidence in your swing and improve contact with the golf ball at impact.
Feeling comfortable in your golf shoes, whether spiked or spikeless, gives yourself the best chance to post your lowest score ever.
Outsole
Most likely your first impression factor. The outsole can tell you many things before you even touch the shoe.
Softness vs. firmness, leather vs. synthetic - add more factors, and your outsole can be quite complex. Assess based on how much breathability you need, coloring and overall image, and material to hand the unpreferred elements (like rain, wind…maybe snow).
Keep in mind the shelf life of shoes if you play more than 30 times a year. We won't really want to be playing in the same shoe for more than 3-4 years. Different materials can warp faster based on condition, so if you have a greater chance to play in wetness, it may be best to buy a waterproof shoe.
Frequently Asked Questions (FAQs)
Do golf shoes make a difference?
You can bet your bottom dollar they do! Whether you're walking nine holes or riding and playing 36, your feet are instrumental to your play.

At setup, if your balance isn't properly on the balls of your feet with your eye almost right behind the ball, your shoe may be cause for blame. The height of the heel can make a significant difference, especially if you're practicing in regular sneakers.

Golf shoes should be just as important as the grips you have on your clubs.

The top things to keep in mind when buying a golf shoe: the comfort and material of the insole (look for mesh), outsole material (try to find waterproof), and height between the toe and the heel (also called the heel-toe drop).
Are golf shoes necessary?
If you play a handful of rounds a year and are willing to risk slipping and sliding for the additional cost, then no.

If you want to be consistent round after round, your shoes, grips, clubs, and body need to be consistent (the 19th hole is meant for after the round, not the night before).

Golf shoes can be bought for as low as $40 when looking on Amazon. Consider the THESTRON Men Golf Shoes Mesh Breathable Breathable Golf Walking Sport Sneakers as one option that is incredibly breathable, comfortable, and at an amazing price.
Where to buy golf shoes?
There are countless online retailers, and many are most likely within 20 miles of your home. Amazon carries quite the array, but we also like our friends at Global Golf
What kind of golf shoes does Phil Mickelson wear?
Phil has been wearing the Gallivanter golf shoes from G/Fore golf.

The gallivanter packs an ultra-lightweight sole matched with a custom cleat design that provides unreal traction while on any part of the course.

G/Fore has continued to climb the ranks with quality that can compete with FootJoy. They have many spineless options and various designs that will catch the eye when on the course. Did someone say John Daly, anyone?
What golf shoes do the pros wear?
John Rahm loves his TravisMathew apparel after inking a deal with Callaway. He rocks the TravisMatthew Money Maker model.

You know what Phil loves.

DJ, Collin Morikawa, and Xander have been stepping on blades of grass with the Adidas ZG21 Golf Shoes, which nearly hit all of the top things you should have in your golf shoe (check out those elements listed above).

Justin Thomas has been enjoying the FootJoy Premiere Series Tarlow Golf Shoes. And talk about a classy look that has a low heel-toe drop that many classic golf shoes from the 1960s to early 2000s brought to the game and is still very common today.

Brooks Koepka has been wearing the Nike Air Zoom Infinity Tour Shoes for that added comfort. We bet a lot of his choice around this shoe is around durability and comfort due to his massive frame and height.
How To's
How to Break in Golf Shoes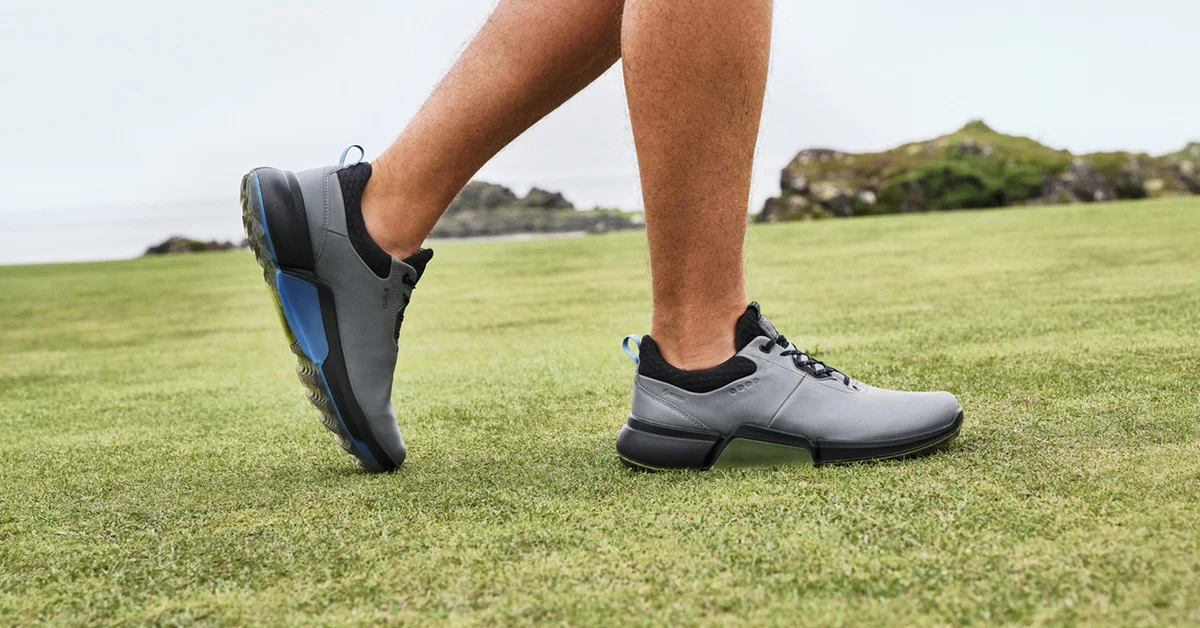 Time Commitment: 4 Days and 3 Hours
Supplies and Tools
New Golf Shoes

Good Socks

A ruler
Step 1 - Measure
Put both shoes on and using the ruler measure the distance between your longest toe and the front of the shoe. Write that down.
Step 2 - Wear Them To the Range
Remember that shoes have varying sole heights and toe box drops. It might feel weird when you first get to the range. Don't hesitate, your spouse gave me approval to send you to the range.
Step 3 - Go For a Hike or Walk
If your shoes are spikeless, take them for 5-10 walks, each half a mile. Use the socks you normally golf in (we like wool). On average, golf shoes take about 5 to 10 miles before they are fully broken in.
Step 4 - Measure Again
While walking in shoes, your feet start to expand (this is normal). When you're done - measure the distance between your longest toe and the front of the shoe. There should still be a thumb width of distance - if there isn't, your shoes are too small.
Written At: Updated At: 2023-07-23T20:11:02+00:00