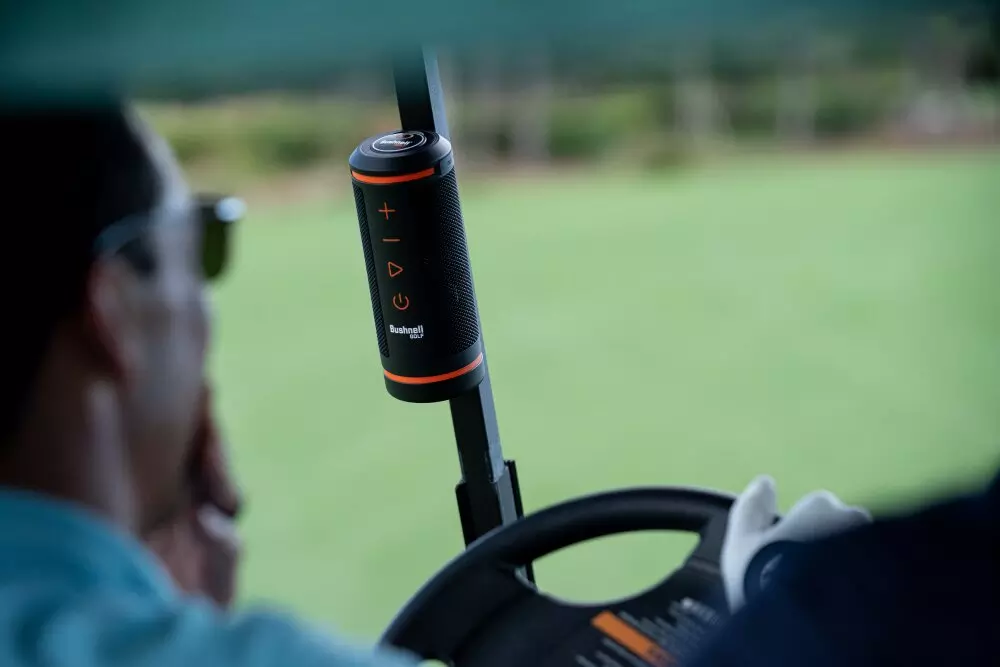 The Best 2023 Bluetooth Golf Cart Speakers for Music
Who doesn't love music on the golf course? The golf cart game has evolved considerably over the past decade. We have started to see that players seem to have a larger desire to come back and play again when courses start to invest in their equipment, especially newer golf carts with features like USB charging ports, GPS navigation, and upgraded coolers.
But we haven't seen many speakers in the new golf cart equipment. And we think a cultural shift is happening in the game of golf - no longer are we hearing the birds chirping in the trees (as much) or the waves crashing against the beach. Instead, we hear Hells Bells being played by the foursome on the next tee box. And many don't seem to mind it!
Similarly to the golf cart, Bluetooth speakers have transcended over the years and are now really well-built, offering water resistance materials, clips to strap onto various places on the cart, and even magnets to keep your speaker on the outer bar of the cart to make it feel like you're driving down the par five fairway in a convertible. Let's get ready to play those favorite tunes!
Check out our top-rated Bluetooth speakers that can easily sit or attach to your golf cart. We've tested over two dozen of them throughout two golf seasons, and we think we've landed on our top ones that will be good for years to come.
Here are the best bluetooth speakers for golf in 2023!
The Blue Tees Player Magnetic speaker is likely the speaker you see and hear when you are around your local track and for good reason. This speaker is lightweight, with a strong magnet and looks great. It boasts a dual pairing mode which allows you and your friend to argue about which song is most appriopriate to hit a hole-in-one to (it's gotta be the Rocky soundtrack, right?).
This speaker is weather proof, with good ergonomics (use to use with one hand) and a strong magnet. We like the sound quality, for both lighter and bassier music.
Our only con to this speaker is the buttons don't include mute which we'd prefer since we like to leave our phones in our bags most days.
We don't think there is a "close second" to the Ultimate Ears Boom 3 Bluetooth speaker. We all want to hear the same quality of music, no matter how far you're from the golf cart. This speaker has proven it's incredible for the outdoors, and really allows you to understand how well-built this machine is based on the overall sound quality.
It's also incredibly lightweight, but don't let it fool you because the sound still packs a punch. Because of its low weight, this device is incredibly portable and so great to bring to the golf course.
The designers of this device really considered all of the environments this speaker could be brought into. The battery on this thing can hold almost 15 hours, which is phenomenal when you're considering going from the golf course to the beach or are getting ready to play a second 18.
The IP67 rating for dust and water resistance is proven and can withstand up to a meter of water for 30 minutes. We just hope this means you're using it on the beach and not getting near those ponds where you think your ball went in.
And let's face it, we are constantly using our Bluetooth device in multiple environments, your golf cart being just one of them. But, we think the golf course and cart can be one of the most dynamic environments for a Bluetooth speaker because of how often you go back and forth between the golf cart and your ball. Not to mention the conditions you could be playing in.
We would typically expect you to constantly adjust the volume, so it's not too loud while in the cart but loud enough when you hit your ball. Well, they've got this covered too.
The open-sounding, balanced base has a fantastic soundstage that allows you to really get a balanced mid-range that heightens vocals and lead instruments. Also, this device fits well into any golf bag we've paired it with.
While we mentioned we didn't have a close second (because we think the Ultimate Ears BOOM 3 is really that good), the JBL Flip 6 is quite the competitor. Not only does this sound amazing, but the battery on this baby recharges so fast that you could even charge it while on the go in your golf cart!
The music is super clear, even if the wind blows out on the course. We also really like how durable this feels, especially for those golfers placing their devices in a cup holder. Consider this wireless golf cart speaker to be one of the top on the market, especially for those looking for the best bluetooth speaker for their golf bag.
This is also IP67 certified, providing incredible protection from water and dust. The other really neat part about this device is that both horizontally or vertically facing, this device sounds the same all the time. Ultimately, this JBL golf speaker has been a clear winner for so many on the golf course based on it's incredible durability and amazing sound quality.
Now it didn't perform as well for us when playing videos/movies, and we also must mention that the battery life felt a little weaker than anticipated. But, we think when that volume is high and placed in your golf cart, you'll be really happy with your choice. But, do remember that this speaker is normally sold at the same or around the exact cost as the Ultimate Ears BOOM 3.
The Ultimate Ears WONDERBOOM 2 is a very compact and portable device that sounds incredible but is also very lightweight.
The 360-degree design gives you that same music quality no matter how far you are from the device or in what direction. The battery on this device needs to be talked about more. They say it goes for up to 13 hours, but we were able to test for more than 15 hours. Overall, a fantastic and one of the best mid-range golf cart speakers you can buy.
Now, how many hours are you really going to be listening? But we think you should consider how often you need to charge your devices. I believe most of us can say we are desiring fewer times we need to put a device on the charger so you can get on the first tee box ASAP.
Another great feature is the outdoor mode that provides the bass to stay on point as some of the sound waves change as you move. We really like this feature for golf carts because as you're driving, you can sense when the music gets cleaner because the bass fades to help keep the sound onpoint and feel unadjusted.
Talk about classic and modern mixed together. One of the loudest Bluetooth boomboxes on the market, we think the Bumboxx Bluetooth Boombox sound machine is perfect for your golf cart rides. Now we hope your neighbors will be all about it because this thing packs a punch! More than most speaker systems we've tried!
Several colors are available (we love the NYC Graffiti style) and feature a bass radiator on the device's backside. The box has two drivers, two tweeters, and 140 watts of power, equivalent to two car speakers.
The fun part about this is that it can be used in many places. It comes with a carrying strap that can keep you moving as you're on the go. Take it to the green for all we care; just make sure it's a birdie putt, so everyone knows the music and hoo-rah are heard for a good reason across the course!
The Rockform G-ROK portable Bluetooth speaker is incredibly durable and handles all types of elements so well. We haven't found many devices that hold well to a golf cart and provide a great sound.
We've seen this speaker rank against many of the best magnetic golf cart speakers due to it's military type grade strength and great sound output.
You must consider that the magnet can block a small area on the device, so you don't get as good sound output. But, because this sticks onto nearly any part of your cart, we think the sound is still incredible for the price and effortless ability to control so quickly based on its "stickable" characteristics.
With up to 24 hours of battery life, you may not need to charge this guy until a few rounds. This is why at that point, we hope your golf carts come with a USB port so you can charge on the go. This magnetic bluetooth speaker for golf cart has consistently been one of the top speakers on the market because of it's powerful hold and great quality sound.
Ultimately, this speaker is one of the best magnetic bluetooth speakers for golf carts on the market. You might be annoying the group in front of you with how loud this can get, along with the incredible grip strength that locks onto the cart. We think you need to try this for yourself.
Bushnell continues to go the distance with the Bushnell Wingman GPS Speaker where they've made incredible headway in the golf measuring device business and they have proven their strategy of providing quality items for the right price.
The Wingman is remarkable because it will provide audible distances, so forget the need to look down or up at another device to give you all the numbers you need. Talk about one way to speed up the pace of play.
They've also made this an even stick-on and pull-off design via its magnetic siding that holds well onto all golf carts (including golf push carts). We love this and ranks as one of our top best bluetooth speaker for golf.
Everyone is always looking to do more with less. And we think the JBL Clip 4 Bluetooth speaker device for golfers of all levels is perfect because it can be portable and dependent on long days walking 18 or getting 36 in during a beautiful summer day.
With nine different speaker color options, we really like how much you get out of this device both in terms of style, but also the quality of sound. Similar to our 360-degree designs, this device has proven that you can really create a lot of sound in smaller devices than you might expect.
Also, this device is dust and waterproof, which we see as an expected variable in all our Bluetooth speakers for golf carts nowadays.
The JBL charge is quite impressive as well. Boasting up to 10 hours of playing time.
Key Features to Consider In A Bluetooth Speaker for Golf
Carrying and Placement Portability
We always say that you must ensure that your speaker fits well with your bag and the carts you typically ride in. We want to ensure that your speaker is flexible so that it can fit easily into your bag and onto or into your cart.
Make sure that you can easily hold onto your speaker. We really want to make sure that our speaker is playing outside of the bag to experience the best sound quality. That means you need a place where it can latch on or fit nicely into a given place. That's why we really like the new latch or clip-on styles that we've been seeing, like the Ultimate Ears WONDERBOOM 2.
Minimize the Need to Charge
We aren't as worried about whether today's Bluetooth speakers will hold a charge (if you go with one of our picks). But, we want all of our readers to be aware of the number of times you'll need to charge. Is it every two or three rounds? Or did you consider devices that can hold a battery life up to six rounds?
There are so many options to choose from nowadays, but don't be fooled by double-digit battery life. The higher you go, usually the better you'll be.
Sound Quality
We all expect excellent sound quality from any Bluetooth speaker you'll find on the current market. The most important thing to consider is what you're playing.
Most Bluetooth speaker devices should have you covered if you're playing off Apple Music or Spotify. But, when it comes to Youtube or another streaming service (like Hulu TV), you need to consider how the sound is for videos/movies.
Many golf courses don't always have the best cellular service on the course, so watching or listening to your local NFL football team might not sound that great if your Bluetooth speaker isn't fit for purpose.
We highly recommend buying a few devices and returning those you don't end up liking. Read the return policies for each device you buy to know their terms.
Water and Dustproof
A common expectation in any Bluetooth speaker for all golfers in today's game: is water and dustproof.
The IP67 certification is no joke. We started to see this becoming a priority for Bluetooth speaker creators because many of our aquatic friends wanted more sound in environments typically found on the water.
Golf courses are no different in some regards. Many weather elements can impact your game, and we want to ensure your supporting equipment is covered. That's why we feel your device needs to be water and dust-proof before stepping on the first tee box.
Frequently Asked Questions (FAQs)
Do golf carts typically have speakers?
Typically no. Over the last five years, we've seen newer models being created and sold, but those are usually for personal use, which isn't as common. This will also vary from golf club to golf club because of their expectations for play. Most private clubs aren't pushing for golf carts with speakers because it still doesn't fit most players' games and playing styles.
Are Golf Cart Speakers Waterproof?
If they are built into the golf cart, typically, they are waterproof.

If you're looking at Bluetooth speakers, that isn't the case for all of them. Our picks are waterproof because we don't want you sinking in a few hundred dollars on a piece of equipment that won't last in bad weather conditions.
Do Golf Carts Have Charging Ports?
We have seen this new feature within golf carts all over the country for the last ten years or so. And we really love this.

We've also heard many golf courses saying that their customers applaud them for investing in golf carts. After 18 holes, your body is already feeling it from swinging the club so many times; the last thing we need is the cart putting more strain on your body.
Can you put speakers in a golf cart?
Absolutely! Most courses have no problem with you playing music as long as you are respectful of levels in common areas. If you're unsure, leave the music off until you get past the first tee
Does JBL make a golf speaker?
Yes! In fact, JBL makes one of our favorite golf cart speakers, the JBL Flip 6 Bluetooth Speaker . The only downside to the JBL Flip 6 in our view, is that it doesn't have any magnets (come on JBL!).
What is outdoor mode on blue tees speaker?
The outdoor mode on Blue tees uses its internal microphone to raise and lower the volume depending on your environment. You'll notice the music gets louder when there is more background noise and quieter when there is little. Our favorite Blue Tees speaker, the Blue Tees Golf Magnetic Bluetooth Speaker has outdoor mode and we use it on most days.
Written At: Updated At: 2023-07-23T20:11:02+00:00