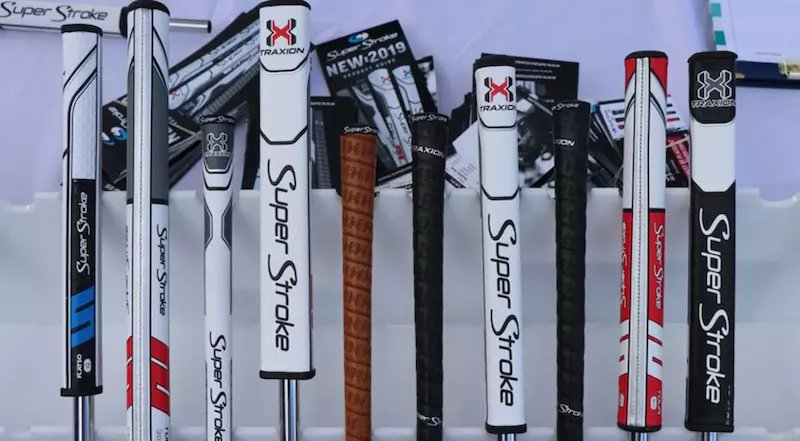 The Best Putter Grips of 2023
We all know you make your money based on your putting game. And we want to ensure you produce the best possible connection on all your putts so we aren't missing any more 3-footers. We also hope you start to hit more 20-footers.
Check out our top-rated putter grips of 2023 that we think you might want to switch to.
While you're at it don't forget to check out our Guide on How to Properly Grip a Golf Club and our Best Grips of 2023
Here are the best grips for putters in 2023
We really love that SuperStroke and the Traxion Tour 2.0 Putter Grip took on a whole new challenge and decided to casually revolutionize the straight putter grip. They've really made the overall size the same throughout and have made this model our favorite (by a close margin). We also found that the club's balance of grip and weight felt just as even as your bottom hand wrapped around the club.
Sizing is very dynamic with this grip. SuperStroke comes in different sizes and can play well for heavier putters, but also those blades dealing with 11+ on the stimpmeter. A tacky polyurethane exterior layer really provides a fantastic feel for optimal precision and durability. Ultimately, we also think this is the best putter for those looking to be more consistent for straight back straight through motion. This should also help to keep the face square at impact and help to see more balls at the bottom of the cup.
Dude to the size of the SuperStroke Traxion, it is a great choice for those who do cross hand or left hand low. It fits comfortably in both hands and because of the size, there is little room to hold this incorrectly.
Golf Pride continues to provide various options for all types of golfers. They've delivered performance and value-driven products based on incredible stability and traction.
Putter grip styles vary for good reason. They often need to fit the right hand size, but they are also designed to support distance control, average speed of greens the player sees, the type of putter face, and much more. Golf Pride continues to be the trend setter for putter grips that require stability but can also support those long lag puts for needed distance control. One of our favorite tests for putter grips involves a 24 foot lag putt where we put it once with our eyes open and then 4 times with our eyes closed. The Golf Pride Pro Only Putter Grip provided the closest proximity to the hole time and time again.
The Golf Pride Pro Only Putter Grip with its classic pistol kick in the back lines up perfectly for a clean look. The height of the golfer matters quite a bit for this club. The relatability between height and grip weight needs to be considered here. This grip weighs 74.5g, so can feel a little thicker and heavier than other pistol grips.
Overall, the design of this grip really helps to make your grips feel right at home. This grip's shape has an arched front design for comfortable thumb placement. You can also find that the upper hand gets an added assist to keep your club square (assuming your grip is correct) and can help you feel more consistent as you pick up the puter to play or practice. Lastly, we think this is the best golf grip for arc strokes, as well as one that would work well for a pistol grip.
A very strong competitor in the golf grip market, the Golf Pride Tour SNSR Contour
comes with an incredibly soft yet controlling feel to help you make sure the stroke feels great on all types of grass.
We find that the consistency of a putter across different grass and speed types is what makes your putter and its grip a powerful combo. We think you'll also love how this pistol grip allows the upper hand to feel locked onto the grip, which should provide more consistent hand placement.
Top reviews of this grip mention its durability, feel, and texture, making this grip one of the best in promoting lighter grip pressure and making you want to turn those shoulders back and forward, allowing the club to do all the work to stay online. And we were surprised to think that your grip can help your shoulder movement. But, we think you need to give it a try yourself to understand the feeling.
We see so many tour players using the SuperStroke Traxion Flatso grip. Super Stroke's traction control and no taper technology promote repeatability. And while this may be considered part of the oversized putter grips family, it helps to minimize wrist movement and maintain a solid putting stroke.
That can be claimed for the larger than usual grip itself, but other elements make this a top grip. We also think this is our favorite pick for those with a straight back and through putting stroke.
They include a tech-port contour that provides balance and an even weight system to help keep the stroke on an even plane. The texture of this grip is something to try because this is how many grips over the last five years have gone. The putter grip has been modernized again, and we think the synthetic material can provide a better grip and lead to more consistent putting strokes.
The one downside we've found with synthetic, in general, is that you may notice greater fade and wear, which can be blamed for the lack of moisture it cannot push away.
Ping putter grips are a staple and we love the Ping PP58 Classic Putter grip. We've also heard many say they've tried new, modern golf putter grips that are boxier and heavier. And the final outcome: It's not a complete winner for all players.
This golf grip fits well for light blade putters. In our opinion, Mallets are always a tough go for a grip like this because you're willing to bet more on the weight of club face, which when 30+ inches out on the ground can lead to a greater chance of a mis-hit. You should be able to find this grip in two colors (Blackout or White)
A classic that could be paired well with this is the PXG Hellcat Putter . And honestly is an excellent pick for those pesky weather conditions because of the rubber material. Keeping your putter face square during wet weather can be even harder, so consider adding weight to your putter (whether the grip or club face).
SuperStroke has done it again with their TraxionWristLock grip that helps support players using the arm-lock putting method (typically seen with a longer shaft). This grip's overall design and build have resulted in a thicker top half that allows players to lock against your arm.
The length of the Superstroke Traxion Wristlock Golf Putter Grip is 13.5 inches and supports both right and left-handed putters. This grip also adjusts your postural position, which can take time if you aren't used to working with longer putters and grips. But, once you get acclimated, we think you'll start to appreciate that your putter grip may be the one helping to shave off a few strokes, not just your putter head or length of the shaft.
Some complaints from those who've used this putter (both during our testing and overall regular play) have shared that their hands may need to adapt to get the most out of this grip. And that's especially true for golfers with smaller hands and have a longer putting shaft.
You should be able to immediately see the forgiveness this grip provides, but you'll need to allow your arms to get used to the locking mechanism first.
Frequently Asked Questions (FAQs)
How many 3 putts does a PGA pro make?
For the top 10 PGA pro's [less than 2%](https://www.pgatour.com/stats/stat.426.html) of all their putts end up as 3 putts. Cameron Smith leads this category. The average tour player only 3 putts 3.04% of the time. We're jealous.
How often does a pro make a putt inside 10 feet?
88% of the time a Tour Player will make a putt inside 10 ft. That is amazing!
What is the Best Putter in Golf?
Our best putter in golf top pick is the SuperStroke Traxion Tour 2.0 Putter Grip . The size of the grip may be something for certain players to get adjusted to. But, we think after a good bit of practice, this grip will provide you with the right feel in your hands and shoulders that enhances the consistency of your putting stroke. There is a reason why many tour players play with this grip, and if anything tells us that the pros are using it, we think you should try it.
Written At: Updated At: 2023-07-23T20:11:02+00:00