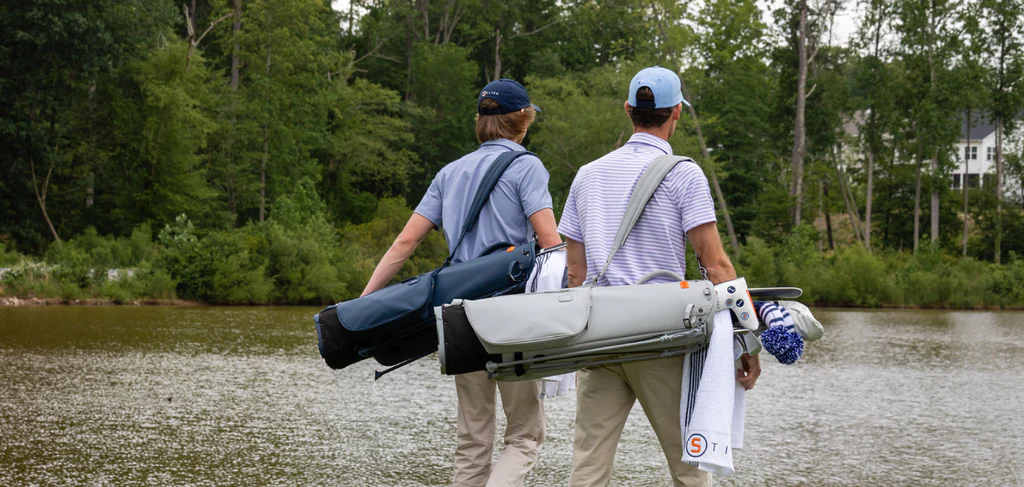 The Best Golf Stand Bags of 2022 and 2023
Golf stand bags remain one of the still go-to items for many golfers, regardless of age. And the addition of hybrid golf bags continues to make golf stand bags a common choice for most players. Golf equipment these days continues to improve year over year.
While we've seen considerable swings towards more golfers taking carts to play, the stand bag is dynamic and allows those who like the walk to continue doing so. But, the stand also allows for those looking to ride to easily strap it on and go. Shoulder straps are critical but we assume you already knew that.
We've gone through several carry bags over a few months of testing, resulting in some key winners coming out of the bag. We'll make sure to cover cart bags in another post. Not only that, we've done our best to show you the best available stand bags under $300.
Here are the Best Stand Bags of 2023
The 2023 Sun Mountain 4.5 LS 4 or 14 Way Stand Bag is one of the most versatile bags we had the pleasure of testing. We loved the leg locking system, the magnetic pockets to put our keys and phone in as well as the durable outer nylon material.
Sun Mountain is famous for making bags that are built for walkers. We took the bag out onto carts without any problem. We also saw how easy it was to maneuver this bag on a push cart.
This bag comes in a 4 way or 14 way divider system depending on your preference. We cover how to organize your 14 divider bags, check it out!
The TaylorMade 2022 Flextech Crossover bag is our winner for the best stand bag of 2022! We kept it on this years list because a good bag is not determined by the year it was released.
Carrying your clubs with this incredible design boasts six pockets that make your items in this bag feel like you're barely carrying anything during your round. The lightweight feel provides the proper balance between large and long carries with easy transportation. We also like the deep ball pocket at the center of the bag, providing incredible storage space that will keep the weight balanced on the shoulders.
We like that it comes in multiple colors, for instance check out the TaylorMade 2022 Flextech Crossover in White feels incredibly secure but also can withstand those elements when you've decided to bring your rain gear along.
The one downside with this bag is that you can stuff all the pockets. And if those items are already heavy, you may feel like you're carrying a load of bricks. But, remember, you can easily access so many pockets during your round that you may find it worth it. We think so.
The Ping Hoofer is another incredible build. The PING Hoofer has been around for a long time and continues to rank in our top 3 golf stand bags yearl, and for a good reason. Not only was Ping one of the first brands to introduce the double strap, but also this bag has full length dividers. Tired o your clubs catching each other at the bottom? Ya, Ping was tired of that too.
If we had to sum up this bag in one word: modern. We see a significant turn Ping has taken over the last ten years with this bag and its overall pocket placement. Very different style than one would have seen in a golf bag 20-30 years ago. But, we think they are reshaping the golf bag for good.
We also find their hidden rain hood placement to be silent but deadly when you need it. Nobody wants wet anything. Never mind grips.
We also like the simple yet clean bag structure based on the placement of the dividers. When you walk around the bag, you'll notice at any angle the ingenuity of the design based on its spherical design.
And the most essential part. The stand. We haven't seen a competitor share stats with us that can handle the pressure of this bag and its potential meaty body (based on what you put in it).
The Cobra Ultralight Pro is another tough pick that could be slated one spot above. The balance of this bag feels like what every bag should have. Superb design and straps that take shape one questions if would be comfortable. But we say, try it yourself to understand.
The one downside with this pick is our concern that some players may not like the polyester material. Nylon and leather bags seem to be making a comeback and this may not be the preferred feel for some.
The Titleist Hybrid 14 is packing a punch. A more comprehensive contour provides far more stability with added traction via the legs of the bag.
As you can imagine, the storage provided by this bag is phenomenal. Various pockets tell you what you'll put in it as soon as you unzip.
The one thing we don't love about this bag is the size of the straps. They are a few inches wider than your standard strap, which may feel too large.
Talk about a reason to spend your money. And for a good reason. Titleist outdoes themselves again with this gazel.
Packing only four dividers and eight pockets, this 4.2 lb low-profile waterproof construction bodes well for all players and conditions.
High-grade aluminum legs and advanced hinged bottom provide some of the industry's best-in-class stability.
We also like how this bag comes in six different colors (we think blue is a top choice). But, what we like about the color offering is that they've included layers of colors in addition to solid. Check out this bag in gray/charcoal/black Titleist Players 4 Plus StaDry Golf Bag
The new 2023 Titleist Players 4 bag is a must, especially if you are a Titleist loyalist (and no one can blame you if you are). This bag has taken the 2022 design and updated it with a new premium double strap design. We personally like the 4-way divdied top and with 7 pockets there is plenty of room for days where both a sweater and sunscreen are applicable.
We cover how to organize your 14 divider bags, check it out!
When you first go to lift the TaylorMade Select ST, we have to imagine everyone's first reaction has a feeling of "wow" involved. The padding on this stand bag is impressive, and we haven't seen many compete like what Taylormade has put together, that is why this is our favorite golf bag under $200.
An interesting count of seven dividers and six pockets makes this bag quite cozy for all your valuables while providing plenty of room and flexibility when storing your clubs.
We highly recommend two clubs in each pocket with your driver, fairway wood, and putter stored together. Remember, when you sink that putt, you're going right back to the same pocket for the next hole, and that's how you can help keep the pace of play.
The Izzo Ultra Lite gives a tighter look and shapes this new bag so that it can still offer a prominent look without making it feel like a Sunday bag. A robust bag will also provide a comparable balance to a more giant bag like the Hoofer.
But we want to ensure that this isn't it if you're looking for a big, light bag. We'd say this is the standard size in terms of storage and comes with that minimal feel when picking up and putting down.
We will say that this bag doesn't have the best feeling for the straps for an extended period. We found that the Ping Hoofer had far better padding.
The Sun Mountain Womens 2023 3.5+ Stand bag is our favorite stand bag for the ladies. We surveyed numerous women golfers and the consensus centered on 3 themes: comfort, lightweight and expansive storage. This bag has all of those and more. The side pockets and the zippers are durable and it can easily expand to hold your sweater, suncreen and water bottle.
The lightweight design means this bag is great for walking but the cart strap hole makes it just as good for riding. The strap system is a classic Sun Mountain differe
The Best Stand Bags Of 2022 – What To Look For
Comfort
We aren't only talking about the straps either. Your shoulders (just as much as your legs) need optimal energy while playing your round.
Whether you're on the PGA tour or play 18 holes, you need to ensure your equipment is putting more strain on your body. Golf bag included. If you don't, it will be incredibly tiring and could easily alter your game the wrong way. The term "extra padding" has come a long way.
This includes the material of the overall bag too. We want the bag to be comfortable yet dynamic, so the weight doesn't become a constant thought. That includes pocket placements and how they divert or diverge weight. The same can be said for double versus single strap bags.
We also expect the same feeling when you put your hand into a pocket or water bottle pocket. The depth of certain pockets is expected, especially if you play in variable conditions throughout the year. And most of us are.
Dividers
You expect your clubs to come out clean and easy. If it can't be smooth, why grab the club at all? If you've taken a caddie before, I bet he's thinking that. Just kidding…
Full-length dividers are something you need to consider. You'll typically see the four or 6-way divider options. But consider placement, space, and variables (aka the dividers). More dividers can be the answer for those who don't have 14 clubs. We cover how to organize your 14 divider bags, check it out!
At SwingEasy, we'd much prefer the 4-way divider because of its simplicity and smooth feel, putting clubs in and taking them out.
The last thing we want is any sort of "snag" as you go to grab your club or put it back in. We've got birdie putts to read!
Weight
The pull on your shoulders and back has to be minimized to keep your muscles feeling fresh. Otherwise, you're only increasing the probability of tired shoulders, which is the last thing you want while you're out on the course. You're supposed to be shredding strokes, not adding them.
You want to ensure the last nine are optimized by your decision to get the right back. The same can be said about golf shoes.
We also want to ensure that those who ride in a golf cart can have a solid placement to ensure the bag doesn't slide or wear more than desired.
Stand Leg Stability
A golf bag stand has to be incredibly dependable. Whether you're storing the clubs in a travel case to go play somewhere else or you are getting in a hundred plus rounds a year, you need strong legs on your bag. And don't let certain bags fool you. When you feel a bag, put pressure on those legs to see if they easily sway. Praying they don't bend or break…
But they should be able to handle your pressure from slightly leaning towards the ground when the bag lags are out. We also want to ensure the bag doesn't lean one way more than the other. Imbalance is hard to fix and often requires you need to get a new bag.
We've started to see more and more stand bags that have caught up with various competitor bags. And that means good for the customer because suppliers are putting money into their products to improve the game.
We really love this Sun Mountain bag for those who are often walking. Sun Mountain has been a significant competitor to other major brands such as Ping, Titleist, and others throughout the years. The weight (or should we say, lack thereof) is incredible. Weighing only 6 lbs, it makes it feel as though you barely have anything strapped to your shoulders and back as you're walking your way around the golf course.
What Else to Look For
Magnetic pocket for your rangefinder - we see this as a nice to have for those who are willing to be a little risky with their rangefinder, but the convenience factor in reaching or putting back is unmatched

The base of the bag - dropping the bag at the same spot when putting it down can cause other problems across the bag. Assess the design of various brands to see whether they've put a specific design in place to support your bag when you go to put it down. If it's typically the round bottom we've seen in prior years, we'd recommend you look at other golf bag bottoms like the Ping Hoofer.

Keep it light - knowing the essentials of the bag will hopefully get you to remove many necessary items you think you need. And will hopefully keep you light when you purchase your new Sun Mountain golf bag.

Design of the pockets - the quality of the pockets is incredibly important. Maybe even more important than the number of pockets. We appreciate the brands that have come with pocket intent. When you unzip the pocket when looking at any new bag, we hope it's intuitive enough for you to recognize what should most likely go in a given pocket.
In today's world, current golf stand bags are made of nylon, canvas, or leather. The infrastructure of the bag is typically made with plastic or metal.
Nylon is often the lighter of the three, but if you're looking for a more classic look, you should consider the Sun Mountain Golf Leather Stand Bag. Talk about a classic.
Frequently Asked Questions (FAQs)
How much should I spend on a golf bag?
We usually see fully functional and quality bags starting at around $170. But, many bags out there can run you more than $300. We like the classic golf bags, including the Piel Leather Deluxe 9in Golf Bag, Saddle, One Size.
What is a Sunday bag?
Sunday bags are quite the catch and bring back a lot of class that we used to see in the game back in the late 1940s through the 1980s. You get a significant change in storage ability, but if you're just going out for a quick 9-hole round, this will give you the portability, lightweight feel, and general use you need. This has to be the most simple golf bag out there, and you can find ones like this where we have many brands bringing back the classic style.
How much does the strap system matter?
We've mentioned this with a few of our picks above, but we can't discuss it enough. The strap padding (even if you're sticking to an old-school look with one step) is critical to saving your body for the shots you need to hit.

Over the last decade, many bags have focused solely on comfort, specifically around the straps. Curved strap designs are among the most common, and for a good reason. They are supposed to almost mold to your shoulders and back while providing a simple way to pick up the bag and get moving.
What is a hybrid golf bag?
We think most players these days would prefer a hybrid golf bag. Many golf vendors have developed a balanced offering that has more storage but also comes with a proper weight to allow those walking to get the best of both worlds. We usually also see these bags sometimes have wider dividers for your clubs.
Can I use my stand bag on a cart or push cart?
In the majority of cases, the answer is yes. Many stand bags will include a strap that can go through the cart so you can still maximize the amount of storage and space you expected when purchasing the bag. Check if your bag also includes a push-cart lock-in offering so you don't have any concerns about your bag shifting around as you walk.
Can staff bags fit on golf carts?
Staff bags can fit on golf carts, though sometimes they have to be turned sideways if your playing partner wants to be able to fit theirs too. On average, staff bags are around 40-60cm (16-24 inches) in width, with about 10-14 inches in diameter. The bottom of a golf cart can fit 20 inches in diameter and most of the straps can accommodate up to 30 inches in diameter. So, yes - go buy that pretty staff bag!
Are Maxfli golf bags good?
No bag from Maxfli made it onto our Top Golf Bags of 2022 list but we enjoyed the 2021 Honors+ (both 5-way and 14-way). There was a ton of storage, the legs and feet felt sturdy but the strap system wasn't as comfortable as the Ping Hoofer or TaylorMade 5.0 ST
Why are golf bags so expensive?
Golf bags can last a long time if you take care of them. All of our golf bags have lasted 5 years and many closer to 10 years without any significant repairs required. Most bags are built with lightweight materials which is typically a trade-off against durability. That said, golf bags are expensive because it is not something you buy every season and manufacturers are doing their best to increase durability without sacrificing weight.
Written At: Updated At: 2023-07-23T20:11:02+00:00