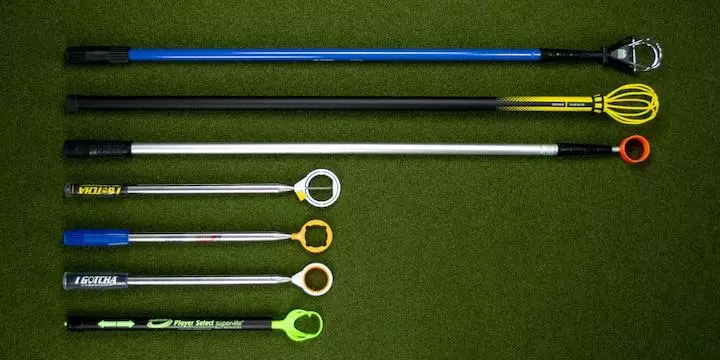 The Best Golf Ball Retrievers of 2022
We write this article hoping you're looking for a hidden (golf ball) treasure that can allow you not to buy all golf balls throughout the season. Yet, we also recognize golf balls aren't cheap, water is very much prevalent on many courses worldwide, and the golf ball retriever may come in handy. Even so, when you're waiting for the foursome in front of you to hit their putts after four practice strokes, why not look for extra golf balls?
Don't let your brand new, shiny golf ball disappear (assuming it's within your control). And if there are hopes of finding the golf ball (hope you brought your shag bag), you'll need to consider stopping your four-iron from going hosel deep to retrieve your ball.
Instead, look to one of these golf accessories to help you real-in the once lost (now hopefully clean) golf ball. Plus, you might also just come out with more than the ball you hit in the water in the first place!
Now ego aside, all handicappers could benefit from a golf ball retriever or sometimes called a ball grabber. And assuming you are comfortable with a little less space in your golf bag for this expandable device, you'll never retrieve your ball faster from those water hazards (and possibly in greater volume) than ever.
But don't let evolution fool you. The growth of the golf ball retriever over the years hasn't compared to our commercial friends trying to go to space, and that's because many of the original models were simple, sturdy, compact, and did its job.
We considered various attributes when assessing these items. From the extension length, sturdiness, handle size, and overall ball security, the ingenuity with the golf ball retrievers we've tested was rather tough to separate a clear top pick.
While not the most fashionable item in the bag, the thought of "it's probably gone" can now twist your mindset into "I can probably find that" when you start to walk alongside the water with one of these devices. Each of the retrievers we've looked at comes in a range of sizes and allows you to avoid pulling a muscle (we hope) when you have to bend into any awkward position trying to dig up your ball.
Take a look below at our top picks, which we've bucketed into various categories to fit all types of players (including you, low handicappers).
BEST GOLF BALL RETRIEVERS of 2023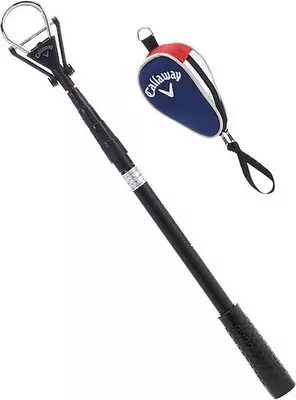 Callaway Golf Ball Retriever
Easily one of the best golf ball retrievers on the market, the Callaway Golf Ball retriever has a grip that can grab onto your ball in the deepest of places
Pros
Long retriever with a comfortable grip
Easy to use and carry in your bag
Waterproof and lightweight
The grabbing design allows for the ball to be retrieved in tough places
Cons
Not as long as ome others we tested
We don't think the headcover is fooling anyone
Assuming you don't need to extend to reach a golf ball by more than 6ft this golf ball retriever is the golf gift everyone needs ("want" might not be the secondary feeling). A blended-based composite material and ergonomic grip handle make this a little pricier than other ball retrievers, but the overall design is premium quality and well manufactured to help you reach all types of awkward spots. Especially if you're dealing with a lot of water.
The Callaway Golf Ball Retriever makes it feel like a wrench is locking onto a bolt, but instead, you're locking onto a pricy golf ball that will make you glad you spent the money on the retriever. The twist and lock mechanism gives you that same feel and removes any worry that you'll lose the ball as you bring up the golf tool.
And to do some quick math to help you consider if this is worth it - you'd make your money back with this device if you caught ten golf balls!
Additionally, this golf ball retriever comes with a beautiful headcover that will make your playing partners wonder if that's a 15th club or your golf beer sleeve. Stay stylish and keep your ego at bay because those who you'll be playing with won't even notice what you've got until you show them the bounty of balls you've left with after the round. Let's just hope it's more than what you came with…
Our favorite test of this device was going around water with very high grass. At times, we couldn't see the ball, but we decided to extend and reach, and within seconds we pulled up a few (mud) balls. What we thought was out of reach now has made us wonder if we should be starting a used golf ball business with this device…
Prowithlin Golf Ball Retriever
12ft is some serious length!
Pros
Incredibly long at 12 ft
Collapses to 40" and fits easily in any bag
No frills catch mechansim
Lightweight
Cons
Screw that connects the head could be improved
Grip is mediocore
Consisting of four 3' telescoping shafts, this device can be extended for various ranges. You'll notice some bend as you get closer to the extension being at 12ft, but the EZ-view pressure head provides the gripping power needed to pull the ball back and out of the water. We think this is a great option for the beginner and senior golfers who may want a little more support and grab to pick up golf balls.
While not as strong in muddy muck as the Callaway Golf Ball Retriever, this golf ball retriever is phenomenal when the ball is within sight and isn't in a tricky location. Especially with this lightweight feel (only .25 pounds) makes you impressed with the material used to real in that (hopefully now) clean golf ball.
The JP Lann retriever can compete with the best golf tools, a very solid-feeling ball retriever with a more than reasonable price. Retrieve your ball easily and reduce your worry that you'll be out of another dozen golf balls by the time the round is over.
This unique golf ball retriever is made from an anodized shaft - meaning it should really never rust - and the black look means it should also be color coordinated with some of the graphite shafts in your bag. With the dynamic shaft length, this device makes picking up those hard-to-reach golf balls much easier.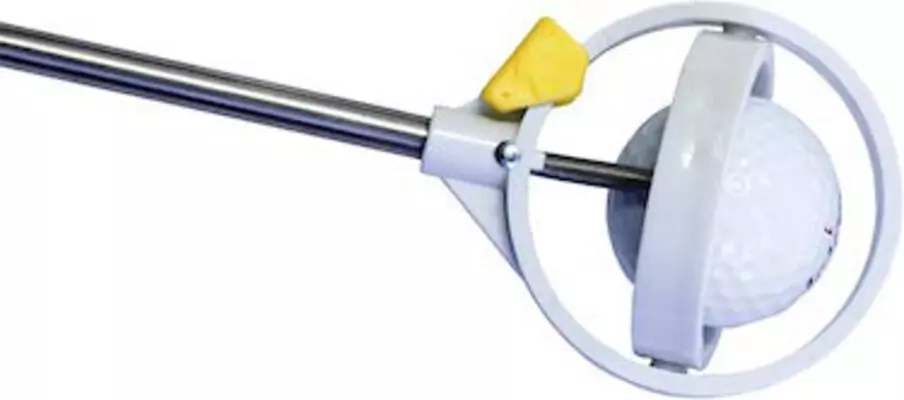 Gotcha Ultimate XL Ball Retriever
Pros
Very sturdy feeling in our tests
Great and comfortable handle
Collapses to 15.5 inches for easy storage
Cons
Requires alignment of retriever head to grab onto the ball
While the handle is comfortable, it was large enough to displace some clubs when putting it back in the bag
It compacts so far it can lost in the bag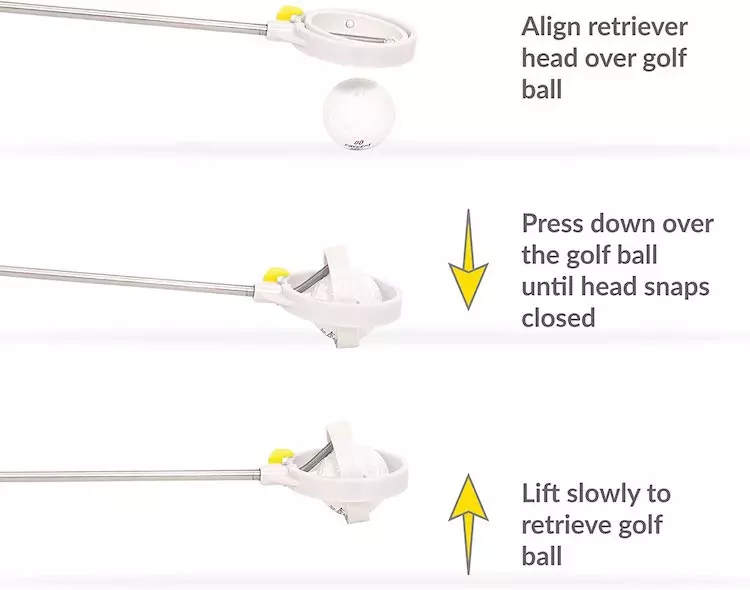 Have you experienced your golf balls being so far out of reach that you don't think anything could help you get them? Let us introduce you to a very strong competitor to the Callaway Golf Ball Retriever - the IGOTCHA Golf Ball Retriever.
While also coming in an 18ft extended version, the IGOTCHA golf ball retriever weighs in at only 8 ounces and is known for being one of the most compact golf ball retrievers on the market, folding up to just 15.5 inches!
We see a big plus for those who have a large side pocket in their bag to leverage a collapsable golf ball retriever if you have space. We also love this because you can take it on any walk, for golf balls, even if you aren't playing a round.
You'll need to make sure the locking ready-head design is open before going down to reach for your club, but once it is, you just need to press down on the ball to pick it up.
HOW WE TEST GOLF EQUIPMENT AND RETRIEVERS
At Swing Easy we have a rigorous methodology to test all of our equipment. We test balls and clubs using our proven robotic technology. For others that can't be tested by the robot go through various elements to determine feasibility, usability, and viability.
When it comes to golf ball retrievers, we put these through the elements by going to various courses to test out the devices. By using the retrievers adequately, we can better understand how each device handles picking up balls in various places based on its length, durability, strength, and how easy the accessory is to use in particular.
Frequently Asked Questions (FAQs)
What Is A Good Length For A Golf Ball Retriever?
Six feet at minimum is ideal. 12 ft can often feel like a lot, but this all depends on the landscape you have where you play. If you're like us and have very high grasses around certain ponds on the courses, 6ft won't be enough. Many of the models we selected in this guide extend much further than 6 feet, so we recommend buying a minimum of 6 ft.
How To Fix A Golf Ball Retriever?
Depending on the problem with your golf retriever, there are a few things that you can do to try and fix the problem. We recommend cleaning the retriever before any disassembly. If cleaning doesn't work, we recommend lubricating the golf ball retriever. But, that would require you to know what areas of the club are causing the issue.
How to Clean The Golf Ball Retriever?
Cleaning the golf ball retriever regularly is incredibly important so that your ball retrieval is easy and painless. Here's how to clean your retriever:
Add warm water and dish soap to a small bucket
Submerge the retriever in the water and swish for 30 seconds
Wipe Down the Retriever and dry immediately
Test the club to see if it can pick up a ball across various landscapes
Do you have a Loose Part?
Look at all the outward-facing parts to see if anything wobbles or there is looseness. You may also want to consider replacing your filters (if applicable) within the retriever, as they can get clogged up relatively easily and limit how much compression the ball retriever can have. The same can be said for making sure to have the retriever greased in certain areas, especially if your retriever has any sort of hinge.
Lubricate The Retriever
If your golf ball retriever isn't picking up as many balls as it used to, you may need to lubricate it. This can be done with a lot of different things, but the most common is oil. Apply a small amount to the shaft and let it sit for a few minutes before using. To lubricate the device, you will need some oil and a rag:
Pour some oil into the retriever's hinge mechanisms and apply the rag to it.
Place the retriever on its side, so it's facing down and run your hands (covered by the rag) along the hinge mechanism, so it's properly distributed.
Test the device with a few golf balls in different landscapes to see how it performs
How To Use A Golf Ball Retriever?
Take a look at this video to see how a typical golf ball retriever works. Link to video: How to Use 12ft Golf Telescopic Ball Telescopic Retriever
How To Choose A Golf Ball Retriever
Various factors come into play when determining what kind of golf ball retriever is needed. You need to consider durability, storage and dimensions.

Durability - While we recommend going for a light and 6ft model to start, you need to ensure it's durable and can withstand a strong flex. You don't want any device snapping as you deal with water (and hopefully not trees of any sort).

Storage - Ideally, you want a device that can collapse and be stored in your bag. But, in today's game, not all bags can fit a collapsible golf ball retriever. We don't love having devices in our bags, especially where the clubs go. This also seems to make more of a difference for those who walk versus ride, as well as what size bag you're working with.
Dimensions - The different lengths of ball retrievers are a major selling point, and rightfully so. But this is where we start to draw the line for how far you're willing to go (or reach). Do you care more about getting balls 6ft and within? Or are you looking to get anything back even as far as 18 ft.

Keep it simple - Keeping up the pace of play is really important, so your ball retriever has to be easy to use. Portability and lightness are critical to ensure you can whip out the golf ball retriever and get ready to hit your next shot (hopefully without taking a penalty stroke).
Is A Ball Retriever Considered A Golf Club?
Per the rules of golf, a golf club is required to have a head and a shaft. As these objects do not meet either of those requirements, the umbrellas or ball retrievers carried by players are not counted as clubs.
Do You Need A Golf Ball Retriever?
This really depends on your game and willingness to fetch golf balls. At SwingEasy we highly recommend all players have one. You can often spend a few minutes and come out with half a dozen golf balls near your local pond on a golf course. Like we've said before, the cost/benefit here is highly beneficial and could save you a lot of money in the long run.
Written At: Updated At: 2023-07-23T20:11:02+00:00