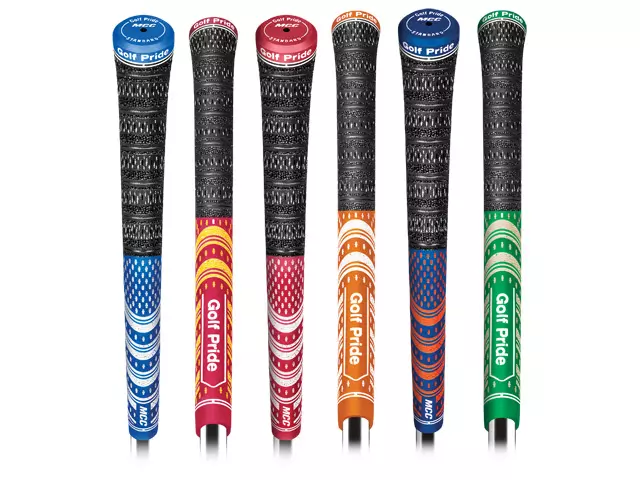 The Best Golf Grips of 2023
Here we are, ready to settle the 2023 best golf grips award for all you golfers who are ready to upgrade!
Your hands must be like your feet. Comfortable and ready to swing in any condition and any lie. Grips may last just as long as a credible pair of golf shoes, and they must feel ready for game time.
Slipping off the grip is the last thing you want to have across your mind during a round. Some of us might even remember the lucky few who lost the club while they are at the driving range. It's as if they shined the headlights on that person based on their reaction you caught out of the corner of your eye.
When you consider clubs as a whole, we at SwingEasy always promote the ability to visit your local club dealer to have a proper fitting done. But that can run you as much as $100 for a session. It's worth it but what about grips? Rarely do you get to swap different parts of your direct connection to the club.
New grips have that new club feel and if you do it right, you'll also give your club face(s) a facelift (pun intended).
Here are our recommendations for the best golf grips of 2023! Grips are all about feel and durability; we've extensively tested these in wet, hot, and cold conditions. If you have sweaty hands while golfing, read below - Here are our top picks!
Here are the Best Golf Grips of 2023!
While you're at it don't forget to check out our Guide on How to Properly Grip a Golf Club and our Best Putter Grips of 2023
We love this grip. Midsize grip is available (slightly larger) along with standard. Comes in more than 6 different colors and has the durability to handle all types of conditions.
The brilliant touch of this grip is its multi layer material change. Part of the grip is one texture while the other half will make you initially wonder what's up with the design.But, you'll get it once you take a few swings.
The top half of the club gives you a cleaner feel with your low hand having better traction to make it feel like you can really shape the golf ball how you want to. Plus the surface texture and shock absorption with this grip has golfers looking for this support. Let's be honest, the cavity of the clubface can't be the only thing taking some of the harder misses we hit…
Golf Pride continues to innovate in the slightest yet most impactful ways. Displaying a spotted alignment line down the shaft helps to keep your hands in the same place and your eyes to lock onto a consistent target; both on the grip and down the hole. With a soft feel, a fantastic surface texture, and grip feature that has players coming back year after year for these grips - we think you should give them a try.
Our Runner Up Grip Pick!
The most popular grip in golf, the Golf Pride Tour Velvet, combines an exclusive, state-of-the-art rubber-blend compound, non-slip surface pattern for maximum playability, comfort, and confidence. In our view, not only is this Golf Pride's best grip for sweaty hands, it is the best all around golf grip for those with sweaty hands!
Golf pride has been in business for over seven decades and continues to be a leader in the golf grip market. There is a reason why more than 80% of the tour professionals go with golf pride grips. And this is their #1 grip model, which is played on all Worldwide tours.
Reduced taper design encourages lighter grip pressure, promoting less tension in the hands and creating more fluidity and power throughout the swing. And their non-slip surface pattern pulls moisture away from the surface. Talk about magnificent and durable!
You're able to get this grip in both standard and midsize (for those of you have slightly larger hands). The core size is consistent across both models (.600"), but their weight is differentiated due to an adjustment in thickness (52g vs. 65.5g).
We love the Win Dri-Tac golf grip. Midsize and Jumbo sizes are available (slightly larger) along with standard. It comes in 7 different colors and has the durability to handle all types of conditions.
The brilliant touch of this grip is its soft feel material. This midsize Dri-Tac grip provides all weather grip playability with incredible style and comfort that is also long-lasting. We think you'll also really like their added shock absorption benefits for pain-free playability. The black & blue color combination gives it great visual appeal, especially on those shafts in your bag that are also black.
Another great part of this build is the surface texture and shock absorption, which have golfers now saying this is a must have as part of their grips. Let's be honest, the cavity of the clubface can't be the only thing taking some of the harder misses we hit but, we still don't want to have it feel painful, which is why shock absorption is critical.
Winn ranks this grip's firmness to be a 5 out of 10, which is nicely balanced, while providing an 8 out of 10 in terms of shock absorption. The one downside for some with this golf grip is that it may not be soft enough for senior handicappers.
Golf Pride does it again with the CPx! You see a lot of overlapping elements from each grip Golf Pride offers. That's how good they are, no matter the style, color, and feel you like.
They continue to hone in on keeping your hands as dry as possible during the pesky wet conditions. The tackiness from the grip makes you feel that you'll never let that club slip out of your hands.
You can check out the different size options. But, what you need to try is the softness of this grip. It's unreal. Plus they offer alignment markers to help your hands sit on the perfect platform to begin the beautiful rhythm of getting ready to hit the ball.
In prior years we saw golf grip manufacturers play around with the balance between softness and tackiness. We think they have found a very good happy medium. Don't believe us? Give these guys a go, pour some water on it, and you tell us how they hold up. I bet you'll be surprised.
Keep in mind grips should be replaced every three years and given a nice scrub with a soft bristle brush every few months (depending on how often you play) to help get rid of all that grease from those hands.
Talk about a grip that helps handle the moisture of all kinds. We really love the durability of the Golf Pride ZGrip because that's what you need when dealing with moisture, whether you're wearing a glove or not.
The style is also something to highlight. We love the color combo Golf Pride has created and something that we think can really be super valuable for so many players.
We really love this grip for those who have extra sweaty hands. The heat can really be brutal on us from all different levels, and the last thing we want to think about is the club flying out of our hands. The same can be said for when it's raining!
For a good reason, Lamkin has been a competitor to Golf Pride in the grip business and continues to make fantastic quality grips. They continue to make more and more grips pushing away moisture versus letting it seep into their grips.
Lamkin considers this as one of their top all-weather grips, and we can see why. The multi-layer material of the grip provides a tackiness balance to keep your low hand driving through the ball with comfort and confidence. That club won't be flying out of your hand (we hope…).
The highly durable compound grip many rave about! The Lamkin Crossline golf grip has a very similar look and feel to the Golf Pride tour velvet with an addition to a nice, classic look and feel with the white filling. This grip comes in only the black/white shown here, but comes with a superior lateral traction feel that has many golfers ranking this in their top grips each year.
While this grip doesn't help you with consistent hand placement like some of the other grips we've mentioned, it is applauded for its compound and traction focused grip.
Players seem to love this grip, especially those who are told to have lighter grip pressure. And let's face it, we can all start to grab the club harder and harder as the round goes by. That's natural by the way…
You may see some professional players adjust grips during practice to help them get a better sense of what clubs and their hands handle the level of tackiness, softness (or firmness), and weather conditions. Tony Finau has been a believer in Lamkin for years and we clearly understand why.
While this is still a great grip, we thinkin Lamkin has the potential to try and get closer to the tackiness and softness that has shifted much of the golf grip market over the last 5 years.
CHAMPKEY has offered an amazing price for 13 grips. For you corded golf grip lovers, this is a great budget-friendly golf grip that continues to be highly used and talked about by so many.
The texture control, performance in weather conditions, and rubber material that provides a top quality grip feel will make you question whether you need any of the grips above.
The downside we see with these grips is that the tackiness we may hope for can quickly fade. We think you should see your golf grips last 2-3 years before adjusting (depending on how much you play). In the case with CHAMPKEY, we have heard from some that the durability of these grips can have a little shorter life span.
Also keep in mind when washing cord grips that you should be very gentle on the scrubbing motion if you're using the typical combination of lukewarm water and dish soap. While the grease from your hands will release, you many accidentally warp the grips more due to the material and design.
That rounds out our review of the best golf grips of 2023, we hope you found what you're looking for!
Frequently Asked Questions (FAQs)
What are the best golf grips for sweaty hands?
We have two top picks for those who have really sweaty hands when playing golf. And we know it might be due to nerves or just the general heat you're dealing with where you play. Don't worry, we've got some great picks for you that we think could stay in your bag for years:

The Golf Pride Tour Velvet Grip has to be our number one pick for those worried about the golf club falling out of their hands. We think if you have the proper grip, you can feel far more confident for both the takeaway and follow-through.

Our second pick shouldn't surprise many golf fanatics out there. The Lamkin St+2 Hybrid Grip has been one of the most proven and fully tested golf grips in wet conditions and continues to be a top contender for best overall golf grips year over year. This grip has a level of tackiness that grips so well onto your glove you can feel like there is glue in between.
What is the best golf grip for no glove?
For those with no glove, we recommend looking for a grip that has consistent material across the entire grip. We think if you have multiple material elements on your grip, your hands may not love how the backswing feels (especially as your hands hinge).

We like a few grips for those that don't want to wear a glove. Our top pick for this category is the Lamkin Crossline Grip for its simple yet well-fitted material. Remember that those with sweaty hands who want to play without a grip may look for different materials.

We also really like the Golf Pride Tour Wrap 2G Golf Grip based on it's coiled design that really allows the fingers to get deeper into the grip for more stability.
How often should I change my golf grips??
We recommend changing your grips after 30-40 rounds. This also depends on how much you sweat onto your grips; the more moisture, the faster they typically wear down.
Is there a sweat proof golf glove?
Not exactly and if there was something out there, you wouldn't want it. Your sweat needs to go somewhere and if it stays in a airtight or watertight enclosure, it will eventually prohibit you from ever gripping a club. We have great recommendations in our grip buyers guide of which grips perform the best even with the sweatiest of hands.
What are the best tacky golf grips?
Our favorite picks for those who really like a hold that feels like glue is sticking to your glove has to be the Golf Pride New Decade MultiCompound Grips Standard Golf Club Components.

If we had to give you a second option, we recommend considering the Lamkin St+2 Hybrid Grip. It provides a great piece of material for those of us who tend to worry if the club is going to fall out of their hands based on a sweaty golf or sweaty hands.

Another great budget and do-it-yourself (DIY) option for those able and own the tools to change your grips, we think you should also check out the Saplize CL03 Hybrid Golf Grips . They come in various colors and have been used by many players over the years. They provide a cotton thread that helps reduce tension throughout the club as you hit the ball while also providing a similar style to the Golf Pride New Decade MultiCompound Grips .
What are the best Oversize Golf Grips?
We think two golf grips really set the competition apart when talking about oversized golf grips. That includes the Lampkin Crossline Jumo which comes with a phenomenal feel that really fits a thicker finger and hand. Our second pick is the JumboMax Wrap Golf Grip .
Oversized grips aren't for all players. But if you're a beginner player and have a wider and thicker hand than most people, we think you need to try these.
Oversized grips aren't for all players. But if you're a beginner player and have a wider and thicker hand than most people, we think you need to try these. The rubber composite material of these grips is incredible and provides the tackiness you'd expect in a golf grip. These also go great for players who tend to overgrip their golf club. Oversized golf club grips can be tricky to find because so few players use them, so give these a go next time you're ready to take a test drive (i.e. use one on your 8 iron to see how you like it before you change all of your clubs).
What are the best knock off golf grips?
For the best bang for your buck, we have to go with the Champkey Golf Grip. They are durable for those who don't often play and come with a two-tiered style to support better grip and control on your lower hand. That will help support your hands in turning the club over at impact, while also feeling like you are in total control.
How To's
How to clean your golf grips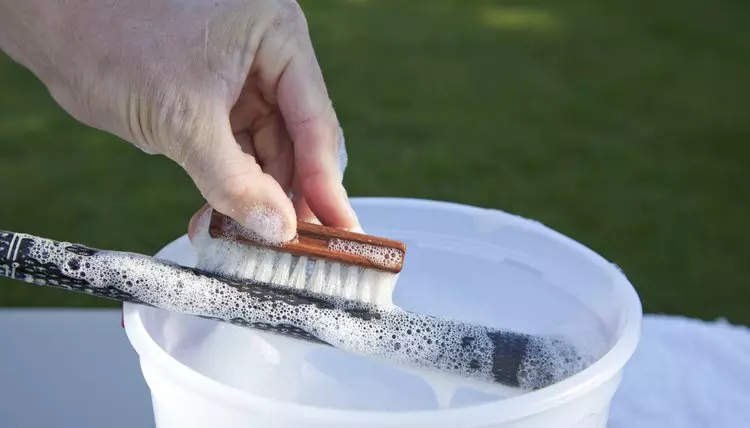 Time Commitment: 30 Minutes
Supplies and Tools
3-5 Gallon Bucket

Dish Soap

Warm Water

Soft Bristle Brush
Step 1 - Mix Soap and Water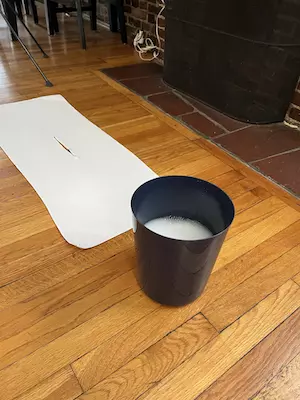 Grab a soft bristle brush and a bucket of lukewarm water mixed with a light touch of dish soap; grab a separate small container of lukewarm water
Step 2 - Set Up Drying Area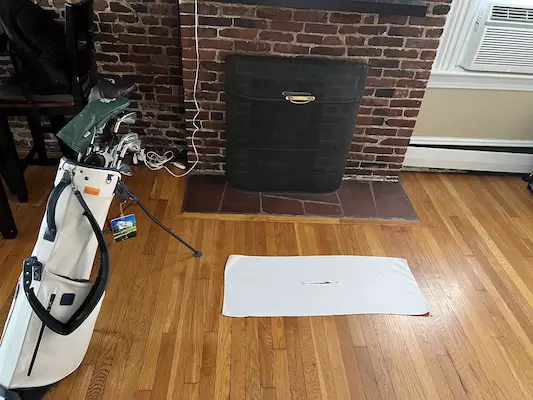 Place a towel on the ground so you can lay the damp grips down after cleaning
Step 3 - Scrub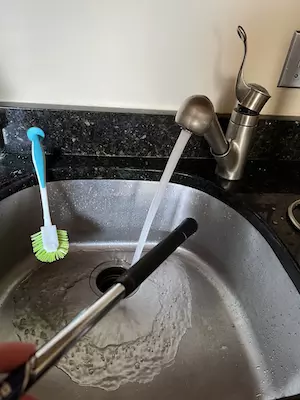 Take the soft bristle brush and go up and down the shaft with a medium level scrub to get the grime out; conduct 2-3 upward and downward strokes max
Step 4 - Rinse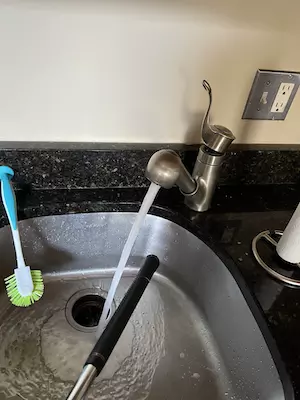 Bring the club to the rinse station (over a sink or outside) - Take the luke warm water and lightly coat the cleaned grip
Step 5 - Dry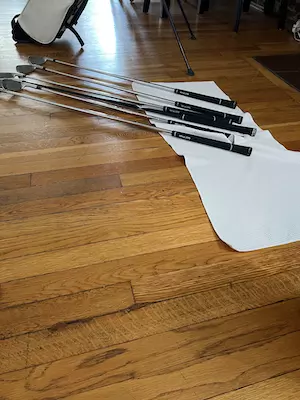 Set the club on the towel and let air dry for 4-24 hours (depending on outside air temperature
Written At: Updated At: 2023-07-23T20:11:02+00:00