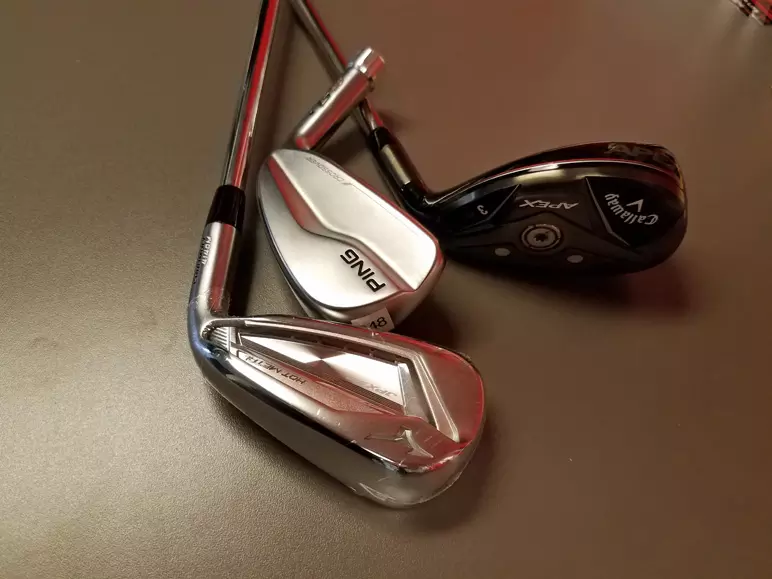 Best Driving Iron for High Handicappers 2023
Driving irons is something where we say "history repeats itself".
Those old wooden golf clubs back in the 1950s might have been a hit, but when you mix metal alloy or carbon fiber into a golf club in today's age, you start to realize that the harder clubs to hit are becoming the easier clubs to hit now.
Find yourself a clean and groomed tee box, and you will often see some of the top players on today's tour going for a long iron. They also might be using a solid and dependable hybrid.
What's transcended the golf industry in the last two decades has been how major golf brands craft clubs that fit all types of players. Many have thought that hybrids are clubs for senior players or beginners. The same has been said for those that want to play a driving iron.
The catch with irons is that your swing starts to make you think that it's you and not the club as you start to hit a four iron versus an eight iron.
To many, the unbeknownst truth is that you need to adjust your setup as clubs get lower in loft. The change might not be much, but it does matter.
Driving irons have recently been introduced to the masses because major golf brands like Srixon and Taylormade have created enough of a cushion, cavity, and weighted balance to support so many different types of players; no matter your handicap, swing speed, age, or swing plane.
Check out our best driving irons for high handicappers for 2023
We love a classic iron feel that comes with even more distance when struck well. The name of this club is even more fitting. It truly does launch the ball.
Many players, especially those that are beginner golfers, high handicappers, and those with a slower swing speed (under 80 mph) typically think they shouldn't play a driving iron.
Often, we see many flocking towards a hybrid over a driving iron. And reasonably so. But we also have to consider the player's swing.
Those that often swing out to in are seen to hit lower on the club face. That, in turn, means that the ball is more compact as the ball is being swung up and through.
Ultimately, due to the design of an iron we start to see that those with such a swing type have a better probability of hitting longer and crisper shots with a driving iron.
And the opposite is also true. Players with an in-to-out swing are likelier to come down steep on the ball. This often causes the ball to slice and is where a hybrid can sometimes be helpful to use.
Nonetheless, we would argue that if you feel good with your irons (which are the clubs you should first focus on as a beginner golfer), you should consider the Cleveland Golf Launcher UHX Utility Club .
Taylor made has been a staple brand in the golf market due to their incredible forgiveness, especially with their irons.
We love that this is a slightly bigger face than the Cleveland Launcher, overall increasing the club face and overall probability of hitting a cleaner shot.
We also really like the low hollow body construction of this club. It really helps to get the ball off the ground. So for many beginner and high-handicapped golfers, this is a must-have not just off the tee but as well as off the fairway.
The one downside of this driving iron is the weight of this club because of the club's face design. But that is very partial, and we don't think should impact you as much as you might expect.
Talk about a solid club that has been around for years. The Srixon Golf ZX Utility Iron has proven to be one of the true "stinger" irons that so many have added to their bag.
Of our picks, this might be one of the more surprisingly forgiving irons. Which we think you might not expect when giving the club face a peak.
The catch with this deviant is its hollow body build. Srixon has developed the right curvature and balanced weight to help golfers really get the most out of the iron without having to hit the sweet spot every time.
While we don't see a lot of downsides with this club, the only small call-out we'll make is the limited options in terms of the loft of the club.
23 degrees should be just right for high handicappers and beginner golfers, as it should be a complimentary club to a 3 iron, but with expectations of more distance.
Ultimately, this club is what we think will have to transcend part of your game from beginner and high handicapper to intermediate and mid to high handicapper.
Tour Edge has been one of the leaders in golf club sets, and they've started to focus on building out more clubs that can support high handicappers and beginner golfers.
This utility iron performed just as well with our robot as the WILSON Staff Model Utility Golf Club .
Launch angles are very similar along with the perimeter weighting of the club. One aspect that we like more about this club is its limited weight on the sole and back of the club head.
Many beginner and high handicapper golfers don't always (and shouldn't) have the fastest club head speed. We recommend players keep the flow of the swing smooth. The weighting of the club helps with just that.
Tour Edge has done such a great job ensuring the feel of the club weighs nearly the same as some mid-irons while providing more distance.
Frequently Asked Questions (FAQs)
What is the best driving iron for high-handicappers?
Our top pick is the Cleveland Golf Launcher UHX Utility Club . Its dynamic hollow body construction has made many go from thinking they can't hit a driving iron if they are a high handicapper or beginner golfer.
The evolution of the driving iron has now allowed a variety of different skill sets to play the game with such a club that can be so fun to use at different points of a round.
What is the best loft for a driving iron?
We think you should consider 21 to 24 degrees. This also depends on if you're looking to replace a longer iron in your bag or if this will be a new addition. If it's a new addition and you already have a four iron in the bag, we recommend going with a 21-degree driving iron. If you want to add a four-iron type club that can be your utility iron, go for a 24-degree club.
What club would a driving iron replace?
Typically a driving iron would replace a 3 iron. If it's also now common for a driving iron to replace a 4 iron because you can expect to get more distance off the tee and more control when hitting through the rough or fairway on your approach shot.
Can a high handicappr use a 2 iron?
We think it is much easier for a high handcapper to hit a 21 or 22 degree hyrid rather than a 2 iron. Hybrids are more forgiving, look great at address and can help you build confidence at a distance that is typically challenging for most high handicappers to get used to. See our top hybrids for beginners post for examples.
What iron does Bryson DeChambeau use?
Bryson plays the Ping G410 for his current driving iron (2 iron). He's also been seen hitting the Cobra King utility iron.
Conclusion
The best driving irons on the market might not be the best for high handicappers. We love when players start to consider different factors and elements of a driving iron that apply to various skill sets.
When looking for a driving iron for high handicappers, one must consider the loft, weight of the club, and overall hollowness.
If you can find a club that helps you feel like you're hitting a mid-iron, we think that should be added to your bag. It's incredible what major golf brands have done for the driving iron and utility golf club market over the years.
Players in today's market can really feel like they have options beyond the hybrid golf market, and that makes playing the game even more enjoyable.
Written At: Updated At: 2023-07-23T20:11:02+00:00