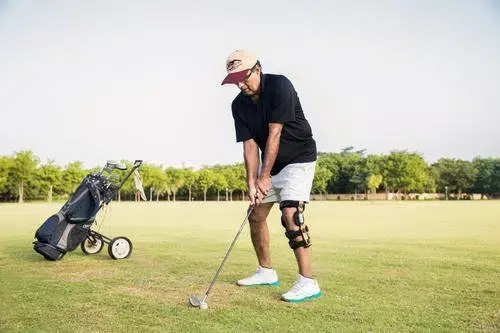 Best Knee Brace for Golf of 2023
The growing game of golf has started to bring new players to the course.
Many of us might not be able to keep ourselves in the best shape, while others might have impending injuries that may require further aid and knee supports to keep inflammation down and performance up.
If a golfer has any preexisting knee condition, we recommend that you consider some sort of brace or sleeve to keep your knees feeling strong and comfortable throughout the round.
The game of golf stresses three main areas when you make a swing: your back, shoulders, and knees. If players aren't focused on building strength in those areas (especially their lower body), we will increase the chances of becoming more injury prone.
There are many types of knee supports and aids that can help to keep your pain and swelling down. That includes ortho knee braces, bandages, knee sleeves, knee pads, hinged knee braces, and patellar bands.
The ortho knee brace typically provides supportive straps so that the brace can be adjusted to where your knee needs the most support to prevent injury.
The bandage is the easiest solution and can also be the cheapest, but it takes a lot of practice to get the wrap around the knee in the right way so it's well-supported and focused on the most pressing areas.
A typical knee sleeve provides a number of different features (and one that is often used for the game of golf) because it has excellent warmth, tightness (often called compression), and length that helps keep blood flowing.
We also see some players opting for the hinged knee brace. For those of you that may have had knee surgery, this is a standard recommendation by physical therapists. Since we aren't clinicians, we recommend you speak with your doctor before determining what might be the proper support for you if you're dealing with discomfort post-surgery and need ideas on the best brace to support you on the course.
When searching for certain attributes to help you make a decision on what the best knee brace would be for you while playing golf, we focused on the following features: comfort, heat, compression, support, flexibility, and price.
Here are our best knee brace for golf in 2023
The Modvel Knee Braces for Knee Pain Women & Men is one of the best knee braces on the market with thousands and thousands of purchases and happy customers.
This brace provides optimum support for people with a meniscus tear, ACL, arthritis, and post-surgery swelling. We also really liked this when we were carrying our golf bag.
The material of this brace is top-notch, made from a blend of nylon and latex, which makes this brace incredibly lightweight and durable. We also love that this can be washed many times, which resulted in minimal shrinking and reduced compression.
One of the other key components we look for is if it's breathable and moisture-wicking. This knee brace for golf is made with the intent to support those with an active lifestyle, which is great for those who also might be looking for a brace that can be used outside of the course for walking, running, or just general work for the house.
This comes in seven different sizes and has many options for both men and women ranging in size from XS to 3XL.
For those of you who are looking for less movement when wearing a knee brace, this one is for you.
It has been made with an 80/20 balance of nylon to spandex that provides amazing protection across your entire knee joint.
We love this as well because it really helps to support injury prevention, as well as makes you feel like you have a wide range of motion while on the course.
Sizes are of plenty with this knee brace that is great for all sorts of motions on the golf course, providing options for kids, women, and men of all ages.
The balance of tight and breathable is one that we see many competitors should take note of. POWERLIX has been able to ensure that you have the needed compression to keep blood flowing while also making sure that it doesn't feel like your leg is being suffocated.
We also really need a knee brace to have quick, fast-absorbing sweat material to keep our legs dry and odor-free while on the course. This knee brace provides just that.
They've also developed an anti-slip system with a knitted design with two silicone gel strips that helps to make sure the knee brace stays put no matter what you're doing.
One other component we liked is how many colors this sleeve comes in. Now you don't need to just stick with one color to go with all your different wardrobes. You have many options!
Lastly, they offer a 100% Money Back Guarantee. This offer is tough to beat.
This knee brace is a great one to wear on the golf course. They've built this using a 3D knotting technology that helps to stabilize the knee and then focuses on providing the right amount of warmth to reduce inflammation.
Many players across the world wear the CAMBIVO knee sleeve because they are flexible in so many different environments, especially outside of golf.
They've really hit the nail on the head with the right amount of compression and pressure points that will really help to improve circulation around the knee and through the leg as a whole.
Similar to other knee sleeves we've tested, they've built in an anti-slip silicone wave of material that really provides an extra level of reinforcement without sacrificing comfort or putting too much strain and tightness in that given area of the leg.
The one downside we didn't like with this sleeve is that it's a little bulkier than the Modvel Knee Braces for Knee Pain Women & Men .
We love when we know exactly what we are going to get from a knee brace. Let's face it, we don't want to be thinking about if our knee will hold up while on the course.
What Crucial Compression has developed provides instant proof of support and added pain relief that will help you keep your knee performing how you need to play quality rounds of golf.
Keeping healthy blood flow (a.k.a. circulation) going while you play will help to reduce soreness and stiffness, as well as keep less lactic acid from building up so you can be at your best.
As we've seen from all of those we've tried and tested, this meets our quality criteria for being incredibly lightweight and breathable. We also feel like the sleeve isn't too hot, restrictive, or bulky.
The double "no-slip" Grip is also a major quality trait that will help to keep your sleeve from falling too fast. We don't need a sleeve bunching up behind your knees (which is what we were worried about when we learned about the double grip). They have proved us wrong and don't feel too tight, but instead with just the right amount of warmth and compression.
JHVW has developed an incredible knee brace based on a copper-based fiber that has been in the knee brace market for a few decades.
The secret sauce (from what we've seen) is that it's an entirely new type of compression and feel.
We talk about balanced compression, flexibility, and pressure points that must be part of a knee brace for us to consider it a winner in our book. This knee brace hits on all of those points.
We really like that it has two silicone strips that focus on ensuring the knee brace won't slide on you while on the golf course. Another aspect is that it won't roll up on you as you bend up and down.
This is another knee brace that can be used across so many different types of activities beyond the golf course, such as hiking, at the gym, or just on a walk. But we really loved this knee brace for those that like to walk the golf course.
We found that the material and overall size of this knee brace were perfect for what we needed. And we didn't feel like we were reaching down to pull it back up into the right spot of the knee. It really did stay in place well.
This knee brace has been used by so many golfers that we felt it had to be on our list. Like others that we have reviewed, this provides great compression and overall knee protection that we all hope for, no matter if you're lining up a tee shot to kneeling down to read a putt.
This curved design allows for added support across the outside of the knee joint, which is just as crucial for the knee joint itself.
A medical-grade patella gel pad has been added around the patella region that focuses on preventing any injury to that part of the leg. It's been designed with a soft, elastic, shockproof, and decompression material that we see is a must-add for others we've tested.
This also comes with an elastic pressure belt and adjustable velcro design so that you can freely adjust the brace to your liking in terms of tightness.
The last aspect that we really like about this knee brace is that it's waterproof and also has great breathability.
One of the few downsides we've noticed with this knee brace is that it's somewhat bulky and heavier than some of the other braces and sleeves we've tried.
Frequently Asked Questions (FAQs)
What is the best knee brace for golf?
Our favorite knee brace for golf is the Modvel Knee Braces for Knee Pain Women & Men due to its phenomenal balance of compression and tightness, as well as warmth that makes it feel like your knee has never been more stable.
Can you play golf with a knee brace?
Absolutely. We recommend you consider wearing a knee sleeve, which is often a bit more flexible and comfortable. Wearing a knee brace on the golf course shouldn't have to be uncomfortable or change how you play.
Check out the Modvel Knee Braces for Knee Pain Women & Men which provides incredible warmth and comfort while helping to keep knee pain and swelling down.
How do I stop my knees from hurting when I play golf?
Knee pain while playing golf can be caused by a number of different factors. Stretching and warming up can help before the round, while a knee brace before and after the round is what we recommend to really keep swelling down and avoid more knee pain and hurting when playing golf.
Conclusion
Knee braces are becoming more popular by the day for so many players, and surprisingly we've seen more interest in purchasing sleeves and braces for preventative reasons.
The motion of the golf swing is incredibly unique. Yet, many golfers have come to expect they'll be able to play into their latter years of life without too many obstacles and pain.
With the average age of the golfer still in the early 50s (and trending down), many players need to focus on how they can continue to play and get the number of rounds they expect. A knee brace or sleeve can help prevent injury and keep you playing more throughout the years.
Written At: Updated At: 2023-07-23T20:11:02+00:00