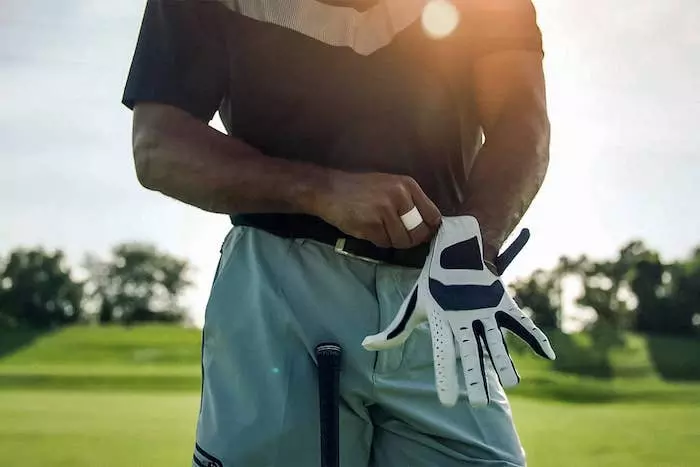 Best Golf Gloves with Ball Marker
Whether you're a golfer who keeps the golf glove on the entire round or you prefer not to have to reach for a ball marker buried in your pocket, we love a quality golf glove that can be multidimensional. The golf glove with a magnetic ball marker continues to evolve, even if you remember using gloves in the 1980s and 90s with the small ball marker on the side of the glove.
We've done loads of research over the last eight months to test various golf gloves that come with a magnetic golf ball marker. We also considered various aspects: durability, waterproof material, fit, breathability, and overall quality.
The Top Picks for Golf gloves with ball markers
Callaway continues to show why they are one of the top-rated golf brands in today's market. They've created a multi-dimensional golf glove in the Callaway OptiFlex that provides a premium fit and feel that overall has incredible comfort.
Those with sweaty hands will love this glove based on its moisture reduction and breathability design. This golf glove with magnetic ball maker provides one of the best gloves in the market for those looking to easily pick up their ball when they hit a great approach shot.
We also think it's really important to consider your hand when playing golf. Inflammation is expected due to the constant and consistent swinging of the club. Therefore, we need our golf gloves to not feel like plastic gloves but a dynamic formation around our hands when they swell.
That's why we have to go with this glove being the best mens golf glove with magnetic ball marker on the market. In addition, for those of you that have sweaty hands, we think this is one of the best golf gloves you need to try.
As promised, this glove comes with an incredibly durable, branded magnetic ball marker, making your life much easier and not having to worry about reaching deep into your pocket searching for one item among many in a dark place. This Callaway golf glove with ball marker is by far one of the best overall gloves we've seen in today's market.
Franklin is one of the long-time leaders in the baseball glove space, dating back to 1946. And they have now become one of the top new contenders for golf gloves.
Providing their tri-curve technology, this design contour follows the hand's pre-curved anatomy, which helps reduce bunching and improve fit for ultimate performance. That's why it's ranked as one of our favorite golf glove with ball marker.
We also love the convenience of the ball marker and its added outer ring that provides more security to ensure that the ball marker doesn't fall off as you're reaching for your golf tees when getting on the first tee.
Talk about an exceptional glove that ranks high on our golf gloves with ball maker list.
A tremendous budget-friendly golf glove alternative that comes with all the high-performance offerings you expect from your golf glove.
The Finger Ten Weathersoft Grip ball marker golf glove is in the shape of a circle and doesn't feel too big when marking your ball.
Like many similar gloves we've reviewed, this comes in right- and left-handed offerings.
We really like the spandex offering feel, which helps your hands continue to breathe while also helping to really grip on well to your tacky grips.
For it's price, this golf glove (which comes with two gloves when purchased through Amazon.com ) is quite the steal.
A quick and easy solution for those looking to easily get their ball marker down so you can read your putts as soon as possible, this glove really provides some top-quality materials when compared to top industry competitors like Callaway and FootJoy.
Many who have purchased this also love the knuckle vents for added flexibility and breathability. And even better, we often hear that the magnetic ball marker rarely falls off the glove while playing, which is critical. Nobody wants that to go missing as soon as you play your first round with the new glove.
Overall, we think this is the best women's golf glove with magnetic ball marker and the price is worth every penny!
Frequently Asked Questions (FAQs)
What hand do you wear a golf glove on?
Since the beginning of the golf glove, players have been told to wear one glove on their weak hand. This is due to your dominant hand leading the way (in most cases), which for most players would be their left hand. The golf glove provides added stability, increasing the control and shape of your swing during the backswing and follow through.

Therefore, a right-handed golfer should wear a golf glove on his left hand, and a left-handed golfer should wear it on his right hand. Remember that not every golfer wears a single glove all the time (Tommy "two gloves" Gainey anyone?). You also may see certain players not wearing a golf glove at all.
What is the best golf glove for sweaty hands?
We would want you to consider two options:

Premium and long lasting - we have to go with the FootJoy Mens Pure Touch
. We don't love when brands throw around the word "premium" too often, but FootJoy has had this glove in it's repertoire for years and we think you should find out yourself as to why.

A close second - is the FootJoy Mens StaSof Golf Glove
. We really feel this is one of the top gloves on the market due to its all-climate grip and feel. The moisture control on this glove is incredible, and we found it lasted longer than any other grip we tested throughout 24 rounds.
What is a cadet golf glove?
Cadet gloves are often considered kid's gloves, which is far from reality. Cadet gloves are meant for those with a wider palm and have fingers about 1 inch shorter than what regular golf gloves offer in size (see picture below for a great visual from our friends over at Golf Span).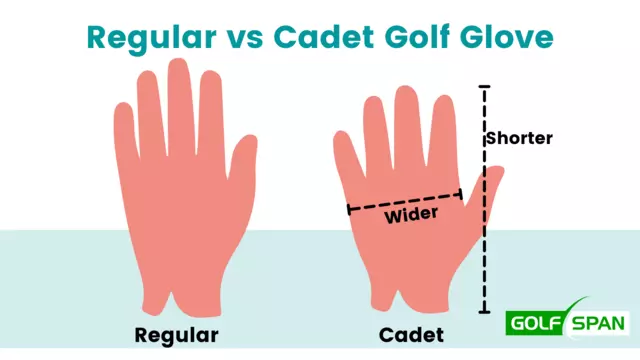 Why do you wear golf gloves?
We all want to make a good swing time and time again. But, if your hands aren't in a good position (naturally) when swinging, you will increase the chances of hitting an undesired shot. To increase our chances of keeping our hands in good form, a golf glove only adds to our ability to reduce the need to squeeze the grip so hard that we diminish our chances of making a good swing. The last thing we want is a slippery grip, which would make us put more tension in our hands and arms and ultimately reduce the amount of hinge we get.
When to replace your golf glove?
We all sweat at different levels and places. Unfortunately, some of us sweat more on our hands, especially when we put a glove on.

Even if your hands don't sweat all that much, we still expect to replace your gloves every 10-15 rounds or eight months, whichever comes first.

Remember that if your gloves get a lot of sun and heat exposure, you may notice significant cracking and shrinking, which will only increase your chances of needing to replace your golf gloves.
How To's
How to clean golf gloves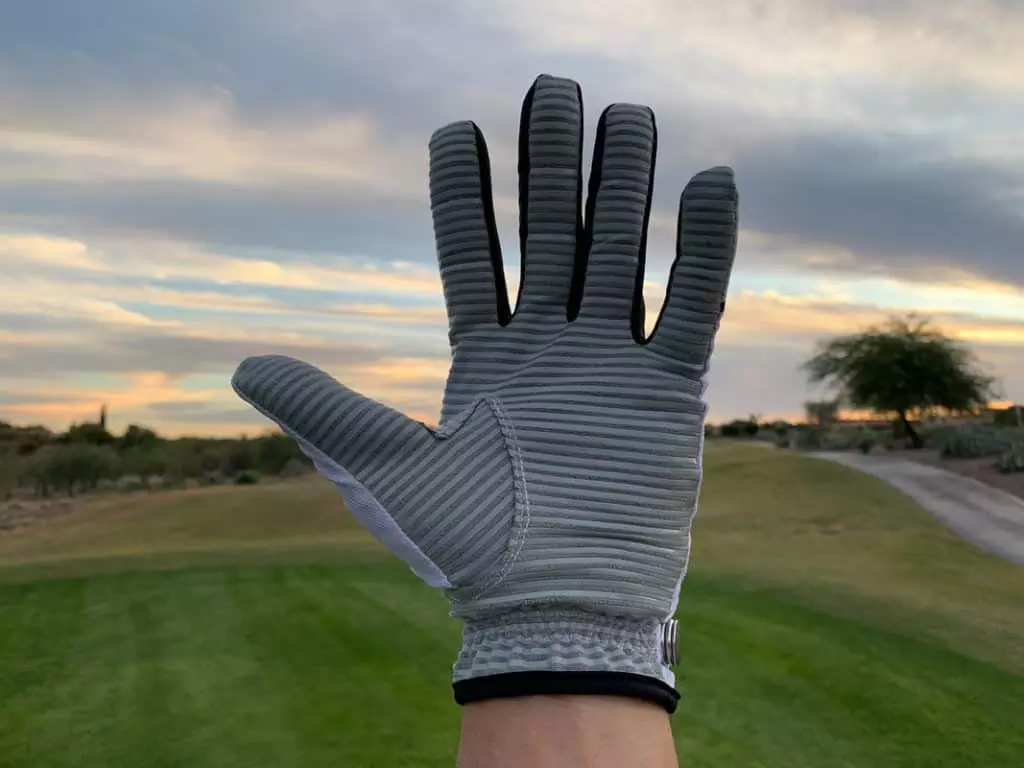 Time Commitment: 8 Hours
Keep in mind that cleaning golf grips isn't really a common practice like your golf grips. Golf gloves are meant to diminish any excess sweat so your hands can feel dry and grip onto the club well. The solution below will only work well for spot cleaning and shouldn't be applied to your entire glove.
Supplies and Tools
1+ Dirty Gloves

Dish Soap

Paper Towels
Step 1 - Find Dirt and Grime
Assess where your grips have lost their tackiness or have considerable dirt and grime
Step 2 - Dip Towel in Solution
Grab a paper towel, dip it in a light warm water and dish soap solution.
Note - do NOT put your golf glove in the washer machine or dishwasher under any circumstance - it will significantly reduce the quality of the glove.
Step 3 - Rub in Solution
Take the paper towel and rub the glove in certain spots in a circular motion to get out dirt and grime
Step 4 - Let Dry
Place your glove in a shaded area to let dry for 8-12 hours
Note - you never want to leave your glove in the sun for too long, as this will also increase the speed at which the glove will fade and wear
Written At: Updated At: 2023-07-23T20:11:02+00:00