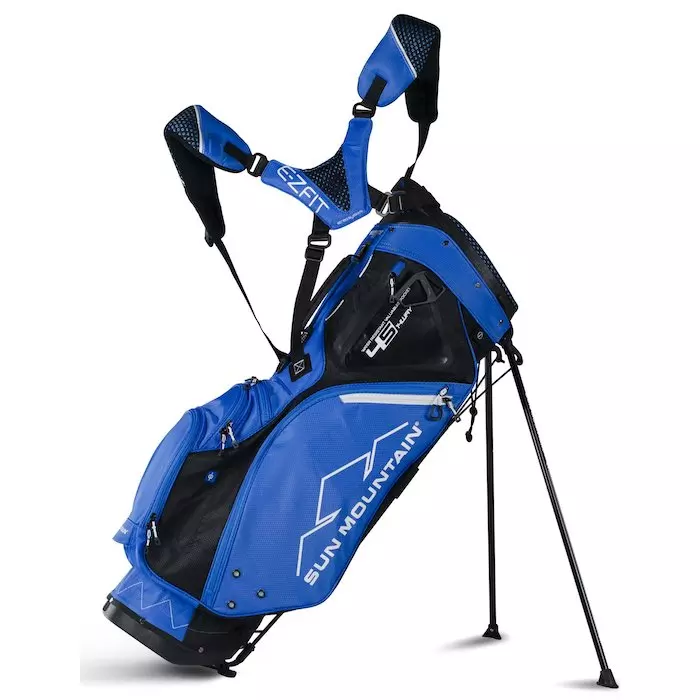 How to Organize A 14 Divider Golf Bag
When you're done with this article, look at our review of the Best Stand Bags of 2022.
Efficiency and intuition are by far two attributes you need to consider when playing the game of golf. Keeping your mind focused on the proper pace of play and analyzing everything you have time for can build scale into your game.
But not many think about how your golf bag can lead to efficiency and intuition.
The number of dividers can play an essential role in reducing extra thoughts that will take away energy from the things you should be focusing on. Playing golf doesn't need to be harder than it already is!
Here's how to organize a 14 divider golf bag (with pictures):
How to Organize A 14 Divider Golf Bag
Time Commitment: 2 Minutes
Supplies and Tools
14 Divider Golf Bag

Golf Clubs
Step 1 - Longest Clubs First - Woods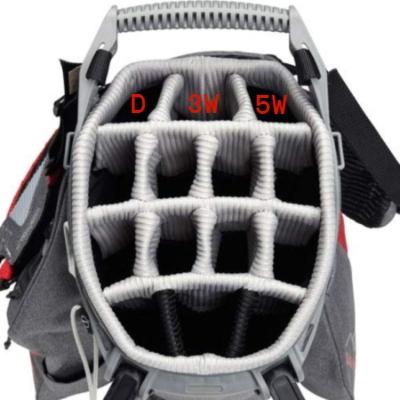 The longest clubs need to fit right because it has a trickle-down effect for all other clubs that go into the bag.

Place the driver in the top left and your woods next door to the far left, then add accordingly to the top right. If you need to add one to the next level, continue the cycle and start from the right.
Step 2 - Money Maker Next - The Putter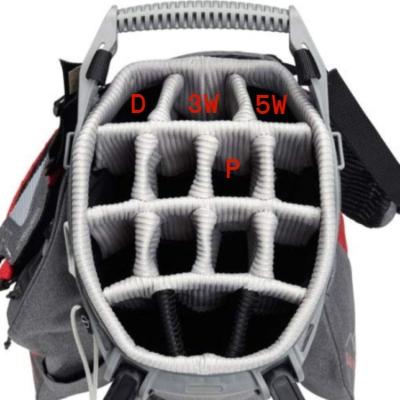 The putter in the middle right slot can be an easy grab-and-go, so you can read those putts as soon as possible.

This height typically fits well for golfers of all sizes (both wide and tall) and should be a comfortable position to grab the club at any angle. Keep in mind about your golf head cover. We recommend putting the head cover back on the club when you're playing a full round, so they don't continue to hit against your other equipment.

The arrangement of how to organize 14 divider golf bags can feel a little daunting at first, but you'll thank yourself later when you'll have less work to do on the course.
Step 3 - Hybrids and Irons (long irons first)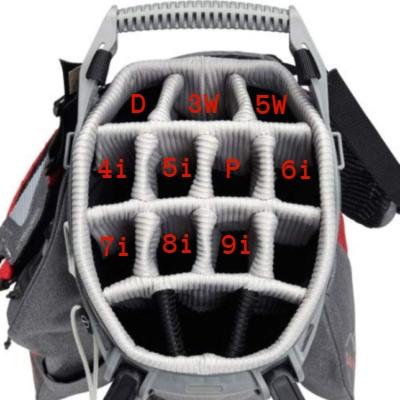 Usually, we like to have our low irons sit across the middle of the bag because the shaft length can often be longer. That will allow the clubs not to stick out too much and become easier to grab when you're coming out of the cart or walking with a caddie.

Place those irons starting in the center-left to the far and bottom right. We like to go the next lowest number from the far-left to the bottom right.

Now, remember, organizing a 14-slot golf bag has to include the right approach clubs that will keep you dialing in those 100 yards and in shots.
Step 4 - Wedges, Ball Fetchers/Retrievers and Towel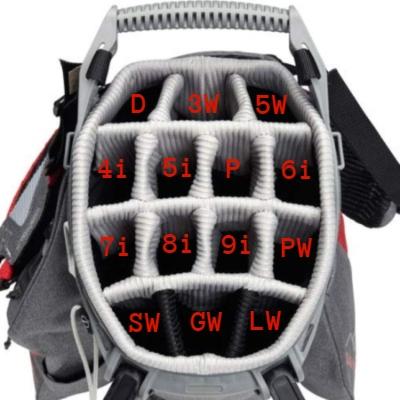 Check out those shiny wedges. This could include your pitching wedge, gap wedge, lob wedge, sand wedge, and other short irons (anything above 45 degress really). We love this placement because of its easy access across the bottom dividers. If you're like us, we like to keep our highest degree wedges on the left, so we easily know the order and difference in the upcoming clubs to the right vantage point. That way, we can easily remember what loft clubs are facing which way. Here's our The Best Ball Retrievers
Also here this is our favorite towel .
You should get a finished product that looks something like the image above.
How to organize a 14 slot golf bag can be tricky at times, but also a great way to stay more organized while on the course.
Remember, the less energy you spend on the low-value tasks can be transferred to your game. That energy needs to be on hitting quality golf shots. An easy-to-organize golf bag can help to keep you focused on the most critical aspects of your day.
How to organize a Titleist 14 slot golf bag
Our favorite standing and cart bag is the Titleist Hybrid 14 slot golf bag and the 2023 Sun Mountain 4.5 LS 14 Way Stand Bag . It's typically one of our top picks because of its magnificent design. Not only do the clubs hold and fit incredibly well, but when you're walking with this golf bag, you can feel a proper weight distribution that won't put a lot of strain on your shoulders. Keep bags organized; we think you'll find yourself even happier while on the golf course.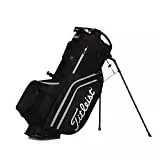 You also need to see the side pockets part of this stand bag. Not only do the club heads fit perfectly along with spare clothing, but a simple ascending order of your clubs will make things so much easier for you to easily grab and put back in your bag.
Our Favorite Golf Towel of 2022
We are really impressed with two options. This year was much harder to pick just one because we think different dimensions are for different golfers. And that's what makes this sport so unique. Many competitors have a high volume of players who use their equipment.
Our first pick - is the E9 Golf Caddy Towel
A longer style design with extra cloth provides a sturdy towel that can be various levels of wet to support cleaning the golf ball to wiping down clubs.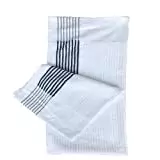 We also think you should check out the Clothlete Microfiber Golf Towel . Its clean and solid design provides a perfect material to easily do away with your leftover grass on the club face. And even better, you also get a dynamic piece of equipment that can help to keep clubs dry when a random storm picks up on you and your playing partner.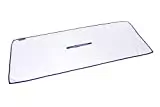 Frequently Asked Questions (FAQs)
Are 14-Slot Golf Bags Common?
They were far more common a few decades ago. Some may remember the rubber sleeve that was welded into the inside top half of the golf bag to create the dividers.

The new generation of 14 divider golf bags are impressive and offer a simpler and sleeker design than its predecessors. We also really like the Callaway Golf 2022 Fairway 14 Stand Bag , which provides excellent stability and known for their long-lasting quality.
What is the right number of dividers in a golf bag?
The number of golf dividers in your bag really needs to match your style of play, which can take time to learn. Many players, especially beginner golfers, might be grabbing the same club more frequently than others.

That's why we like golf bags with more than six dividers to help easily separate certain clubs that are used a little more than others.

But, we also must say we've seen a lot of golf bags in the last few years with fewer dividers, so some may say style is also a large part of their decision-making process.
Written At: Updated At: 2023-06-19T16:57:06+00:00