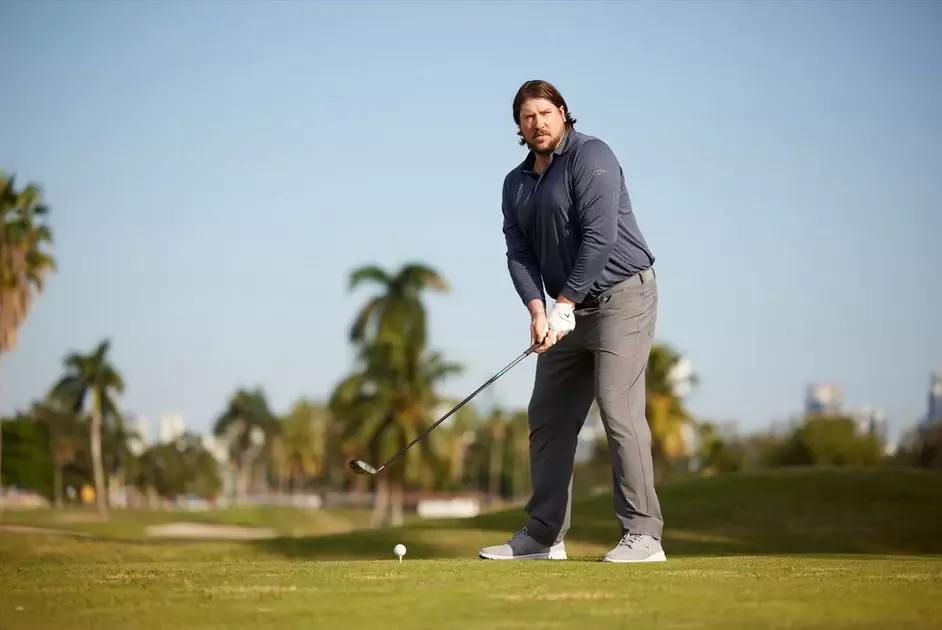 Best golf pants for big and tall guys of 2023
Finding the right golf pants can be a challenge for big and tall guys, but there are a few things to remember when searching for the perfect pair.
The first thing to keep in mind is to look for golf pants that are specifically designed for big and tall sizes. The best golf pants for big guys are those that often have features with longer inseams, stretchy waistbands, and roomier thighs to accommodate a larger body size. Also, it is incredibly important to look for breathable materials, as this will keep you cool on the course no matter how hot the weather is. Dark colors are also essential to opt for, as they tend to be more slimming and can help create a streamlined look.
Baggier golf pants are also common for many big and tall players. Many brands today have created pants that are baggier by the thighs and slimmer around the calves. Also, look for a straight or tapered leg that fits comfortably but doesn't add unnecessary bulk.
We really like to pair our golf pants with a collared shirt and a belt to create that polished and professional look on the course. With the right fit and style, golf pants can improve your performance and boost your confidence on the green.
Big sizes (most common for those under 6' 2") range anywhere from 42-44 on the waist to 70-72. Tall sizes (most common for those 6' 3" and taller) range from 36-38 on the waist to 60-62.
Now getting the correct size is incredibly important. Here is what you need to know when assessing the right pant fit for you.
WAIST: The key is to take a clothing measuring tape and go around your waist without a shirt on.
INSEAM: You'll need to grab a pair of your favorite slacks out of your dresser or closet. Put them on a flat surface and take that same measuring tape beginning at the center seam of the crotch to the bottom of the slacks along the same exact seam.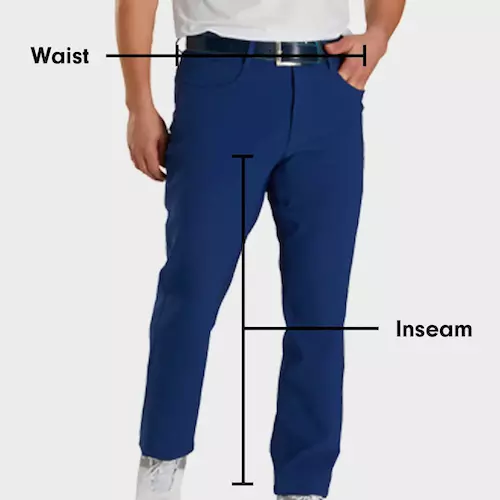 Check out our top five golf pants of 2023 for big guys and tall guys
The Callaway Men's Everplay 5-Pocket Golf Pant is our favorite pair of golf pants for big guys on the market. We can't get over how comfortable this product is, especially for big and tall men who want a super comfortable and stylish option to wear on the course.
Made from a blend of polyester and spandex, these pants are incredibly lightweight, moisture-wicking, and feature a stretchy waistband that makes you feel like having a beer or two on the course won't make you feel like the pants are too tight.
They have a classic look and fit that comes with a flat front and straight leg while coming in several ranges of waist and inseam sizes to ensure you have the right fit. We also really like that these pants have five pockets, including a tee pocket, providing ample space for golfing essentials.
The pants are praised for their quality, style, and comfort, with many reviewers noting that they are the best golf pants they have ever worn. However, some customers have reported issues with sizing, finding that the pants run small or large. Additionally, a few reviewers have noted that the material is somewhat thin, which may not be ideal for cooler weather conditions.
Overall, not only is this our top pick, but we also love this pick for those looking for golf pants for tall skinny guys. They really have made this incredibly comfortable and durable, which has increased our confidence on the course.
The Callaway Men's Pro Spin 3.0 Stretch Golf Pants with Active Waistband are made with an awesome balance of polyester and spandex to give you that comfort and flexibility while on the course. Because of the materials, this golf pant competes against some of the best on the market due to its moisture-wicking technology.
This pant also resists wrinkles, avoiding the need to iron and making them suitable for long periods of wear.
We can't get over the durability of these pants. We've put this through the test in various weather elements. Not only has it held up, but it also kept us warm and dry. Not to mention the active waistband stretches for optimal mobility and comfort, while the classic fit provides a relaxed feel. The pants feature five pockets, including two back pockets, two side pockets, and one small pocket on the front.
The one downside we have to mention with this product is the cost. It's a little more expensive than we like, but we also recognize the quality is there to be long-lasting, which makes us think this product is worth the purchase.
The Adidas Men's Go-to 5-Pocket Primegreen Golf Pant pants are another hit on the golf course in 2023 for big and tall guys. They've developed these pants from recycled polyester to help reduce emissions and conserve resources.
Similar to our other picks, they feature a stretchy waistband and moisture-wicking fabric to keep you comfortable while out on the course. These pants have a five-pocket design with a zip fly and button closure that make storing your belongings so easy and efficient.
This pick is one of our favorites because of its sustainable design, which sometimes, when we say "sustainable," it doesn't equate to comfort. But Adidas has proven us wrong. The moisture-wicking fabric and stretchy waistband add to the pants' functionality, making them suitable for all-day wear on the golf course and during other days (such as when you're in the office).
Overall, we think this is the best Adidas big and tall golf pants on the market due to its amazing design and incredible comfort and easily our favorite pants for those with big thighs.
Amazon has continued to prove that they are making more and more of a dent in the clothing space. This pair of pants is great for those players looking for more of a classic and professional fit.
The Amazon Essentials Men's Classic-Fit Stretch Golf Pant pants are another hit on the has a blend of polyester to maximize comfort and performance on the golf course. In addition to our other picks, this budget-friendly pair of golf pants also include a stretchy fabric to make everything comfortable while on the course. The classic fit and flat front design provides a polished look suitable for both on and off the golf course.
In addition to the functional design, these golf pants come in big and tall sizes to accommodate a range of body types. The pants have a zipper closure and side pockets, making them a practical choice for golfers who need a comfortable and stylish option on the course.
The PGA TOUR Men's Flat Front Active Waistband Golf Pant are designed for golfers who want a comfortable and flexible option on the course. These pants feature Motionflux technology, allowing for a maximum range of motion during your swing. They also have an active waistband that stretches with you for added comfort and flexibility.
Made from a blend of polyester and elastane, these pants have a sleek and modern design suitable for both on and off the golf course. They come in big and tall sizes and have a straight leg cut with side pockets and a zip fly with button closure. Overall, the PGA TOUR Men's Big and Tall Motionflux Active Waistband Pants offer a comfortable and functional option for golfers who want to perform at their best, especially for big guys. We love this as one of our favorite big and tall golf pants because of its professional and stylish look.
Conclusion
Finding the best golf pants for big guys can make a significant difference while on the course. Not only do well-fitting pants offer comfort and flexibility, but they also provide confidence and style on the course. It's essential to consider factors such as fabric, fit, and length when purchasing golf pants as a big guy. Additionally, it's essential to prioritize quality and durability to ensure that the pants will last through multiple rounds of golf. With the right pair of golf pants, big guys can enhance their performance and feel great while doing it.
It's important to note that many golf pants made today don't mean big and tall guys don't have to sacrifice comfort or style when it comes to finding the perfect pair of golf pants. Don't let ill-fitting pants hold you back from playing your best game. Invest in a quality pair of golf pants, and you'll be sure to see the difference.
Frequently Asked Questions (FAQs)
Is it OK to wear golf pants to work?
It depends on the workplace and the dress code policy. Golf pants are designed to be comfortable, functional, and often come in various colors and styles. However, they may not be considered appropriate for all workplaces.
In general, if the dress code policy is business casual or more relaxed, golf pants may be acceptable to wear to work. On the other hand, if the dress code policy is more formal, such as business professional or formal business attire, golf pants may not be appropriate.
It's always a good idea to check the dress code policy of your workplace to determine what is considered acceptable attire. If you're unsure whether golf pants are appropriate, it's best to err on the side of caution and choose a more formal option.
Are golf pants worth it?
Golf pants are absolutely worth it if you're looking for comfort, flexibility, added confidence, and performance on the course. Golf pants are designed to allow for a full range of motion during the swing and often incorporate moisture-wicking technology to keep golfers comfortable throughout the day. You won't get that same feel from a pair of chinos or something similar.
What is the difference between regular pants and golf pants?
There are a few main differences between regular pants and golf pants that you need to know about. That includes the material, design, and functionality.
The Material of Golf pants is often made from lightweight, stretchy, and moisture-wicking materials that allow players to be able to swing comfortably and confidently. On the other hand, regular pants are often made without stretchy and moisture-wicking materials that ultimately inhibit mobility.
The Design of Golf pants (especially for big and tall guys) are made specifically for golfers that include features such as flat-front designs, tapered legs, and flexible waistbands.
Lastly is Functionality: Golf pants for big guys often have additional features that make them more functional for golf, such as pockets specifically designed to hold golf tees, scorecards, and other small items. Regular pants may also have pockets, but they are not typically designed with golfers in mind.
What are mens golf pants called?
Men's golf pants can be called by a variety of names, but some standard terms used to describe them include Golf pants, Golf trousers, Golf slacks, Golf khakis, Golf chinos, and Golf joggers.
Written At: Updated At: 2023-07-23T20:11:02+00:00