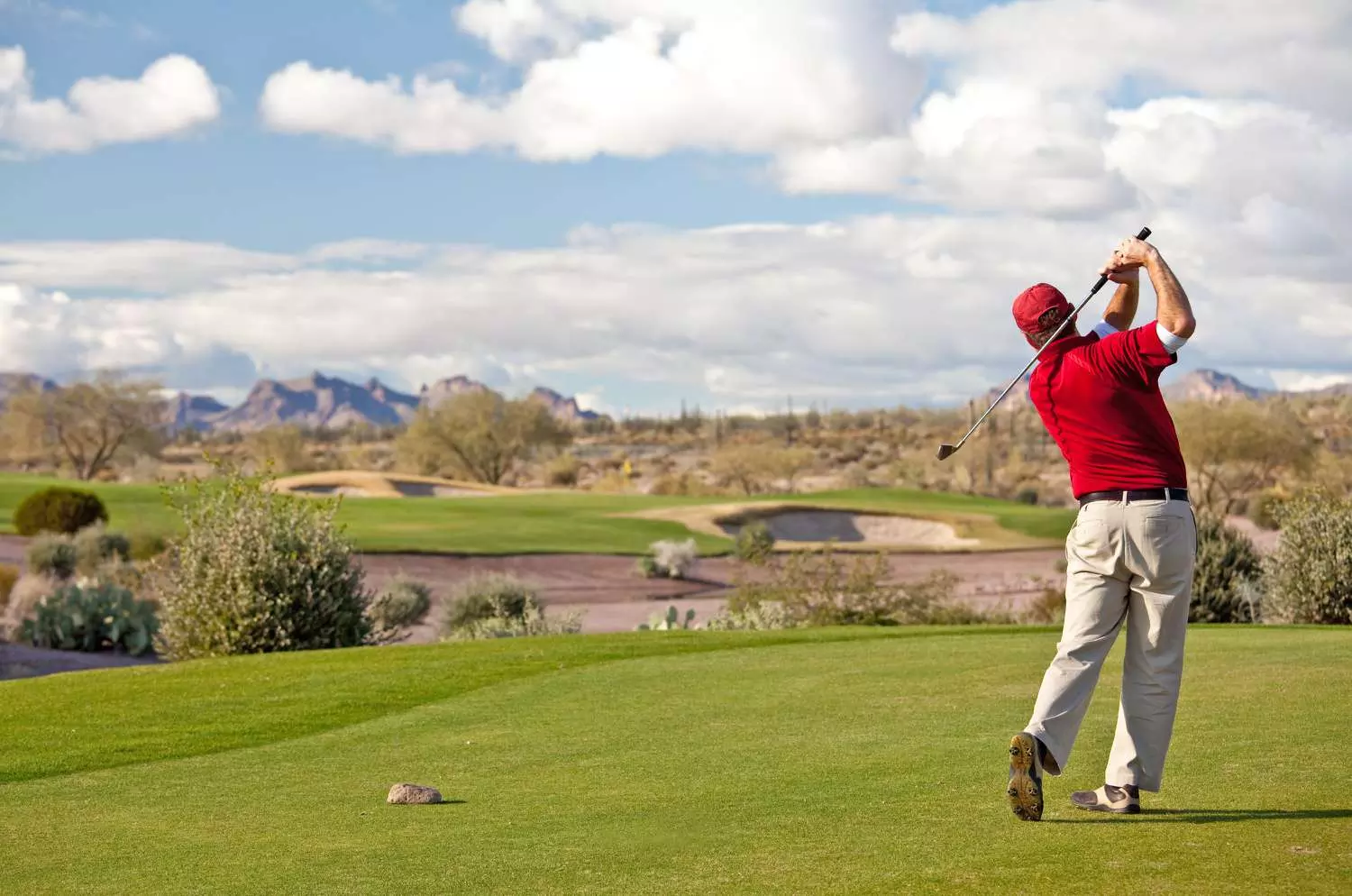 Best Golf Pants for Hot Weather 2023
The best golf pants for hot weather must come in the right material, not just to keep you cool but also so that you don't feel like you're holding more weight due to the sweat you're dealing with in hot weather.
Some of the best golf pants in the golf market have hit shelves over the last five years because they've combined some of the other types of comfortable pants we love - the joggers.
But, we recognize not all players will want to sport a slimmer type material, so we've tested a number of pants so you don't have to. Our selection runs from slim and tapered to straight and narrow, and we even had some of our favorite women golfers try on a few that we know you'd like.
Golf pants must be breathable, durable, machine washable, and stretchy, keep your items secure in the pockets, and ultimately keep you cool during those hot days on the golf course.
Check out our favorite golf pants for hot weather in 2023 that we think you should try. You might be surprised that a few of these items end up being added to your closet for the year because they are all so great and at an awesome price.
Best Golf Pants for Hot Weather
They are easily our favorite golf pants for hot weather. They are incredibly durable, breathable, and lightweight. Made out of 100% polyester, they include a great, stretchy material that makes it feel like you're keeping cool while playing in hot weather.
This has also been designed with a regular fit, suiting players who are a little skinnier and looking for a more tapered look towards the bottom of the leg. Perfect for carrying and walking with golf clubs during your round, even in the hot weather!
Another benefit of these pants is the built-in UV 50+ factor that has been designed to keep sunshine rays away so that your skin can stay cool. The last thing we want is more heat impacting our body when we already have enough to think about when swinging the club.
You'll be rocking a pair of golf pants that are made of a series of high-performance recycled materials, which is incredible based on how durable and breathable these golf pants are.
Finally, we love the pockets. They are just deep enough without feeling incredibly baggy and deep to keep your golf tees, ball marker, and glove secured without feeling like it's weighing you down.
Adidas Women's Pull-on Ankle Pants are our top pick, and we have to provide the same high-class love for women's pants as well.
Nothing is worse when you're playing golf on a hot summer day, and you start to sweat through your clothes, making you wish that you had brought a spare to change into at the turn.
The Adidas Women's Pull-on Ankle Pant has become a staple for women worldwide who need that breathability, style, and comfort that makes these pants such a must-wear.
These golf pants can continue to be machine washed and look just as good. Like the men's pants, this also includes protection from harmful sun rays with a UV 50+ factor to keep cool in and heat out. We recommend washing these in cold water.
We also really like that these pants have hidden inner zips to store your favorite golf ball marker, divot tool, and even some golf tees.
This is easily one of the best golf pants for hot weather for women on the market!
The Under Armour Men's Drive Pants is one of the most purchased golf pants on today's market. We see the likes of Jordan Speith rocking these constantly on tour because they are so dang comfortable.
Another one of our favorites because they are made out of 100% polyester. They also have the perfect depth of pockets that don't make these pants feel baggy or raggedy.
We see golf pants in today's market winning for most people because they can stretch. That includes being the same quality you expect after machine washing them multiple times.
Lastly, this is an excellent straight-leg fitting pants, so you don't feel as much pull or tightness when you go down to tee up a golf ball or bend down to read a birdie putt.
A mix of polyester and spandex, the Soothfeel Men's Golf Joggers Pants are a newer style to the golf pants market that looks like a jogger but comes with more formality.
They have that jogger-like stretchy feel to really make you think you aren't wearing golf pants while on the course. The comfort level is unreal.
We also like that these golf pants come with a zippered pocket to really keep certain items secure. After hearing too many stories about golfers losing their favorite divot tool or golf ball maker, we think this is a perfect new addition to golf pants that we want to see more competitors follow.
If you're feeling a little risky to rock the newer style on the course, these pants will turn heads and make you feel so comfortable while playing 18. You should also consider adding a new pair of golf shoes to the mix with these pants to give your look a total upgrade!
The PGA TOUR Men's Flat Front Golf Pant with Expandable Waistband is a newer golf pant in today's game that really has become a go-to for many golfers, especially for senior golfers.
Another pant that has followed suit for those that we love, coming in 100% polyester. Because of this, they are also great at wicking away that moisture you often deal with when playing golf in hot weather.
In addition to those we've mentioned prior, this also provides great sun protection, no matter how many times you wash it.
The biggest thing we love about these pants is how durable it is, in addition to the space it provides off your legs to keep your body cool. The stretch around the waste is perfect for when you might have a couple beverages on the course.
These golf pants have that stretchy fabric just like you find in joggers, but they've also ensured they added spandex so that it can breathe during those hot summer days on the golf course.
We also like that these have a pull-on closure, so you don't have to deal with a button the entire day. That can be great, especially if you are looking for a little extra room to fit in some food and drink at the turn!
Five pockets are included in these pants, including one that is zippered to secure important items.
The ankle length on these pants is perfect, tapered right around the top of the ankle so they can help keep the legs cool and comfortable.
They also have been designed with a split hem design and have often been mentioned they can be used for many things beyond golf, such as travel, business, jogging, yoga, and much more.
Frequently Asked Questions (FAQs)
Are golf pants suitable for hot weather?
Absolutely! You must ensure it includes a breathable material such as spandex or polyester. We also like golf pants that aren't as tight around the thighs to help feel like your legs can feel the breeze as the wind blows.
What are the best pants material to golf in?
Polyester is the best material to golf in for those hot summer days, and you need to wear a pair of golf pants. The Adidas Men's Standard Ultimate365 Pant is a great golf pant that is 100% polyester that feels like there is enough room off the body so your legs can breathe while also looking great and feeling super comfortable.
Are golf pants supposed to be baggy?
In today's game, there are far more players wearing tight golf pants due to the immense comfort, often comparing themselves now to a feel of joggers, which used to be much more for relaxing around the house or going for a walk.
Nowadays, golf pants can range depending on the player and aren't supposed to be baggy. Instead, they can be tapered towards the ankle like a pair of jeans or sweatpants, improving the comfort level.
Are joggers acceptable golf pants?
For those golfers looking for jogger-like golf pants, we recommend a jogger designed for golf. They will likely use a different material than what we usually see in joggers, such as fleece and cotton. For golfers interested in jogger-like golf pants, look for a golf jogger that is made with a percentage of or all polyester.
Do pro golfers wear joggers?
Over the years, jogger golf pants have become increasingly popular. Rickie Fowler started the trend, but now we've seen other professional golfers wearing joggers, such as Rory Mcllroy, Colin Morikawa, Justin Thomas, Tyrell Hatton, and Sam Ryder.
Golf pants have been designed to come in sorts of styles and look these days, both for men and women. Those golf pants designed for long rounds are made with breathable materials that are great for hot weather.
The best part is that golf pants have become multidimensional, allowing you to use golf pants for the office. They are also great for colder weather and are some of the best for hot weather while on the golf course.
Are golf pants stretchy?
Modern golf pants are made of polyester and are basically made from the same material that you normally see in the athleisure category. The pants have a more modern finish so they look classy and nice but feel extremely comfortable. Most waists have a moderate elastic and the pant legs are stretchy for those with bigger thighs or calves (I mean come on, if you got it - show it!).
Do dress pants work for golf?
Yes, you can wear most dress pant for golf but since golf is a sport we think it's more comfortable to wear modern golf pants. They are exteremly lightweight, easy to keep maintain and feel great.
Do wide leg pants look good on thick thighs?
With modern golf pants, you don't need to buy extra wide leg pants. Modern golf pants are stretchy and fit most body types and look great.
Written At: Updated At: 2023-07-23T20:11:02+00:00