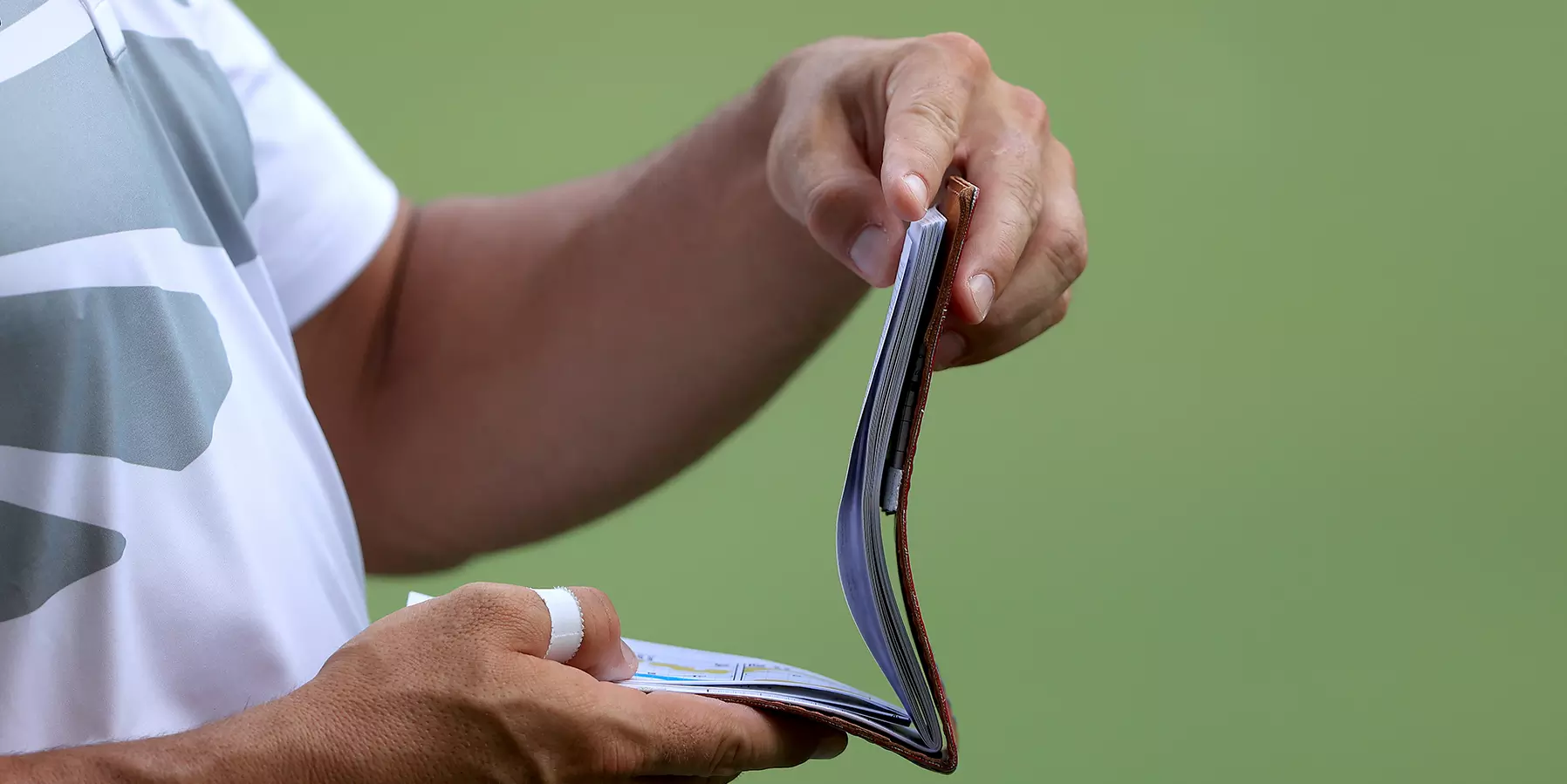 The Best Golf Yardage Books of 2023
Golf yardage books are invaluable for golfers strategizing their way around a golf course. And these books don't just provide a cool-looking piece of luggage sticking out of your pants. Instead, they provide detailed information about each hole's layout, hazards, and distances.
Because golf courses are often architected in a way that is so precise, allowing their measures of various landmarks to be indispensable while playing a round. The last thing we must do is be in a bunker or deal with a water hazard. These books (and supporting materials from the course you're going to play) can help to shave a few strokes and get that handicap down.
Check out what are some of the best golf yardage books for sale on the market today. We have seen how impressive recent designs and builds are, and you need to do the same.
Check out our top five best golf yardage books of 2023
The Handy Picks Handmade Refillable Yardage Book is one of our top picks for a number of reasons. Not only because of its clean look, but this golf yardage book makes it so easy to flip open to see what you're looking at for all of your golf shots.
You know your goods are comfortable and will stay dry because of the elastic band holding this puppy shut. Never mind the ever so sly pencil hold that fits in there perfectly. We all want ease and to stay timely while on the course, and that's why we love this yardage book because it's so multidimensional.
Ultimately, this is the best yardage book is also remarkable because of its incredible design and material. Top-grain leather for a yardage book is what you want. The material is a large reason why your yardage book wears in a perfect way to your contour.
Everyone should have this yardage book, even if it's just for holding and keeping track of your score on a golf scorecard.
We stay on brand with our runner-up pick because you get superb quality at a reasonable price. Not to mention, if you're looking for sleek and stylish, this is our recommendation for you. This was almost our best yardage book.
Designed and built with a scorecard holder that features a perfect yardage book and scorecard keeper while you're out playing the course. We think this needs to be an item more amateur and beginner golfers should start to consider as they are playing a round. We all need to improve our game, and this accessory can help.
Another yardage book (similar to our top pick) that also has an awesome pencil holder that adjusts well to so many different styles of pencils. Also, we love how well this fits in your pant or short pocket. It doesn't stick out so much as you might see tour players doing. Match your new yardage book with a pair of new golf shoes that fit any style.
This is one of the sleekest golf yardage and scorecard books on the market due to its simple yet elegant design, which is also just as compact and convenient as you want.
This golf club yardage book features a crocodile pattern and is made of high-quality synthetic leather. It comes with a transparent scorecard protector to protect the scorecard from any potential damage. Pair this with a new golf hat; your confidence will spike.
One of the other things we love is how well this fits into our pocket. When carrying something with a design that doesn't align with the golf yardage book holder, such as a pencil, you might expect to be less comfortable. But with this yardage book, they have proven it wrong. It's so comfy and holds so much!
Another great pick when you're in need of a yardage book and scorecard holder is the Myartte Scorecard Holder and Yardage Book. This versatile and colorful accessory has been manufactured to keep golfers organized and feeling confident on the course.
The holder features a stylish multi-color design that comes with fantastic materials. It gives you the ability to store a yardage book and scorecard comfortably that won't impact you on the curse.
With its compact size and durable construction, this product is a convenient and exact solution for golfers who want to keep their game in great shape by having extraordinary insights at their fingertips that also keeps the game of golf a pastime with this accessory.
The TORRO Genuine Leather Yardage Wallet is one we often wish to see more in golf equipment as a whole. The quality of materials used in this leather yardage wallet is the top of the top for golf yardage books.
Organized with a detachable scorecard holder, innovation has been crafted at its finest with this pick. We all expect and want durability in a golf yardage book, especially when the size fits your build well and breaks in like you want a shoe.
We also love that this golf yardage book and scorecard holder includes multiple card slots, a clear ID window, and compartments for cash and other small items. With its sleek design and practical functionality, this product is a convenient and stylish solution for golfers who want to carry their yardage book and personal belongings in one compact accessory.
Conclusion
Golf yardage books offer a valuable tool for golfers to enhance their game and strategic decision-making on the course. These books provide the ability to add detailed illustrations, diagrams, and information about each hole, helping golfers navigate the course more effectively.
These fantastic accessories ensure that essential items such as scorecards, pencils, and notes are easily accessible and organized. Also, the type of quality used for today's yardage books will last you years. Take out your hybrid with confidence when you feel locked in.
Frequently Asked Questions (FAQs)
What yardage books do PGA players use?
PGA players use different types of yardage books because they are often custom-tailored to the specific golf course they are playing that given week on tour. These yardage books are built by specialized companies that provide detailed and accurate course mapping services, many of which could be a new market for many to join because of their partnerships.
Are yardage books worth it?
Yardage books are worth it for all levels because it helps you focus on being better. Many golfers often just take score while they're playing their rounds. But, if you really want to keep on working on your game, you need to know what areas you should focus on more at the start.
These yardage books nowadays are some of the best quality ever seen on the golf market because they fit so many scorecards and yardage books well while staying comfy in your pocket. The last thing we want besides a hole-in-one is having to do more work and spend more energy while you're going about your round. Not only are they great during the round, but they also promote focusing on how to make your game more well-rounded.
Where do pro golfers get their yardage books?
Pro golfers get their yardage books often from their sponsors or with the help of them. We often see many golfers sticking with their warn-in golf yardage books because it quickly reminds them how long they've come with that piece of hardware.
What is the green book that golfers use?
The green book that golfers often utilize while on the golf course is a putting aid that provides incredibly superb information about the slopes, contours, and breaks on the greens. Reading it is also a masterpiece because it can help you know where on the green to attack and what to avoid.
Written At: Updated At: 2023-07-23T20:11:02+00:00