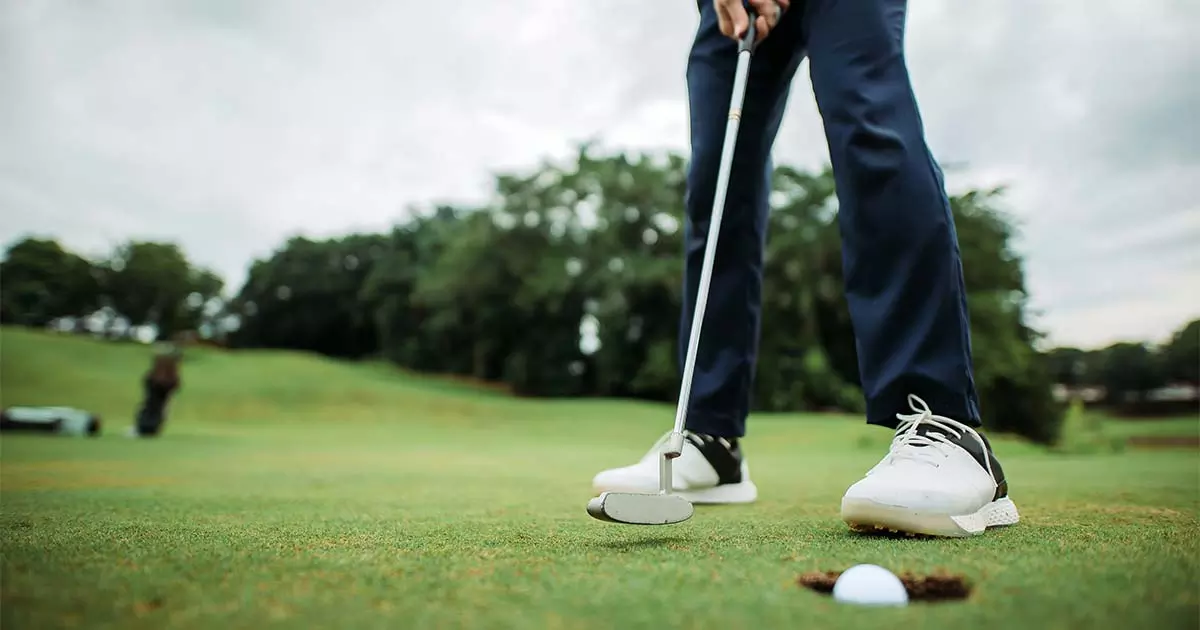 The Best Golf Shoes for Bad Knees - 2023
The best golf shoes designed specifically for individuals with bad knees ensure that comfort, support, and stability are incorporated to alleviate stress and reduce pain during the game. Shoes in today's market usually provide advanced cushioning technologies, such as gel or foam padding, to help with shock absorption for each step while you're on or off the course.
Golf shoes for bad knees and knee replacements usually have enhanced arch support to promote proper foot alignment and reduce knee strain. We also like golf shoes with a wider base so that golfers can feel that they have maximum stability and prevent excessive twisting or rolling of the foot, which can put added pressure on the knees.
Golf shoes for bad knees are designed and built to provide a comfortable and supportive platform that minimizes knee pain and allows golfers to focus on their game.
Check out our five best golf shoes for bad knees
The FootJoy Men's Flex Golf Shoe is the shoe that golfers with bad knees or those dealing with a recent knee replacement need. They are not only stylish and comfortable, but they combine the feel of a walking and running shoe (see our best non golf shoes for golf) that is designed for those who need extra cushion and support.
This golf shoe has a lightweight and breathable mesh upper sole, allowing for ideal airflow and moisture management to keep the feet cool and dry. We also like that this shoe is a little wider than most so that golfers with bad knees can feel like they are well-supported while walking around and swinging a club. This golf shoe has a great outsole and traction elements to deliver reliable grip and stability on different surfaces.
We don't love when shoes take a long time to break in. Thankfully, we felt this golf shoe was good to go from the start and provided the flexibility we needed as we crouched for putts and trudged through really wet conditions. This is our favorite golf shoe for bad knees because it includes all the characteristics you need to support you while on the golf course and make you feel confident and in less pain.
The Adidas Men's Adipower 4orged S Golf Shoe packs quite the punch for a golf shoe for those with bad knees. This shoe comes with a new level of comfort that is designed to provide exceptional support and stability on the golf course.
We tested these shoes quite a bit while walking on the course, especially in areas with high hills, to see how our feet and knees felt. Talk about a durable and breathable golf shoe that comes with a textile upper sole that is perfectly placed to provide added support and protection.
We also noticed the midsole when we put these golf shoes on. The expectation is that the cushion will be there so your legs and knees feel supported did this shoe pass the test. Coming with excellent cushioning and energy return, this golf shoe almost felt like it was reducing the impact on the knees during each step.
The shoes incorporate a versatile spiked outsole that provides excellent traction and grip on various terrains, ensuring stability and preventing slips. Lastly, we also really like that this is a spikeless golf shoe, so you don't have to deal with replacing spikes after a few months on the course.
The New Balance Men's Breeze Golf Shoes are quite the golf shoe that has stemmed from many of New Balance's expertise based on their running and walking claim to fame. This golf shoe is incredibly reliable and comfortable and has been known to support players with different arches.
On top of all the typical benefits from New Balance, these shoes feature a lightweight and breathable design, incorporating a mesh upper lip that allows for optimal airflow and moisture control to keep the feet cool and dry during the golf round. They also provide a cushioned midsole that is all about shock absorption so that your knees don't feel as much of an impact on the knees.
The outsole is designed with a fantastic rubber spike that offers excellent traction and stability on various surfaces, ensuring a secure footing during swings and preventing slip, which is why it's ranked as one of our best walking golf shoes for flat feet. With their lightweight design, cushioned midsole, and supportive features, the New Balance Men's Breeze Golf Shoes are a great choice for golfers seeking comfort and support for their knees while enjoying their time on the course.
The Skechers Women's Jasmine Spiked Waterproof Golf Shoes is our favorite pick for women golfers with bad knees or a recent knee replacement. Like our other picks for male golfers, these shoes are a versatile and functional choice for female golfers with knee concerns.
They come with a waterproof synthetic upper sole that keeps the feet dry and protected in all weather conditions. Additionally, these golf shoes for women are designed with a lightweight material that offers a comfortable fit that promotes natural foot movement and reduces knee strain. This shoe also ranks among the best golf shoes for support because of the amount of comfort and flexibility for different foot arches.
The outer part of the shoe is also something to talk about. This shoe is equipped with replaceable Softspikes and provides reliable traction and stability on different terrains. We also really like that this type of spike helps to ensure the player's overall grip is strong during the golf swing, reducing the risk of slipping and allowing for better weight transfer without putting excessive stress on the knees.
This is a golf shoe all women golfers should try because we think it's not only the best golf shoe for women with bad knees, but it's also the best women's golf shoe for walking.
The FootJoy Men's Superlites Golf Shoes are a lightweight and comfortable option for golfers seeking knee relief. We love FootJoy because they have been a staple for so many players worldwide looking for comfort and ease of rotation through the swing. The last thing we want to worry about is more leg and knee strain. These shoes help to make you feel like your feet will stay in place when you need to hit the golf shots you expect.
Similar to our other picks, these shoes are lightweight and incredibly durable. We put these through the tests of very wet conditions, and not only did the mud wipe right away, but the comfort and dryness of the shoe didn't change. Additionally, this shoe also ranks among our best golf shoes for back pain because of its amazing arch support and lightweight aspects.
Demand for spineless golf shoes has continued to grow because players don't want to replace spikes so often or worry about what terrain they are walking on. Not only will you immediately sense how light these shoes feel, but it will make your feet feel like you're walking on clouds.
Conclusion
Choosing the right golf shoes for bad knees is so important for many golfers. We recognize that players need to have great comfort, support, and overall performance on the golf course. Features such as advanced cushioning, arch support, and stability are essential for minimizing knee pain and preventing further strain or injury. Brands like Adidas, FootJoy, New Balance, and Skechers offer specialized golf shoes designed with the needs of individuals with bad knees in mind.
The best golf shoes for bad knees must align with individual preferences and specific knee conditions. We recommend that if you're unsure about testing and trying certain shoes we've recommended, a consult from your healthcare professional or orthopedic specialist can provide valuable insights and recommendations tailored to individual needs. By investing in well-designed golf shoes that prioritize comfort, support, and stability, golfers can enjoy their game while minimizing knee discomfort, improving mobility, and optimizing their overall golfing experience.
Frequently Asked Questions (FAQs)
How do I stop my knees from hurting when I play golf?
To stop your knees from hurting when playing golf, we recommend taking a few actions to help alleviate knee pain. Those include: choosing the right golf shoes, being sure to warm up and stretch before the round (as well as during if you sit in a cart), learn how to adjust your swing so that you don't put so much torque on your knees, adjust your posture, take breaks, and consider knee braces.
Can you play golf with bad knees?
You can play golf with bad knees as long as you're consistent with your approach, especially before your rounds as well as after. For many players, they notice that if they warm up (similar to running) before a golf round, they are more likely to swing and play better. If your knees are always bothering you, consider a knee brace to help with inflammation as you get around the course. If the pain still persists, we recommend you consult a doctor to learn more about your options.
What kind of shoes are good for your knees?
The best shoes for your knees have the following characteristics: good cushioning, arch support, stability, flexibility, and proper fit. It's important to remember that everyone's feet and knees are unique, so it's recommended to try different shoe brands and styles to find what works best for you. Consulting with a podiatrist or orthopedic specialist can also provide valuable insights and recommendations based on your knee condition and foot biomechanics.
What are the most comfortable golf shoes to walk in?
The most comfortable golf shoes to walk in are the ones that are also usually the best golf shoes for bad knees. That includes many FootJoy, Skechers, Adidas, and New Balance shoes. Our favorite golf shoe for golfers with bad knees and the most comfortable shoes to walk in is the FootJoy Men's Flex Golf Shoe.
Written At: Updated At: 2023-07-23T20:11:02+00:00