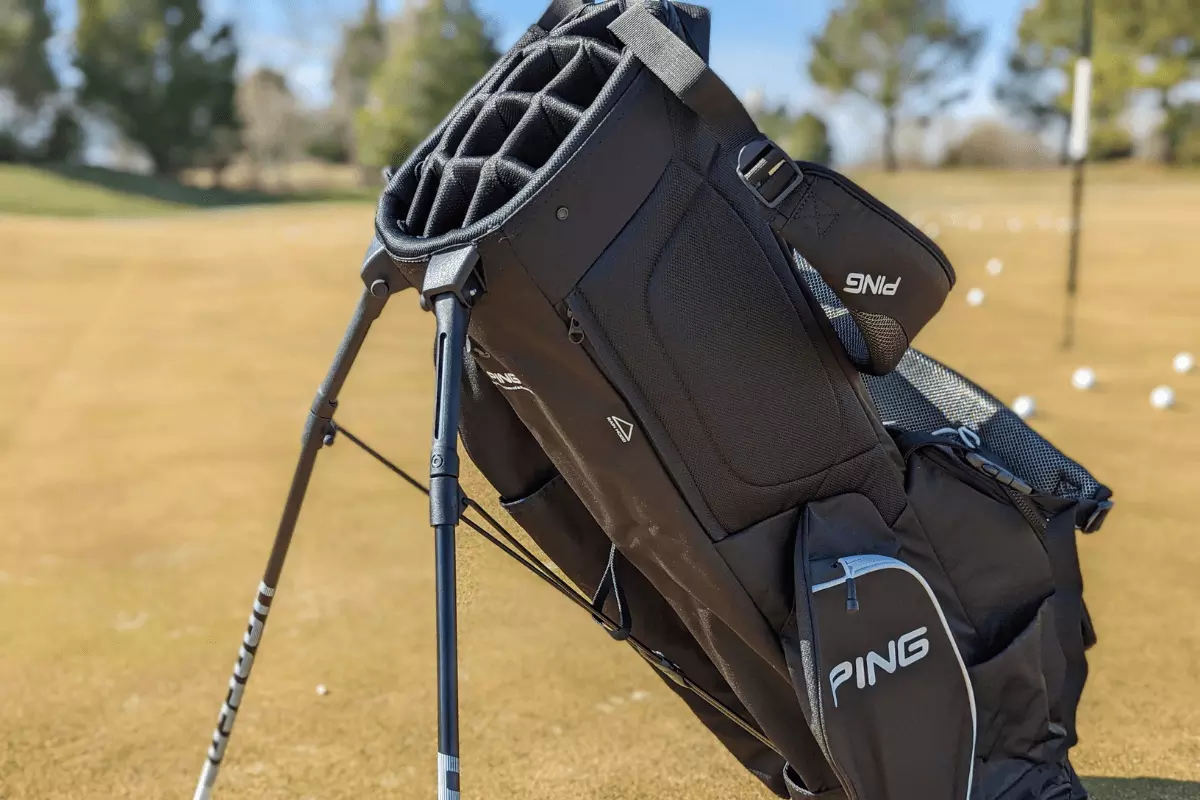 Best Golf Bag with Full Length Dividers
The best golf bags with full-length dividers are those that keep everything clean and compact, are durable, and, most importantly, can be flexible for those choosing to walk or ride on different days.
Placing your golf clubs in your bag must come with ease. Also, knowing where to look for your clubs quickly can help keep your game fluid and the pace of play consistent.
We see a few significant attributes being needed across golf bags today: durability, shape, simplicity, and ease of access.
Our tests of these bags over the course of six months have proven that golf bags with full-length dividers are still a hot commodity in today's game.
Check out our top-rated, best golf bag with full-length dividers for 2023.
Sun Mountain, for years, has been providing some of the best of the best golf bags on the market. Why? They literally have almost every option for all types of players.
This golf bag is built with a lot of details in mind and comes in both a 4 way and 14 way divider. We like this bag because it's easy to carry, easy to use on a push cart and fits on any golf cart.
This bag comes with fourteen individual club dividers that run full-length to really protect your clubs and avoid shafts and golf grips from banging up against each other when walking or riding.
This bag is only 4.5 lbs (hence the name) making it lightweight but also provides 9 pockets providing ample storage for those days where you never know what mother nature will bring. We tested the straps on adults ranging in height from 5ft - 6.5ft and they all commented that it felt comfortable and easy to manage.
Sun Mountain is known for their top customer support including any issues that come up so that is why it is our top pick! Not only is this bag incredible for carrying, but the amount of storage is beyond many of the bags we typically see on the market. This meets our criteria for one of the best golf stand bags with 14 dividers in today's market.
The Callaway Golf Fairway 14 Stand Bag is quite the hybrid golf bag that will help keep your clubs organized, not rattling around as you're playing, and in the same spot the entire time.
This golf bag is only 5.4 pounds, which is incredible based on its design and build. No clubs will feel off balance when you're walking or hitting up against other golf clubs in your bag as you're walking or riding.
We also love the overmold putter block that fits great for those with a pushcart. It's so easy to know where to look for that club and also makes putting it back in the bag a breeze. And don't forget that this club is just as protected as all of your others based on the 14 divider design.
This bag comes with an excellent alloy towel ring to make it easy to grab and clean those clubs. We also really like the metal zip pulls that make it easy to pull and secure your belongings.
Ultimately, this is the best carry golf bag with 14 dividers. The bag has proven to be incredibly durable and long-lasting. The full length dividers don't weigh this bag down either, so walking or riding with this bag can feel like many other carry bags with fewer pockets and dividers.
Titleist has continued to pave the way with its clubs and golf bags. Many tour players associated with the brand love that their bags are multi-dimensional.
Not only is this bag push cart designed, but it also comes with a double strap that lets you know that you don't have to worry about if your bag can be strapped to walk a full 18 holes when least expected.
While this bag weighs more than any of our other bags we recommended for those with full-length dividers, 9 pounds isn't all too much with the incredible pocket design and expandable apparel pocket that can ensure you have the right gear always available for moist conditions.
Nike has been a staple golf brand since their early days with Tiger Woods. They have been a trendsetter in today's game because of their ability to support so many players.
This bag comes with 14 full-length dividers that not only focus on keeping your clubs organized but also your pockets staying cold with those beverages.
We also love that they include a water-resistant rain cover that is always available in a compact department that keeps you feeling safe and your clubs dry.
The bag is an excellent aluminum construction body with 100% polyester and withstands harsh conditions. More importantly, we love that this bag is so easy to carry on the course if you choose to walk.
We have to admit that golf cart bags aren't as common for those players potentially suiting up to walking 18 holes.
Those who love to ride a cart. This bag is for you. The 14 dividers plus the storage in this bag not only allow you to fit some rain gear but also plenty of food and beverages that will keep your round going without hitting the halfway house.
Three handles have been added to ensure that you can easily lift the bag in and out of the cart, including a pushcart. This, by far, is the best golf cart bag with full length dividers because of its incredible storage capacity and durable full length dividers.
If you are looking for the most durable golf bag to protect your clubs and belongings, Sun Mountain has out down with this option. The putter well has the perfect amount of space for an easy grab while also feeling like it's locked in and never going to be damaged while playing on the course.
Conclusion
The game of club continues to transcend from year to year, golf bags included. Full length dividers used to be a rare commodity and was either used by those who were riding carts and not looking to have a portable bag or they are professional tour players.
We love to walk or ride on those warm summer days with great pants, and these bags often come with added storage space that you often don't see from the typical golf bags made for walking while also having optimal protection for your clubs.
Our favorite selection in 2023 for golf bags with full length dividers has to be the Titleist Hybrid 14 Golf Bag .
Frequently Asked Questions (FAQs)
Do I need full length dividers in my golf bag?
This truly depends on your style of play. Do you often ride in a golf cart? If so, a full-length divider is a great option to consider so your clubs are easy to grab and also are even more protected because of your grips and shafts not constantly hitting and rubbing against each other.
We see many players choosing a full length divider golf bag so they don't have to think as much on the course in terms of where their club needs to go. Efficiency can be so helpful to keep play moving while also easily allowing for us to easily to know where to look for a given club.
What does full length dividers mean on a golf bag?
Full length dividers on a golf bag means that it includes a slot for each individual golf club. This allows players to ensure they keep golf clubs in the same spot of their bag for easy access, while also providing an increased layer of protection for your club heads, shafts, and grips.
Do Titleist bags have full length dividers?
Titleist is one of the top golf bag brands on the market, and they often always produce some of the best golf bags with full-length dividers.
We think that Titleist's best golf bag on the market is their Titleist Hybrid 14 Golf Bag which includes 14 full length dividers. Additionally, this bag includes the perfect amount of pockets while also keeping the bag incredibly lightweight.
How many slots is best for golf bag?
14 slots are by far the best for golf bags that have you playing rounds where you're using a cart. That also includes courses where you're storing your bag.
For those players who might want to consider walking, so many different types of golf brands have made a hybrid based bag that includes these full length dividers, while giving you a double strap to make it comfortable for walking.
What is the best golf club bag layout?
You need to check out our golf club bag layout for those of you looking to go with full length dividers and a 14 club slot bag. There are only a few ways you should consider how to organize a 14 divider golf bag. We've designed the best way to organize your clubs, especially if you often hit your irons during your approach and chipping shots.
How many dividers in a golf bag is best?
How many dividers in a golf bag depends on what you're looking for in a golf bag. For those of you looking for incredible organization in your golf bag, consider golf bags with more than five pockets and 14 dividers. This keeps your clubs all in the same place and lets you quickly know where to look when pulling a club to hit a green.
What are all the copmartments on a golf bag for?
Golf bag compartments on a golf bag are designed to keep your belongings organized within easily accessible, durable, and compact areas. We prefer one compartment to store your golf balls, another smaller compartment to store golf tees, and a third to keep your gloves, ball markers, and divot tools. If you have a bag with a full length divider, we like to use that to keep a jacket, peanut butter and jelly sandwich, and an extra pair of socks in case you really take a plunge in the water.
Written At: Updated At: 2023-07-23T20:11:02+00:00