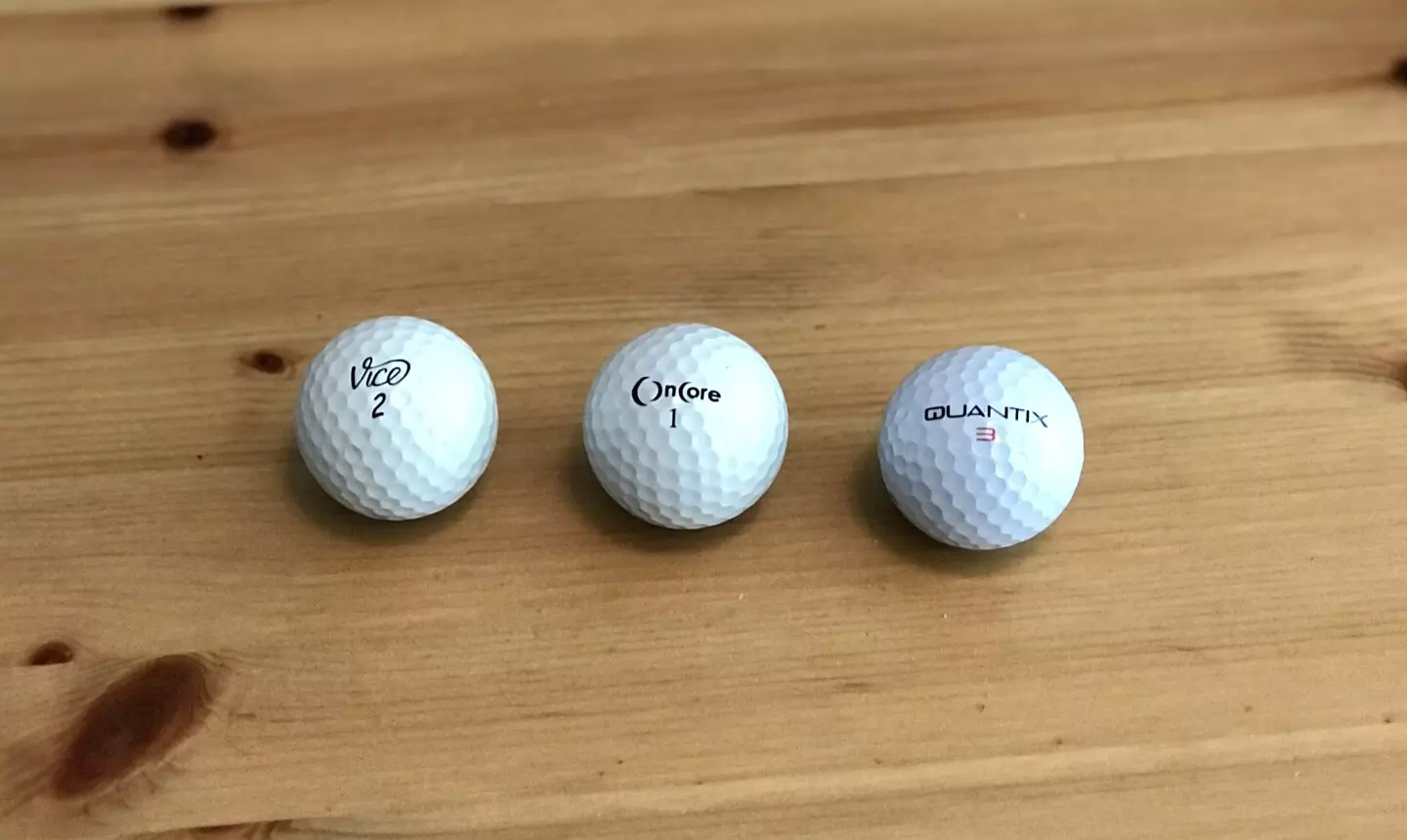 Best Golf Ball Under $30
Golf balls in today's market have come a long way. Premium golf balls such as the Titleist Pro V1 were often the go-to for tour professionals.
Now we are starting to see tour professionals start to play with all sorts of golf balls, many of which aren't the most expensive.
Some of our favorite golf balls we like to play are those that we know will be durable, align to our swing speed and ball flight, and look the way we want so we can feel awesome when hitting the golf ball. Thankfully, we've come to find that the best golf ball under 30 are abundant, and was hard for us to choose our favorite!
Durability for a golf ball must result in the ball being used over multiple rounds and not wearing too easily. Sometimes you might see golf balls wearing so easily, which has a huge impact on how the ball will perform from the tee box to when hitting a putt.
Swing speed and ball flight and so different from golfer to golfer. That's why you need to consider how your ball gets into the air. Is it really quick to go high? Or are you often hitting lower shots? Depending on your answer should help to determine what type of ball you need.
Lastly, color has started to matter more over the last decade than ever before. The color of your golf ball comes down to what you need. High-visibility golf balls (especially those in yellow) are great for golfers who have trouble seeing their ball as well while on the course.
Check out our top six best golf balls under $30
The TaylorMade Distance+ Golf Balls has some of the best attributes in a golf ball that we honestly can't believe is under $30.
This golf ball is often one of the best sellers year after year because they have designed it to fit so many different golfers. This ball has a mid-launch trajectory that is great for those of you with a high ball flight. That will help maximize distance while still giving you the mid-to-high spin rate that you probably still want around the greens.
We also really like that this golf ball suits the needs of players who don't have a fast swing speed (under 80 mph). You'll still see the same benefits for those players with faster swing speeds.
Because of the mid-launch point, consider hooks or slices of the golf ball might not be as impacted, so keep in mind that this ball won't solve all of those issues.
The Bridgestone Golf 2021 e12 Contact Golf Ball is a golf ball that has been around for a few years. They've built their brand of golf balls on improving feel around the greens while also helping to hit longer and straight drives off the tee box.
While it's hard for your golf ball to reduce a slice and hook, we've noticed that this club tends to perform well for those looking for a little less extreme when trying to shape your shots. We also really love this golf ball off the tee, not matter how high you tee your golf ball, because of how well it fits different shot shapes.
You know a ball such as this one is impressive when the likes of Tiger Woods, Bryson Dechambeau, Fred Couples, Matt Kuchar, and Lexi Thompson play Bridgestone golf balls.
Bridgestone prides itself on having more surface contact between the golf ball and the club for more efficient energy transfer. We think you'll notice a softer feel at impact that will make hitting this ball a whole lot of fun.
We also take into consideration any awards that clubs and golf balls get year by year. This golf ball just so happened to win the 2022 Golf Digest Hot List Gold Winner award, which shows just how well this ball performs year after year.
The Callaway Supersoft Golf Balls has been one of the most popular golf balls on the market for years. When we talk about wanting a durable golf ball, this has to be it. We love Callaway golf balls, and this one has really grown on us over the years.
This ball benefits those looking for a high launch and low spin point. We recommend this ball for those of you who typically hit the ball a little lower off the tee and on your approach shots.
Softness is also another attribute of this ball. Because of its high launch, this ball is expected to land and spin well while on the greens. This also means that the ball will perform really well when you're chipping the ball because of its soft feel that will help you control your bunker and pitch shots with even more precision.
That's why this golf ball is ranked as one of our best golf balls for high handicappers.
The Titleist Velocity Golf Balls have been around for many years. They continue to perform in the top five of golf balls in terms of distance off the tee.
When testing via our robot, we've also noticed that the greenside feel is one of the best of the game in terms of its balance between how far the ball can go and how much spin you get on the green.
This is another ball for those players looking to get a little more height with their golf shots. For those of you who hit the ball somewhat low and are looking to get the ball in the air faster and higher, we think you need to try this ball.
Comparatively to the Taylormade Distance+ Golf Balls, this ball didn't perform as well around the greens in terms of stopping and spinning under 100 yards.
Don't be fooled by a prior year model or prior generation model. Golf balls often don't out like clubs year by year.
The Srixon Soft Feel Prior Generation Golf Balls has been another contender on the market because of its incredibly soft core. Pair this golf ball with one of our favorite golf ball markers, and we think you'll have found your new favorite golf ball.
Ball flight for many types of golfers is incredibly important, especially when you're playing in warmer conditions. Hot weather often means the ball will travel farther and also might come with a higher ball flight. That's why you need a softer ball to ensure it can stop in its tracks.
We noticed we made more putts and better chips with this ball around the green than any of the other balls we've mentioned in this post. This is also one of the best cheap golf balls for high handicappers we've found on the golf ball market.
The Vice Tour Golf Balls are one of the newer golf balls under $30 that fits our needs on the course.
This golf ball competes with some of the top golf balls on the market for beginners in terms of how much distance this will give you off the tee. A soft energy speed core has been designed to provide extra distance while also coupling a smooth and durable feel to make that ball really fly.
The outer cover of the golf ball provides excellent resistance and extreme resilience that makes this ball incredibly durable and compact.
The Vice Tour also includes more dimples than previously constructed, which has improved the aerodynamics of the golf ball, keeping the flight smooth and consistent in its movement toward your target.
We just hope you don't hit the ball too far, otherwise you might need to use one of our favorite golf ball retrievers to get it out of the water.
Like the other balls we've tested, the Vice Tour golf ball also has a highly visible keep-in-line putting line to help you line up your shots with pure accuracy on the green. Greenside control with this ball was average in our opinion. Many beginner golfers need a softer ball because it will help minimize hooks and slices on both the tee box and when going for the green.
If you're looking for a golf ball that will really give you some extra yardage and you aren't as worried about how it will perform around the green, this ball is for you.
Conclusion
Golf balls are of plenty for so many different types of players. We've also come to love that you don't need to spend $60 on a golf ball such as Titleist Pro V1 because you can really start to get many of the same benefits from golf balls for more than half the price.
Like we said at the beginning, golf balls that are durable and long-lasting, fit your ball flight and swing speed and are in the right color for you are what we see as the most important characteristics when searching for a golf ball under $30.
Frequently Asked Questions (FAQs)
What is the best golf ball for the average golfer?
The best golf ball for the average golfer has to be the TaylorMade Distance+ Golf Balls because it's incredibly durable, fits golfers who are hitting it low and high, and has the best control around the green and off the tee box.
What golf ball should a 20 handicapper use?
We recommend the TaylorMade Distance+ Golf Balls because for any beginner and high handicapper golfers, including those golfers who are 20 handicapper or above.
The best golf ball a 20 handicapper should use would be something that is soft and has been designed with a high launch angle. Many players are looking for more consistent and higher ball flights to keep the ball direction more consistent and stop where they need it to.
Do softer golf balls go further?
Softer golf balls go further in the right conditions. If you're playing in warm conditions, you should expect to see that most golf balls will go farther. Softer golf balls are meant for those who are looking to hit the ball a little higher while also wanting the ball to stop quickly on the green. Softer golf balls are also a lot more controllable around the greens.
What golf ball should a 10 handicapper use?
The best golf ball a 10 handicapper should use is one that fits their ball's flight and speed. If you often have a low ball flight, we think you should consider a golf ball with a really soft feel so it will stop more on a dime. If you are a player who already hits it high because you have a fast swing speed, we think you should look for a ball with a low to mid-spin rate to get more distance. The lower spin rate is due to the fact that your ball is more likely to stop on the green just as fast because of how high you hit the ball.
Written At: Updated At: 2023-07-23T20:11:02+00:00