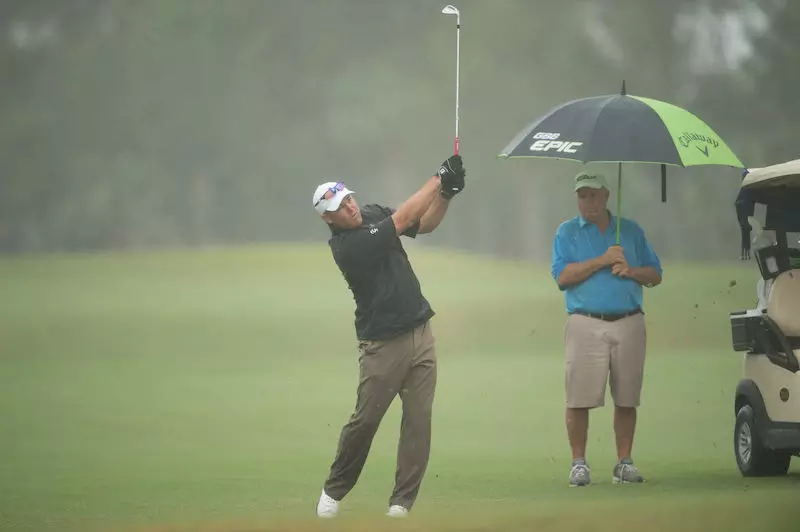 Best Golf Rain Jackets and Suits of 2023
The best golf rain jackets are ones that allow golfers to stay dry and warm while providing enough comfort and flexibility to continue to play at the top of their game. With so many different types of golf rain jackets on the market, we look for various styles to support all the different types of players and their overall needs.
We've tried to cover as much of the gamut as possible, from full zip-up golf rain jackets to quarter zip and half zip golf rain jackets, as well as entire golf suits that come with a jacket and a pair of pants.
Ultimately, we wanted all of these products to be able to easily fit in our golf bag so that they don't take up a lot of room. Still, they are easily accessible when the rain starts pouring down, no matter if it's a warm summer day or a golf round that's being played at the end of fall while the weather gets cooler and damp.
After many months of extensive research and testing, we found that there are dozens and dozens of different golf rain jackets and golf suit options when playing in those wet and windy conditions, so we've done the heavy lifting and have picked our favorite and best golf rain jackets and golf rain suits for 2023.
Check out our top 8 best rain jackets and golf rain gear suits of 2023
The Columbia men's challenger windbreaker is our favorite and best golf rain jacket of 2023 for men due to several different factors. Still, ultimately, the most important one is that it's lightweight and keeps you dry in those grim and wet conditions.
Coming in more than eight different colors, this jacket is water resistant and provides a hooded and warm top, but ultimately looks stylish and can be paired with many different types of golf pants or shorts. This is the best rain jacket because it kept us warm and dry during weather conditions under 50 degrees (F).
We also found that this rain jacket lasted and didn't wear as much as other competitors. That's why this is one of the best rain jackets we've found that will not only keep you dry but also provide enough length so that the wind is coming up through the bottom of your jacket.
This pullover jacket has a great build in terms of the sleeves, which are tighter as you get closer to the hands so that they are not going over your golf club, ultimately keeping your hands dry and in the right place without added pieces of clothing. This is the best rain jacket for golf for men because of how compact it is, so it can easily fit in your golf bag while also providing you with warmth to the top of your head.
Lastly, we also really like the pockets on this jacket. They are very simple and provide just enough space to hold your belongings so that they stay dry. Not to mention, this jacket comes out at a great price point compared to other competitors and overall quality. If you're looking for the icing on the cake, this golf rain jacket with a hood keeps your head and ears dry and warm, making your golf round a little less miserable in those wet conditions.
Pair this with one of our favorite water-resistant golf joggers, and we think you'll like your new style while playing in any type of condition.
The Under Armour women's forefront golf rain jacket is our favorite golf rain jacket for women of 2023 because it not only keeps you warm and dry but it can be used for so many other outdoor activities. This is by far one of the best golf rain gear items on the market because of how comfortable the overall jacket is, making playing in the rain a little more reasonable.
This jacket is windproof and great at shielding you from uncomfortable elements while providing a two-layer fabric that is warm and smooth on the outside. Coming with a full match lining for added breathability, this jacket is perfect for both cooler conditions in warmer and humid climates as well as those that are expected to be cold at different points of the year.
We tested this raincoat jacket for more than six months, and we found that the length of the jacket made such a difference to us, keeping the top half of our golf pants dry and also helping us stay further protected from the wind. This is our favorite and best golf rain jacket for women.
Golf rain suits are a dime a dozen, and we often see that quality isn't as good if you were to buy both the jacket and golf pants separately. But this golf suit has continued to wow us and so many other customers because of how breathable and comfortable both the jacket and golf pants are for those rainy golf days.
Coming in five different colors, the jacket and pants are both waterproof and breathable while also incredibly long-lasting, making this one of our favorite wet-weather golf attire picks for 2023. We've been on this golf suit for over a year now and has continued to be our favorite pick for women's golf rain suits because of its overall functionality, along with being easily foldable to put into your golf bag.
We also really like that the jacket has Velcro closures at the bottom of the sleeves so that players can adjust their overall preferences, depending on wrist and hand size, so that the jacket stays out of the way when wearing a regular golf glove or rain golf gloves.
Golf rain jackets and pant suits for men are some items that we often might not find ourselves using at all over the year. But for us golfers who like to walk and are willing to play in various weather conditions, this golf rain suit is our favorite pick. Coming with a lightweight, waterproof golf jacket material that is designed for cold and wet conditions, this jacket keeps you dry and warm while also not weighing you down as you're swinging your golf club.
The price point is ideal, and the overall adjustability of the golf jacket alone makes this one of our favorite golf rain suits for men of 2023. The jacket has removable sleeves halfway up that allow you to adjust your comfort level depending on the temperature and overall rain and wind conditions.
The golf pants are a two-button and front zipper offering that also allows for adjustments to the waist, similar to what you find in snow ski pants, to make things much more comfortable. We recommend wearing a golf shirt that is made for hot weather because you're more likely to sweat with a golf jacket on. Similarly, you should consider wearing a pair of golf pants under your golf rain pants that are made for hot weather so that you stay dry and can easily switch to them if the rain stops.
Overall, this golf rain suit is incredibly lightweight and can be used for outdoor activities, such as hiking, running, or camping. We think this is a golf suit that you need to try if you are often playing in rainy conditions.
For those looking for a standard and rather simple, waterproof golf rain pullover, the TGW golf range jacket for men is a perfect choice. Coming in two different colors and 100% polyester, this quarter-zip jacket keeps you cool and dry in those rather harsh and wet conditions.
With UPF protection and four-way stretch fabric, this waterproof design makes playing golf in wet conditions a breeze. We also really like that this golf rain jacket withstood the rain and wind conditions.
The long sleeve design is quite breathable and durable, making it easily one of the most affordable and compact golf jackets we tested and tried. This golf rain jacket also came with a great stand-up collar that provides extra protection from the elements.
For many golfers playing in wet conditions and somewhat warmer climates, a half-sleeve rain jacket for golf is the perfect choice. It is very similar to a golf polo, allowing you to have a lot of flexibility and overall comfort that won't impact your golf game negatively while also keeping you dry.
The Holloway short-sleeved golf pullover is a perfect golf rain jacket if you are playing in those warmer conditions and looking to stay dry throughout 18 holes. Made with 100% polyester, this quarter-zip jacket provides phenomenal protection around the neck and solid storage for your valuable items. Add this to your bag along with a new wedge set to make sure that the ball will stop on those greens in the harsh, wet weather.
The aspect that stood out to us about this jacket is that the overall quality and price point are hard to beat, not to mention this style compared to other competitors is far beyond many others from what we found as a relates to golf rain jackets that are half sleeves or short sleeves.
Continuing with the half sleeve quarter zip golf rain jacket for men, one of our other favorite pics is the zero restriction golf rain jacket. This item is perfect for golfers looking for a little bit more room in the sleeves while also providing a longer zip, also known as the half zip.
This pick is one of our more expensive options; the quality is absolutely there though. Providing breathability, durability, and overall protection from the wind and rain, this half-sleeve zip is by far one of our favorites.
The one downside about this pic is that we found the length of the jacket to be a little bit shorter than we would've liked. Ultimately, it was still a jacket for us that we felt we could see ourselves wearing in those wet and rainy Golf conditions that might be a little bit better in warmer golf climates.
For all of us golfers who are dealing with the change of seasons, we are always looking for a versatile golf rain jacket that not only will keep us dry but will also keep us warm. Many competitors of similar golf rain jacket products that we've assessed often focus just on the keeping you dry part.
This jacket from Adidas is by far one of our favorites because of how versatile it is—knowing that the average price point for a golf waterproof rain jacket ranges anywhere between $60-$200 or more can deter golfers away if it's only going to be used for a single purpose.
We found that this jacket has been worn not only on the golf course in wet and cold conditions, but many others are also wearing this jacket for leisurely activities outside when the weather starts to get cold. Overall, this is why this is one of our favorite golf rain jackets but also just generally one of our favorite jackets as a whole for when we are outside doing some sort of physical outdoor activity.
Conclusion
The best rainproof golf attire is one item that we hope not to see you too often during our time on the course. But, if you do need it, then we highly recommend getting the right pair of gear that can easily fit in your golf bag without taking up too much storage space while also, hopefully, lending itself to be a great extra pair of clothing to keep you warm when the conditions get worse.
Often, most golfers are only looking for a golf rain jacket, but we can't highly recommend buying and considering a golf rain suit so that your whole body stays dry, as we have found that most golf pants aren't always the best in consistent rain and wet conditions. Overall, we hope you stay dry on the course and test out a few of our favorite options.
Frequently Asked Questions (FAQs)
Can you wear a rain jacket golf?
You can wear a rain jacket while golfing. We highly recommend this when there is a chance of rain and wind because it will impact your game considerably. Often, golf rain jackets are made with a full zipper, but we recommend a pullover or quarter-zip jacket for added comfort and warmth.
What do golfers wear in rain?
Golfers often wear golf rain suits in the rain, which comprise a very lightweight jacket yet keeps you warm and dry, along with a pair of golf rain pants that are often flexible around the waist and baggy along the legs to keep your legs dry as you bend over and swim in the golf club. We highly recommend that golfers wear rain suits in the rain and wet conditions to continue to play their best golf.
Is golf rain gear worth it?
Golf rain gear is worth it, especially for those players who are often dealing with seasonal or wet conditions because we often look for warmth and dryness when playing in very grim conditions that are making around more of a challenge.
How should golf rain gear fit?
Golf rain gear should fit rather loose for the legs and pants while a little bit tight for the jacket in the upper body. This should be applied to both rain jackets and rain golf pants.
What do you wear under golf waterproofs?
We recommend that most golfers wear golf pants under their golf, waterproofs, or golf rain pants. That is because golfers may want to switch out of the waterproof golf rain pants if the weather improves. This also helps golfers stay warm if they are playing on colder days.
Should a rain jacket be tight or loose?
The rain jacket should be a good mix of tight and loose, ultimately flexible and open enough so golfers can easily swing the club without feeling confined.
Written At: Updated At: 2023-11-01T23:55:03+00:00